XIAOMI
Regular price
Sale price
£44.99
Unit price
per
Sale
Sold out
Fast inflation, optimal performance
Higher speed and air volume, to get you back on the road faster
Fully inflate 2 car tires or fill car tires 8 times, thanks to upgrades that deliver 45.4% more inflation performance on a full charge.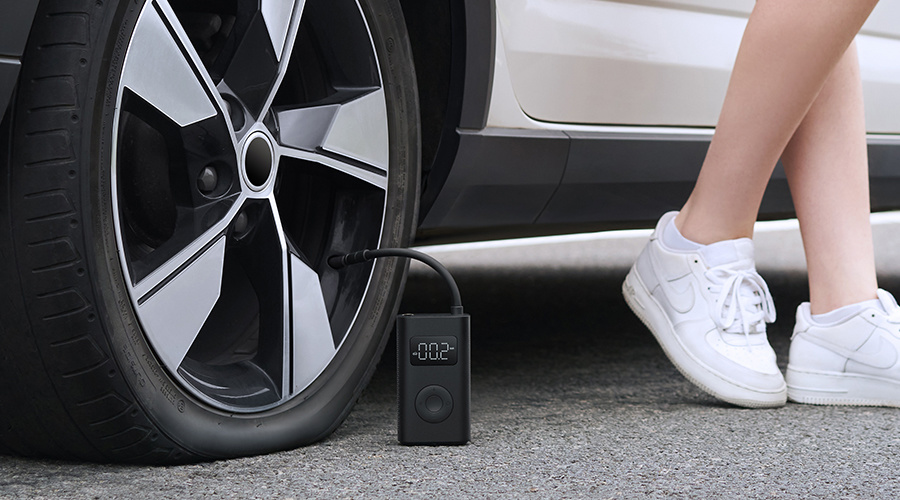 Increased inflation performance by 
45.40%
Xiaomi Portable Electric Air Compressor 1S: re-inflate tires up to 5.5 times
Xiaomi Portable Electric Air Compressor 1S: re-inflate tires up to 8 times*
Xiaomi 1S portable mini electric air compressor: 15 l/min.
Mi portable mini electric air compressor: 7 l/min.
High-precision cylinder block handles pressures up to 150 psi
High-precision cylinder block made from alloy materials inflates from 0 to 150 psi in just 20 seconds*, making it suitable for use with shocks on mountain bikes as well as high-pressure bicycle tires of road
Ready to take on the go.
Thanks to high-precision air pressure sensors, you no longer have to deal with manual pumps
Digitally controlled air pressure sensors improve inflation accuracy to ±1 psi*, putting an end to checking tire pressure as you inflate.
Preset tire inflation pressures for ease and peace of mind
The Xiaomi Portable Electric Air Compressor 1S automatically stops inflating the tires when the desired preset pressure is reached.It also remembers your pressure values, so you don't have to set them over and over again.
Five different modes that anyone can use
Five different inflation modes, each with preset air pressure values, prevent over-inflation and offer peace of mind.This makes the Xiaomi 1S Portable Mini Electric Air Compressor easy to use.
Forget about cables thanks to internal lithium batteries
Lithium batteries make it possible to dispense with an external power supply and cumbersome power cables.
Lightweight body for increased portability
Weighing just 480g*, its compact design makes it ideal for traveling light.
Throw it in your bag, leave it at home or in the car: this cute device doesn't take up space, no matter where you store it.
Universal Type-C* interface for peace of mind on the go
Enhanced charging with a Type-C port, for worry-free travel around the world.
Charge with USB adapter                Charging in the car              External battery charging
Integrated light for ease of use
LED light for night use
SOS flashing function, in case the unexpected happens.
Separate internal compartments for added security
The device features separate compartments for the mechanical and battery systems, for optimal heat dissipation.
Air hose on/off switch to prevent accidental use
Prevents accidental activation due to vibration.
Inflated from various angles
The flexible hose allows you to keep inflating your tires, no matter where the tire valve is located.
Various accessories to meet all your needs
Includes a storage bag, a needle valve adapter and a Presta valve adapter for any circumstance.
Eight rigorous tests* to ensure durability
Tests for protection against excess pressure
Air Hose Tensile Strength Test
Compressive strength test
Electrical resistance test
Low temperature air hose performance test
Load test at high or low temperature
SPECIFICATION
Xiaomi Portable Electric Air Compressor 1S
124 x 71 x 45.3 mm (air compressor, without air hose)
0.2 to 10.3 bar / 3 to 150 psi
Charge: From 0℃ to 45℃. Discharge: -10℃ to 45℃
Noise value during operation
Less than 80dB at 1m distance
Package content
1 Xiaomi Portable Electric Air Compressor 1S
1 Presta valve adapter
1 needle valve adapter
1 case
1 instruction manual
1 charging cable
Share
View full details