NOBLECHAIRS
Regular price
£499.00
Sale price
£499.00
Unit price
per
Sale
Sold out
The NOBLECHAIRS HERO BOBA FETT is an ergonomic office chair that looks as good as it feels. With a sleek, stylish design, this chair is perfect for any Star Wars fan. The chair features an adjustable 4D armrest and 4D lumbar support that can be adjusted to fit your body type for optimal comfort. The high-density foam and breathable mesh material ensure that you stay comfortable for hours on end. The genuine leather upholstery has a soft feel and is easy to clean. The solid aluminum frame and robust construction make the chair highly durable and stable. With a maximum weight capacity of up to 330 lbs, this chair can easily support most users. With its modern design and superior comfort, the NOBLECHAIRS HERO BOBA FETT is the perfect addition to your home office.
HERO SERIES BOBA FETT EDITION
This noblechairs HERO edition of STAR WARS™ Boba Fett™ lets you celebrate your favorite bounty hunter. With its unmistakable colors, the decals and the extra-wide seams, the seating experience is way more comfortable than being frozen in carbonite.The immaculate artwork immerses you into your adventure within the STAR WARS Universe and the underworld of Boba Fett. The back of the Special Edition features an impressive rendition of Fett's helmet, enhanced by the BOBA FETT and STAR WARS logos.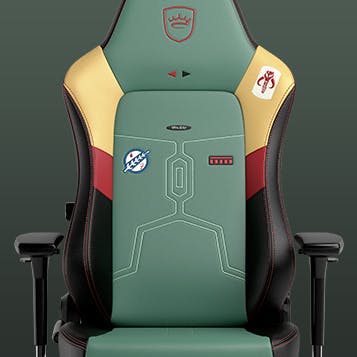 MANDALORIAN ARMOR
The chair's frontside is styled after Boba Fett's armor. The stylized breastplate is highlighted by the extra-wide stitching lines, the accentuating colors perfect the overall look.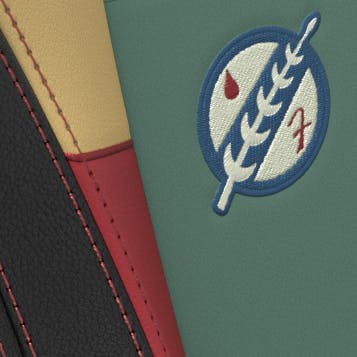 PERFECT DETAILS
The decals are authentically embroidered, the mythosaur symbol proudly displayed on the upper left.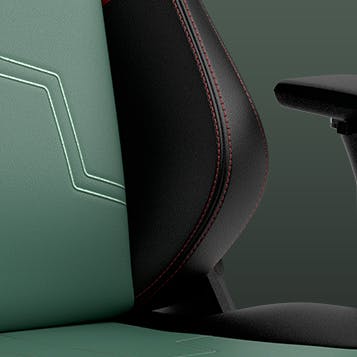 LUMBAR SUPPORT
With the built-in lumbar support optimizing your posture, no mark will get the better of you while you are secured in your chair.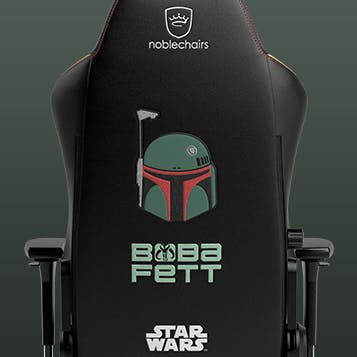 EYE-CATCHING BACKREST
Distinctive Boba Fett helmet rendition on the back.
FEATURES
Adjustable 4D armrests
Recline mechanism up to 125 degrees
Durable, easy to clean, water-resistant, and breathable cover material
Adjustable lumbar support and rocking mechanism
Memory foam headrest removes the need for an additional pillow
Supports up to 150 kg / 330 lbs
ENLARGED BACKREST AND SEAT AREA
The largest of our gaming and office chairs, the HERO Series offers our most advanced backrest with a larger surface thanks to it being both taller and wider, combined with an integrated memory foam headrest it's our most feature-packed backrest to date. Offering an increased seat base along with larger armrests makes for our largest chair, offering unrivaled freedom of movement and comfort.
Increased armrest surface
Wider seat base
Larger backrest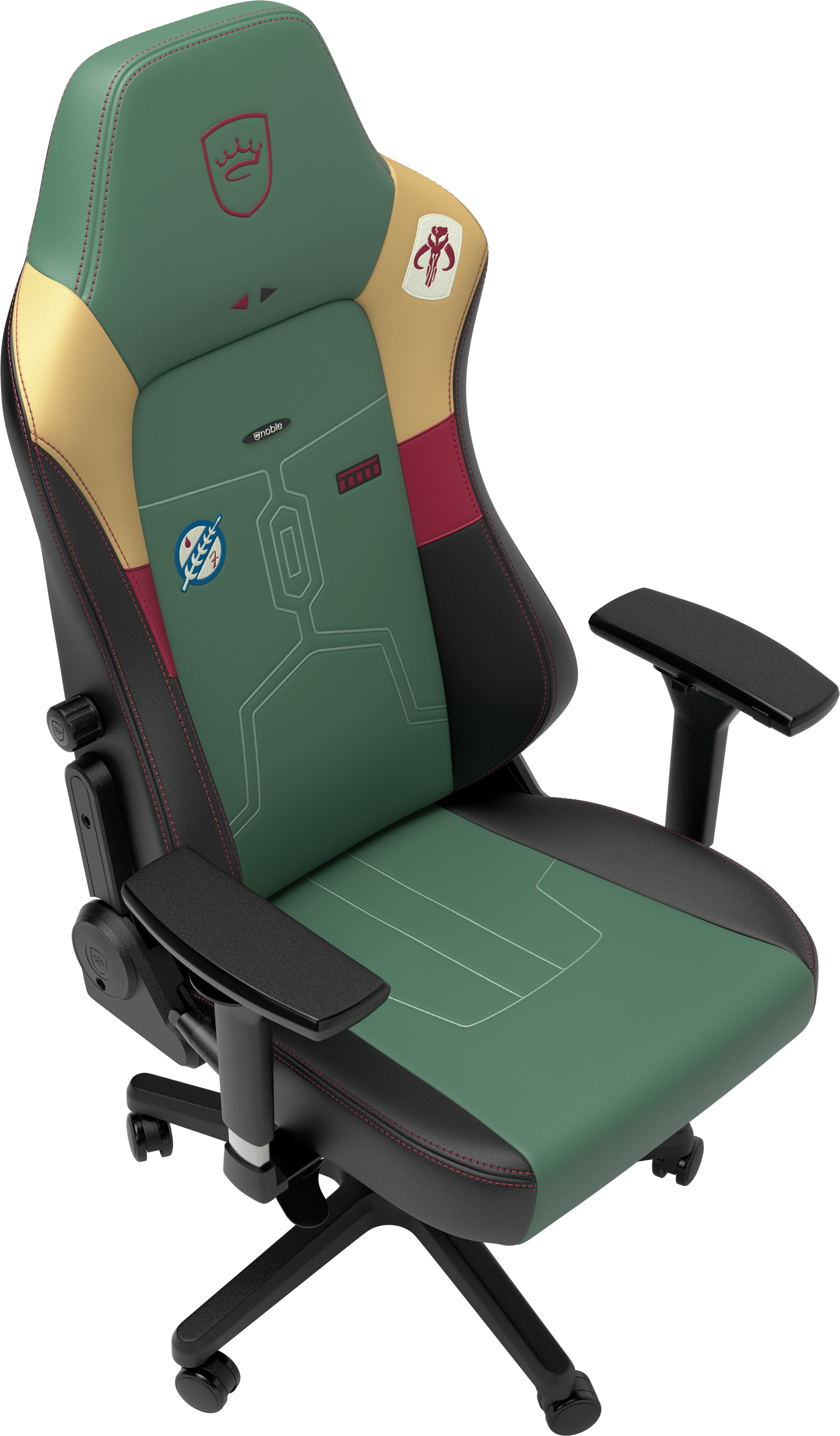 THE UNIQUE BOBA FETT EDITION LOOK
Immerse yourself in the world of STAR WARS™, take a seat at the helm of Slave I and step into a galaxy of adventure. For STAR WARS fans, this HERO Special Edition has an iconic design that even the Hutts have to respect you for. Based on the freshly painted, restored armor of Boba Fett™, embroidered with his iconic decals, our HERO is the perfect companion for any STAR WARS adventure, from Coruscant to the Outer Rim. The STAR WARS and Boba Fett logos are found on the back, as well as Fett's stylized t-visor helmet.
Modeled after the breastplate design, accentuated by extra wide stitching and the decals
A fresh coat of paint in rich green, red, and golden yellow for the pauldrons
Distinctive helmet embroidery on the back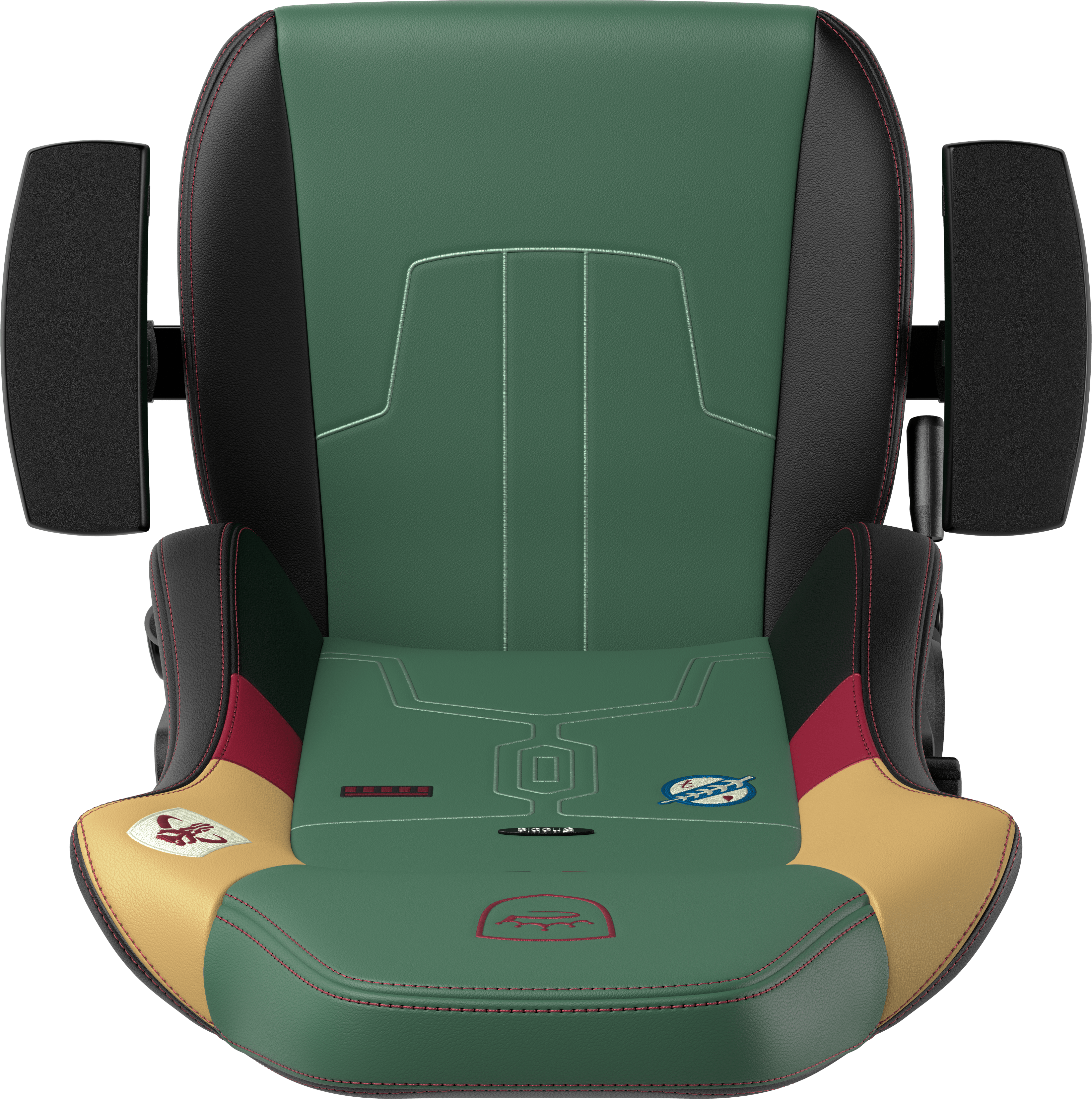 ERGONOMIC DESIGN
Designed in Germany and created in collaboration with our global partners of esport professionals, the HERO Series brings with it optimized ergonomics making comfort the highest priority over extended periods. The special design of the backrest ensures it conforms to the natural curvature of the spine, helping to better distribute the weight of the user and maintain maximum comfort.
Memory foam headrest removes the need for an additional pillow
Designed to perfectly support your back for ultimate comfort
Adjustable lumbar support and rocking mechanism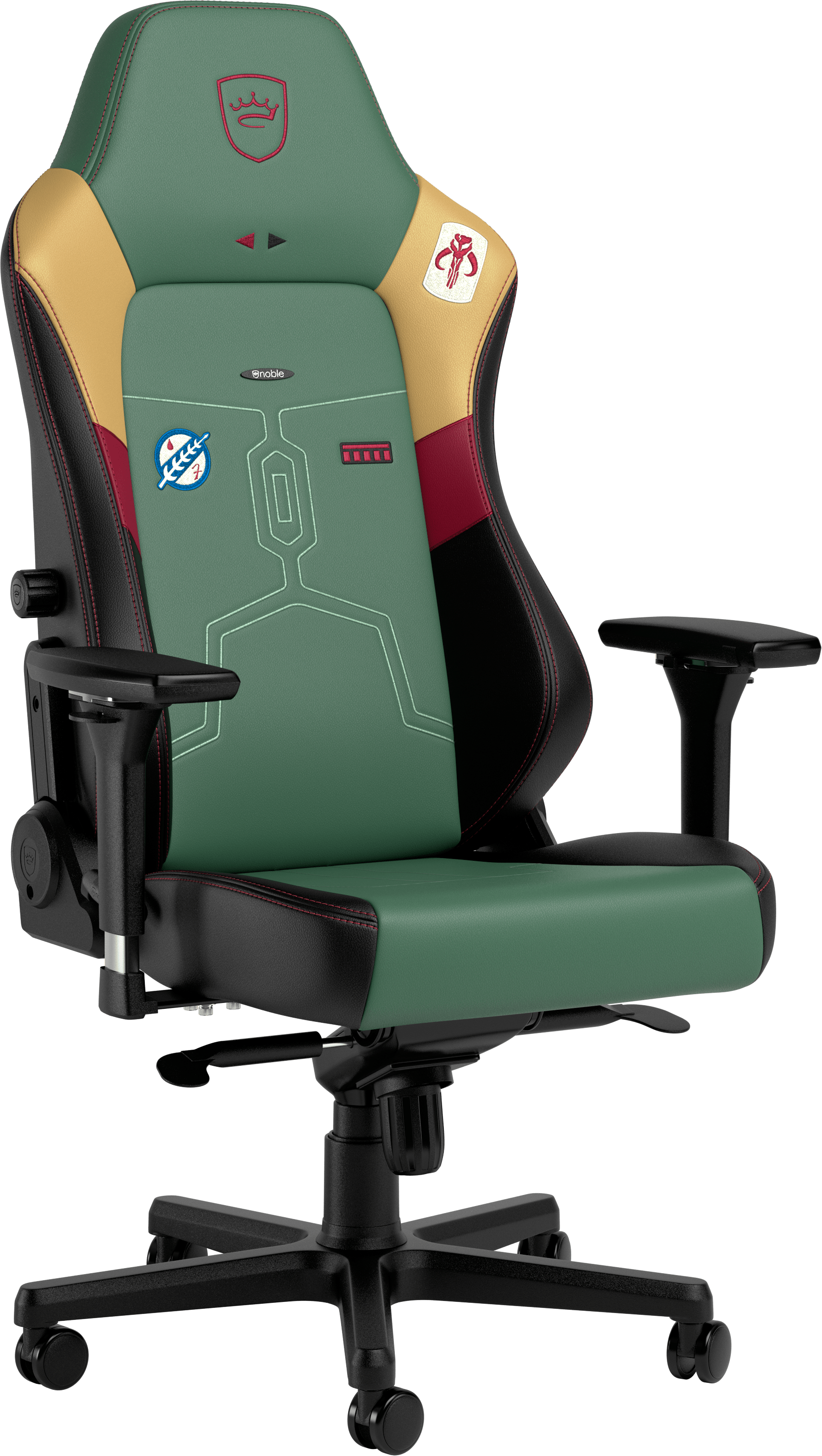 PREMIUM MATERIALS
Constantly raising the bar for quality when it comes to gaming and office chairs, noblechairs are made with premium materials throughout ensuring the HERO Series offers an emphasis on both comfort and quality.
Durable steel frame
High-Density cold foam padding for extended comfort and life
DIN EN 1335 Certification for office chairs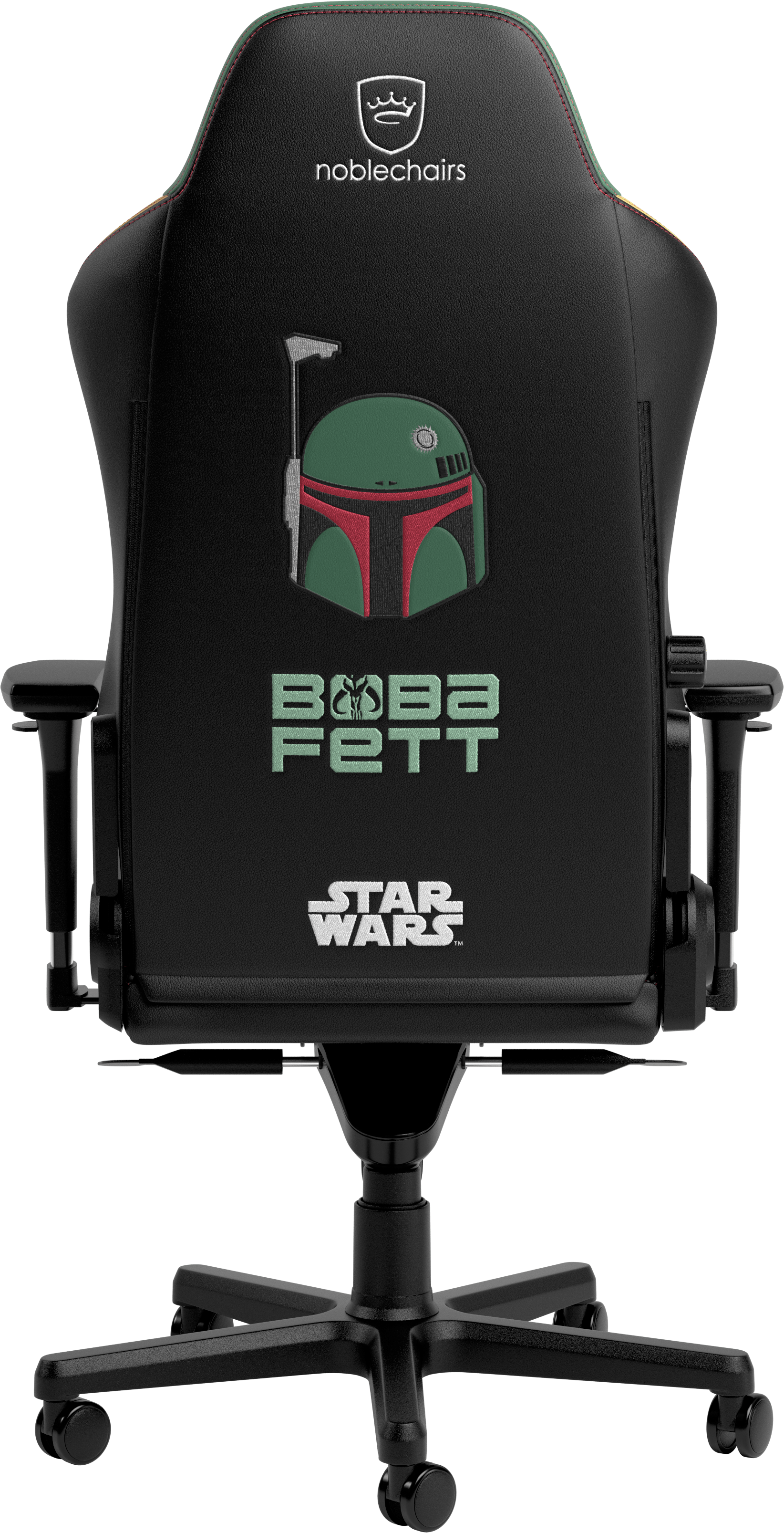 HIGH-QUALITY PU LEATHER
Our PU Leather, 100% vegan, is the ideal material to represent Boba Fett's Mandalorian armor. Styled in the distinctive look of Boba Fett, you don't have to fear any errand blaster fire.
Breathable, easy to clean, water repellant and long-lasting
100% vegan PU leather, 1.5 mm thick
Aesthetic inspired by Boba Fett's armor
THE PERFECT POSITION FOR EVERY USER
Sit how you want with the noblechairs HERO Series. Height adjustment paired with our convenient 'rocker' mechanism offers a range of motion allowing you to find the perfect position. With 11° of movement on the 'rocker' mechanism, and the ability to set the backrest from 90° to 125°, you'll be playing, watching, or working in comfort at all times.
Fast and convenient backrest locking function
Adjustable seat height
90° to 125° of backrest movement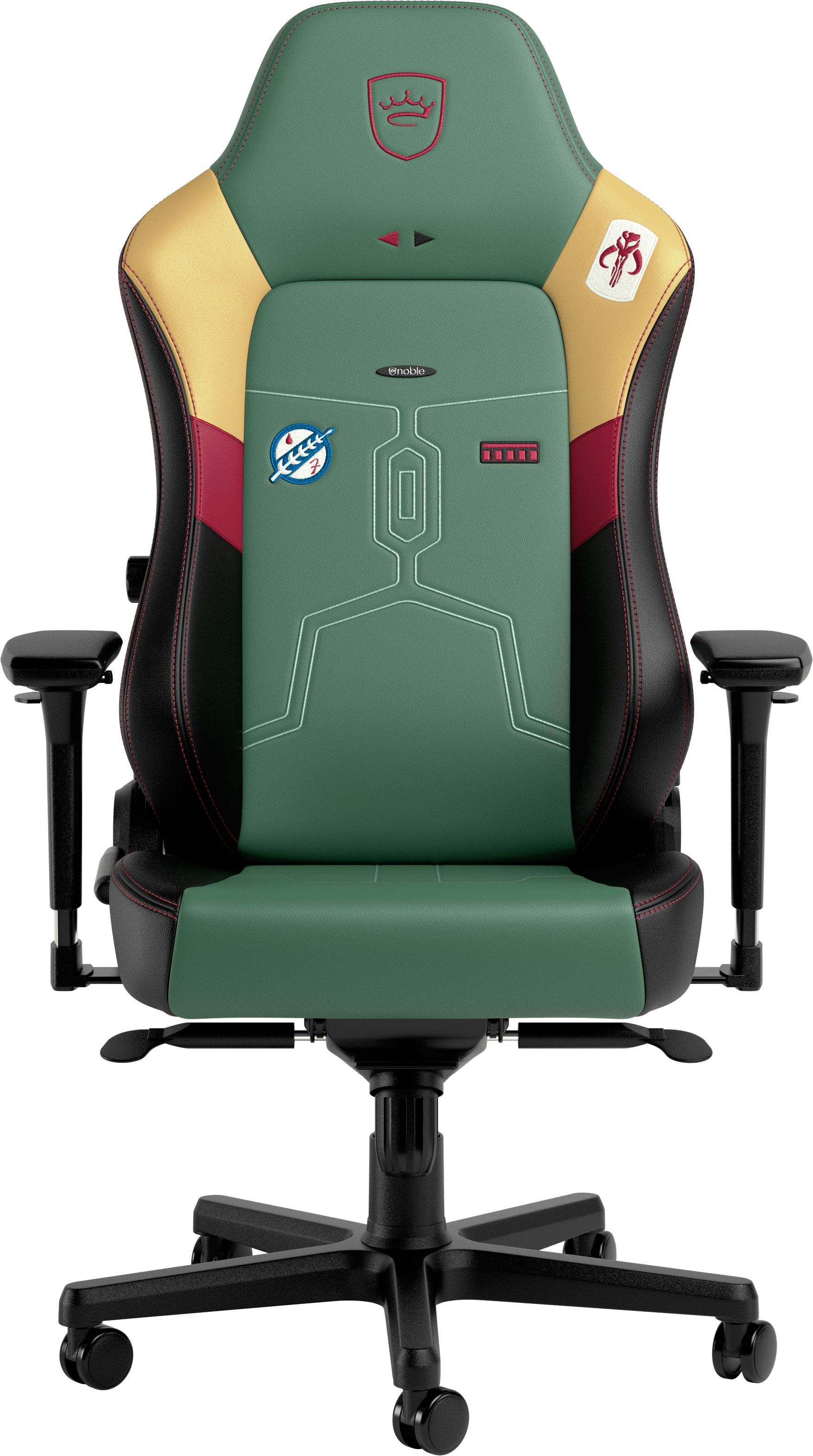 EXCEPTIONAL 4D ARMRESTS
With an increased surface area and an extensive range of movement options, the noblechairs 4D armrests offer a variety of positions that allow you to find the perfect stance for you. Adjustable in four directions, our polyurethane armrests offer a subtly textured surface helping to find a balance between softness and the right amount of grip for the most intense gaming sessions.
Height, depth, angle, and distance adjustment options
Polyurethane offering a balance between softness and grip
Oversized for added support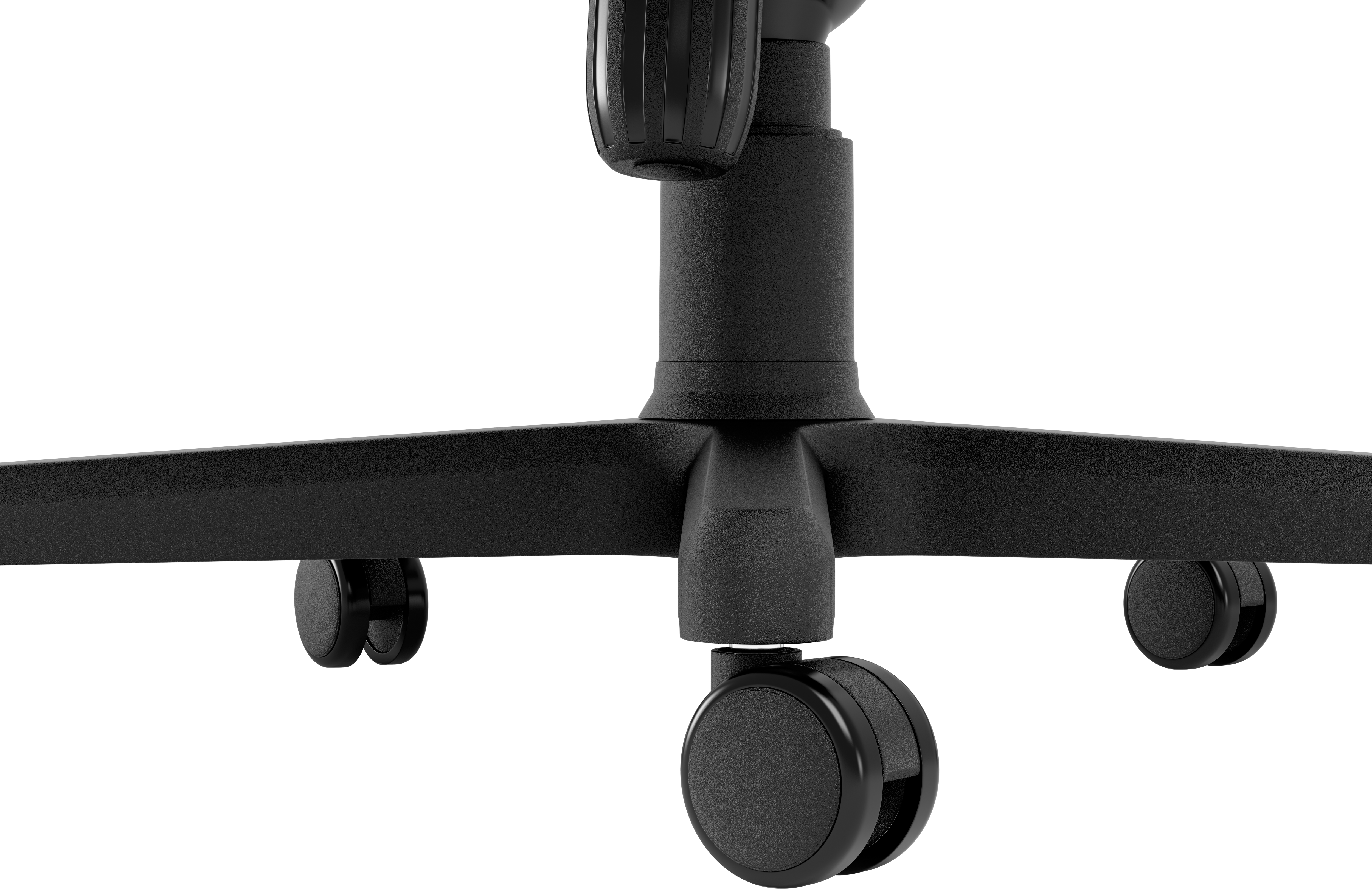 ROBUST ALUMINIUM BASE
The foundation of the HERO Series from noblechairs is the powder-coated wheelbase made from solid aluminum with five arms and specially designed castors. These 60mm castors consist of a Nylon core with a polyurethane coating that allows them to be both quiet and suited for use on both hard and soft flooring. Combined with the Safety Class 4 gas lift, the HERO Series has been designed in conjunction with the optimized base to offer support for a maximum load of up to 150 kg / 330 lbs.
Supports up to 150 kg / 330 lbs
Safety Class 4 gas lift
Powder-coated aluminum wheelbase both light and sturdy
60mm castors designed for soft and hard floors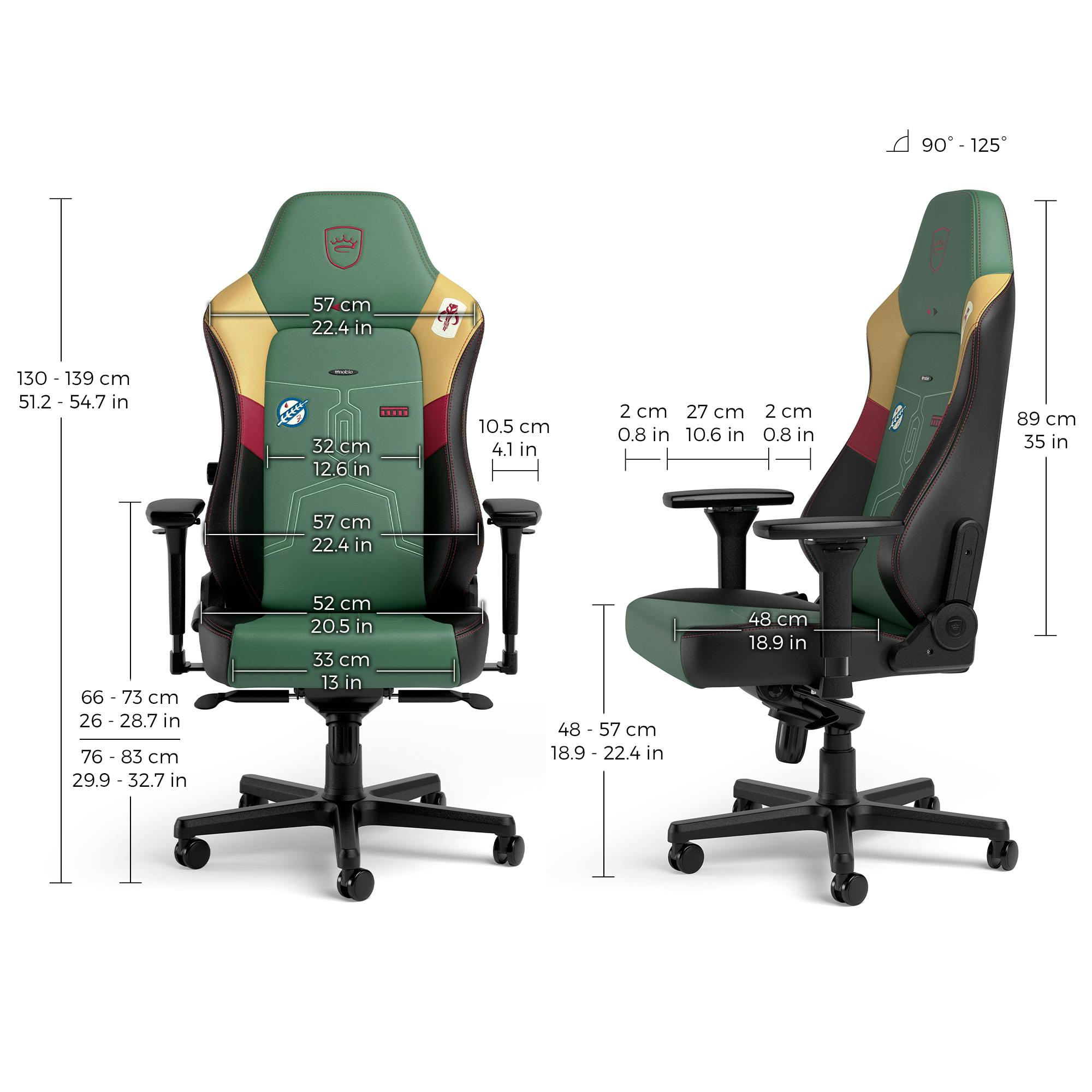 SPECIFICATIONS
Integrated adjustable lumbar support
Enlarged backrest and seat
Practical tilting function (max. 11°)
4D Armrests for maximum adjustability with soft PU coating
Adjustable backrest angle (90° to 125°)
Deform resistant cold foam
Durable hydraulic gas lift (Class 4)
Office chair certification in accordance with DIN EN 1335
Robust steel frame
60mm casters suitable for hard and soft flooring
Max load of up to 150 kg (330 lbs)
Weight approx. 30 kg/ 66.1 lbs
No pillow set included
RECOMMENDED FOR USERS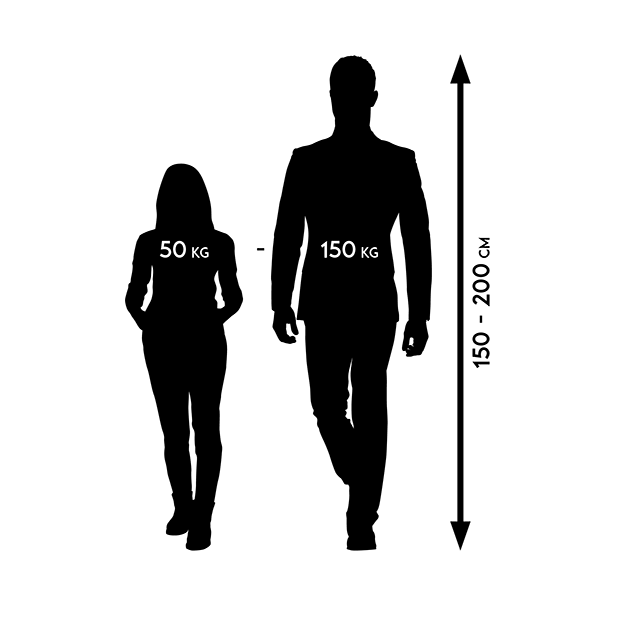 MATERIAL
Steel (frame)
Cold foam (inner cushioning)
PU imitation leather (Cover)
Aluminium (base)
Nylon / polyurethane (casters)
Polyurethane (armrests)
Memory foam (headrest)
Velour (pillow set)
Share
View full details