GIGASET
Regular price
Sale price
£30.00
Unit price
per
Sale
Sold out
The phone that meets all your communication needs - simple and affordable.
Discover the Gigaset A170. It is a simple and reliable cordless phone with "Made in Germany" quality. Features easy-to-use keys with pressure-sensitive dots for effortless dialing. Its large illuminated dot matrix graphic display makes it easy to read. And thanks to preconfigured registration on the base station, installation requires nothing more than a quick plug & play. And there's one more thing you won't have to worry about: Radiation-free Eco Plus Mode makes it the eco-friendly choice for telephony.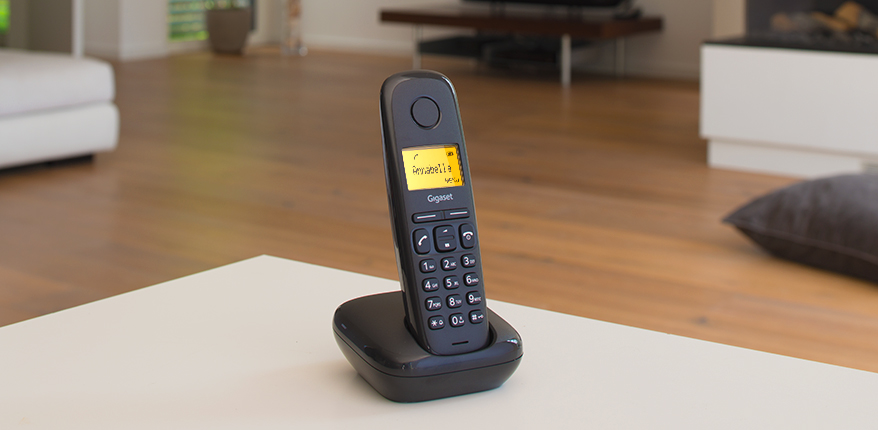 High clarity: amber illuminated graphic display.
Much more than at first glance: the new A170's large dot-matrix display shines with optimal readability. This makes consulting the phone book or call list especially easy. The A170's display is backlit for easy use day and night.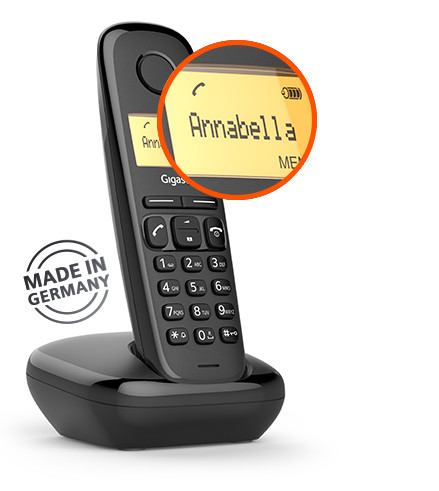 Easy, and not just at first glance: usability that makes everything easy.
The reliable Gigaset A170 cordless phone stands out for its affordability and features: pressure-sensitive dot keys for easy dialing and plug & play installation for straight-out use. And to make sure that good things last too: the Gigaset A170 landline phone allows conversations for up to 18 hours or stand-by for up to 200 hours without recharging.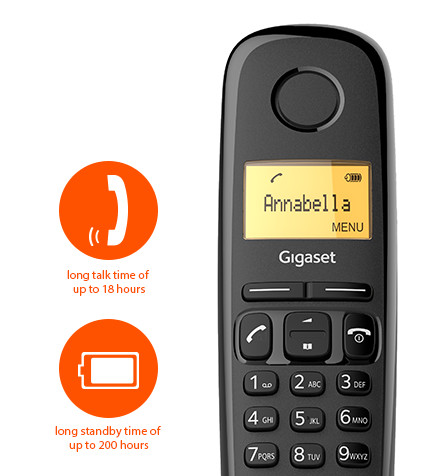 So as not to miss calls: good data storage.
Daily calls are now even easier to make as the Gigaset A170 saves the last 25 missed or received calls in its call list. And an added call list stores the last 10 numbers dialed – for quick redials. You will also have all the important numbers as your phonebook stores up to 50 contacts. This means that friends and family are always close at hand.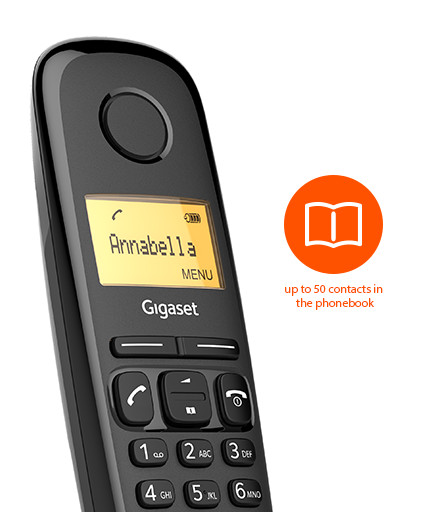 Always at your service: all the necessary information.
Enjoy immediate access to all information during the day and while calls are being received: Gigaset A170 shows the date, call duration and caller ID on your screen. So you always know who is calling when the phone rings. Did you know that you can also use the A170 for more than calling? If you need a reliable reminder, you can use its alarm function.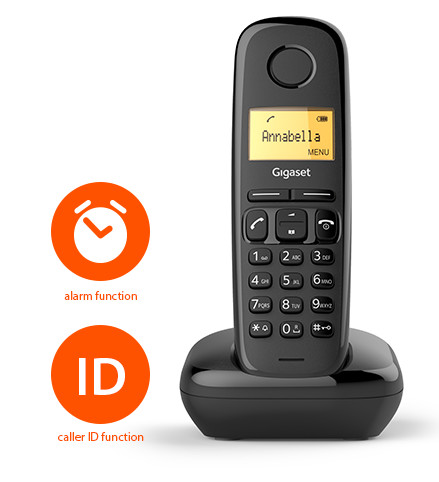 Start with more: additional terminals for your home.
Do you want to have a Gigaset A170 on different floors or rooms? No problem, we have the perfect solution: the Gigaset A170 cordless phone is available as a duo with an additional handset. Or as a trio with two additional terminals.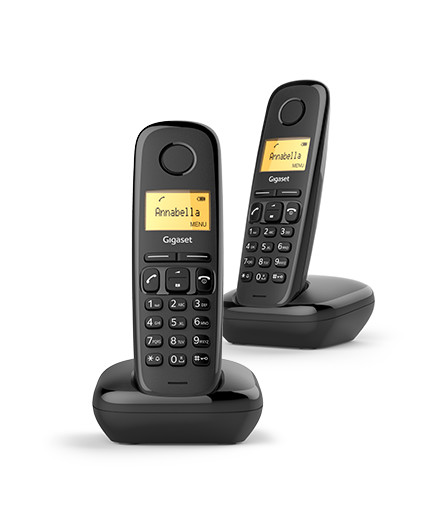 Welcome to the green home: ECO DECT for radiation-free calls.
Like all other Gigaset cordless phones, the Gigaset A170 is also equipped with environmentally friendly technology. This means that the phones are radiation-free in standby mode, even with multiple handsets, as long as the base station and all registered handsets support ECO DECT. During a call, the transmission power is automatically adjusted to the distance between the base station and the handset. The smaller the distance to the base station, the lower the radiation. For the maximum DECT range, ECO DECT mode can be deactivated at any time.
SPECIFICATIONS
Telephone number (analog)
Number of simultaneous conversations (analog)
ECO DECT
Automatic transmission power reduction, Radiation-free in standby mode, Low power consumption
Additional characteristics
Number of records in phone book (name/number)
Optical call signaling (illuminated screen)
Internal phone/address book transfer via DECT (terminal to terminal)
Internal external call transfer, conference call, call back
adjustable volume
Through the Menu
screen type
Black and white alphanumeric
Caller display on screen
Calling Telephone Number Indication (CLIP)
List of last missed calls (number) with time and date
Multi-language menu (multiple display languages)
Simple operation with navigation keys
Size/technical specifications
Terminal, height x width x depth in mm
159x48x30
Terminal, weight incl. battery in g
Base station, height x width x depth in mm
Base station, weight in g
Charger, height x width x depth in mm
Share
View full details