NOBLECHAIRS
Regular price
Sale price
£469.00
Unit price
per
Sale
Sold out
ENLARGED BACKREST AND SEAT AREA
The largest of our gaming and office chairs, the HERO Series offers our most advanced backrest with a larger area thanks to it being both taller and wider. This combined with an integrated memory foam headrest make it our most feature-packed backrest to date. Offering an increased seat base along with wider armrests makes for our largest chair, providing unrivaled freedom of movement and comfort.
Increased armrest surface
Wider seat base
Larger backrest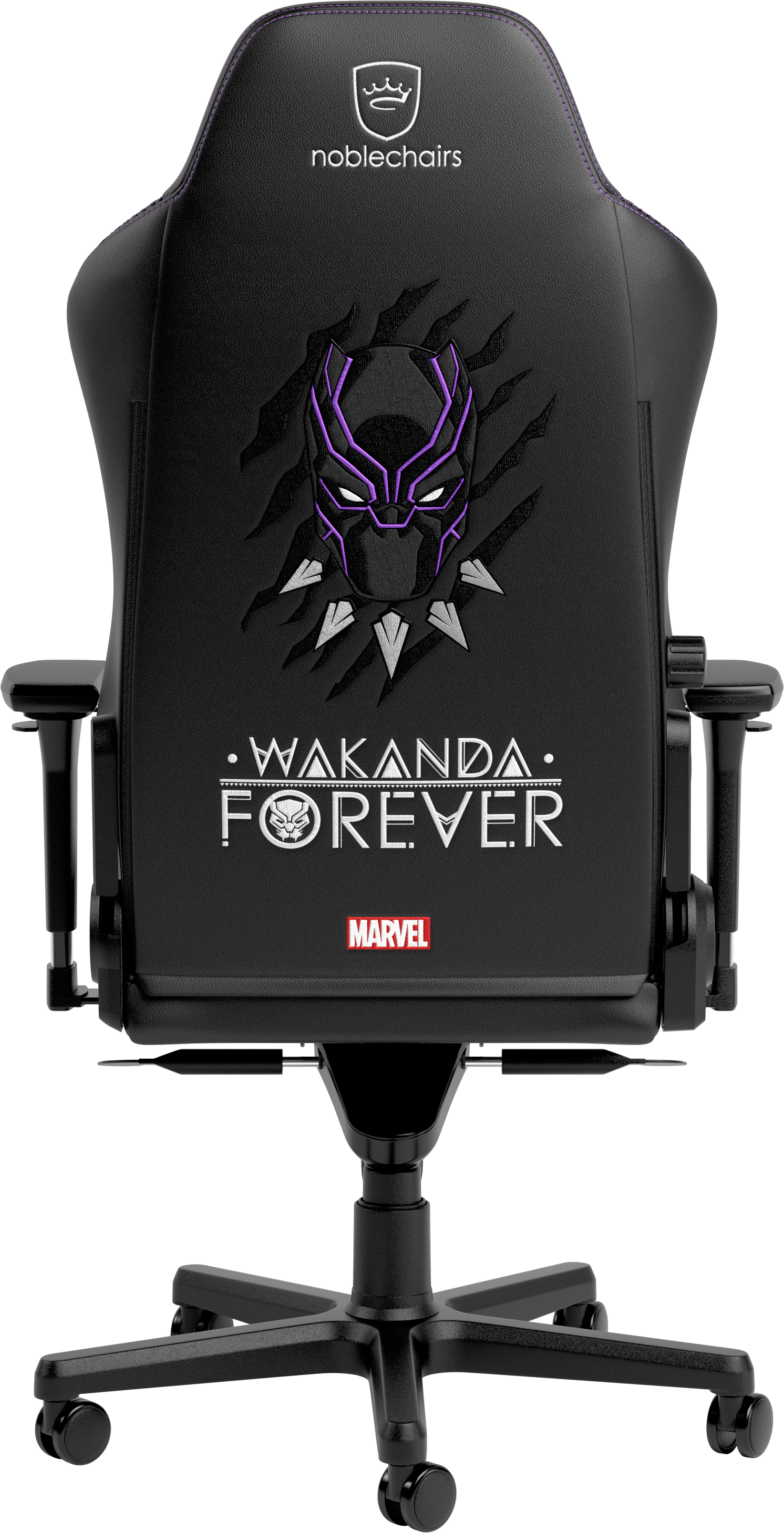 DRAPED IN WAKANDA'S FINEST
The dark body of the chair is framed by intimidating stripes, with a Vibranium tooth necklace in the center. The back features an intense stitching of MARVEL's Black Panther, again in black and purple, with Wakanda Forever lettering accompanied by subtle MARVEL and noblechairs branding. Whilst stylish and suitable for any space, the overall design emulates MARVEL's Black Panther's body armor for a stunning effect. It is the perfect chair to portray your favorite Avenger and place to enjoy your favorite MARVEL products.
Black and purple color scheme, unmistakably emulating MARVEL's Black Panther
Gorgeous stripe pattern on the chair wings, accented in purple, eye-catching and highlighting
MARVEL and noblechairs branding, framing MARVEL's Black Panther stitching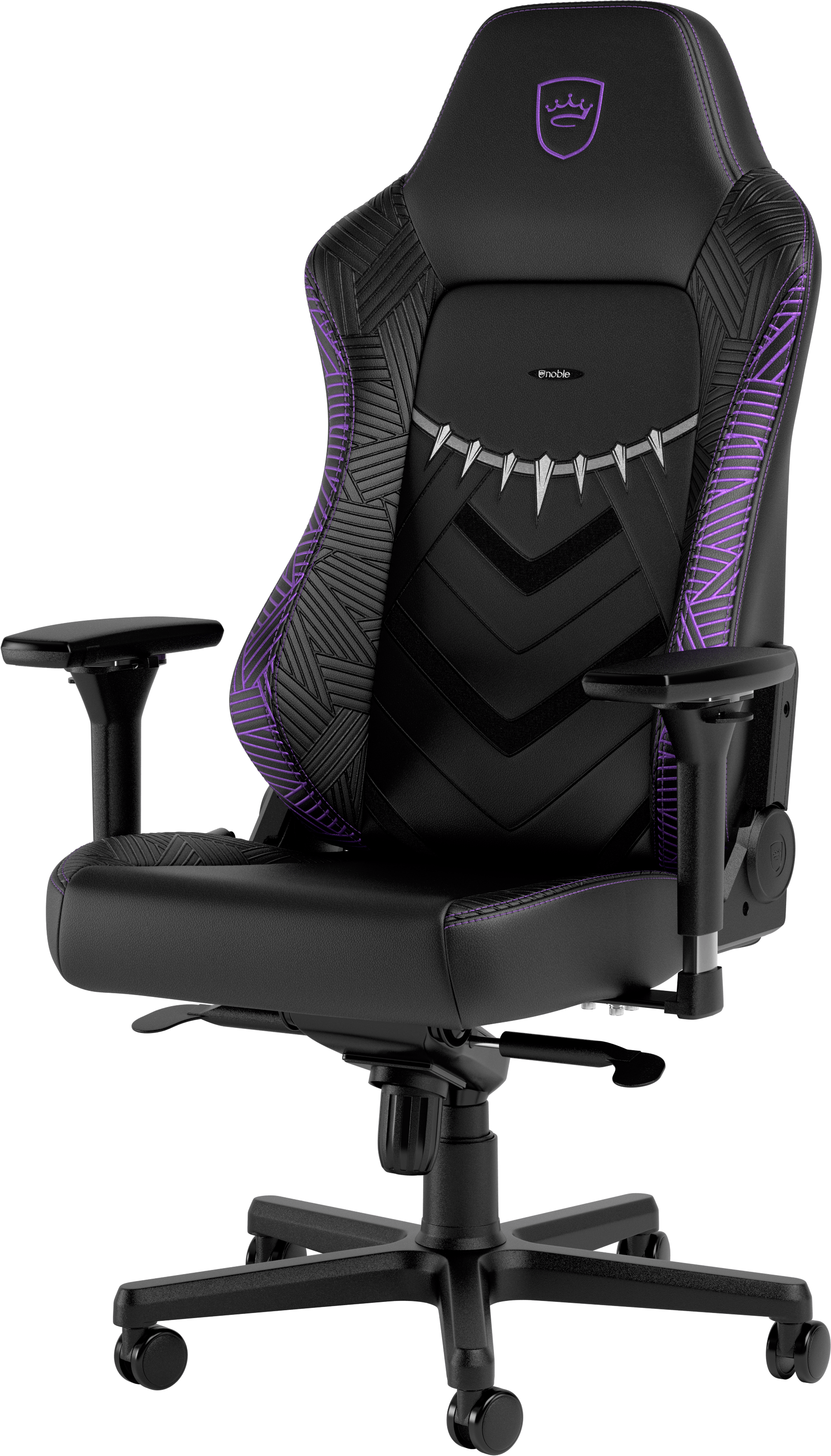 THE PERFECT POSITION FOR EVERY USER
Sit how you want with the noblechairs HERO Series. Height adjustment paired with our convenient 'rocker' mechanism offers a range of motion allowing you to find the perfect position. With 11° of movement on the 'rocker' mechanism, and the ability to set the backrest from 90° to 125°, you'll be playing, watching, or working in comfort at all times.
Fast and convenient backrest locking function
Adjustable seat height
90° to 125° of backrest movement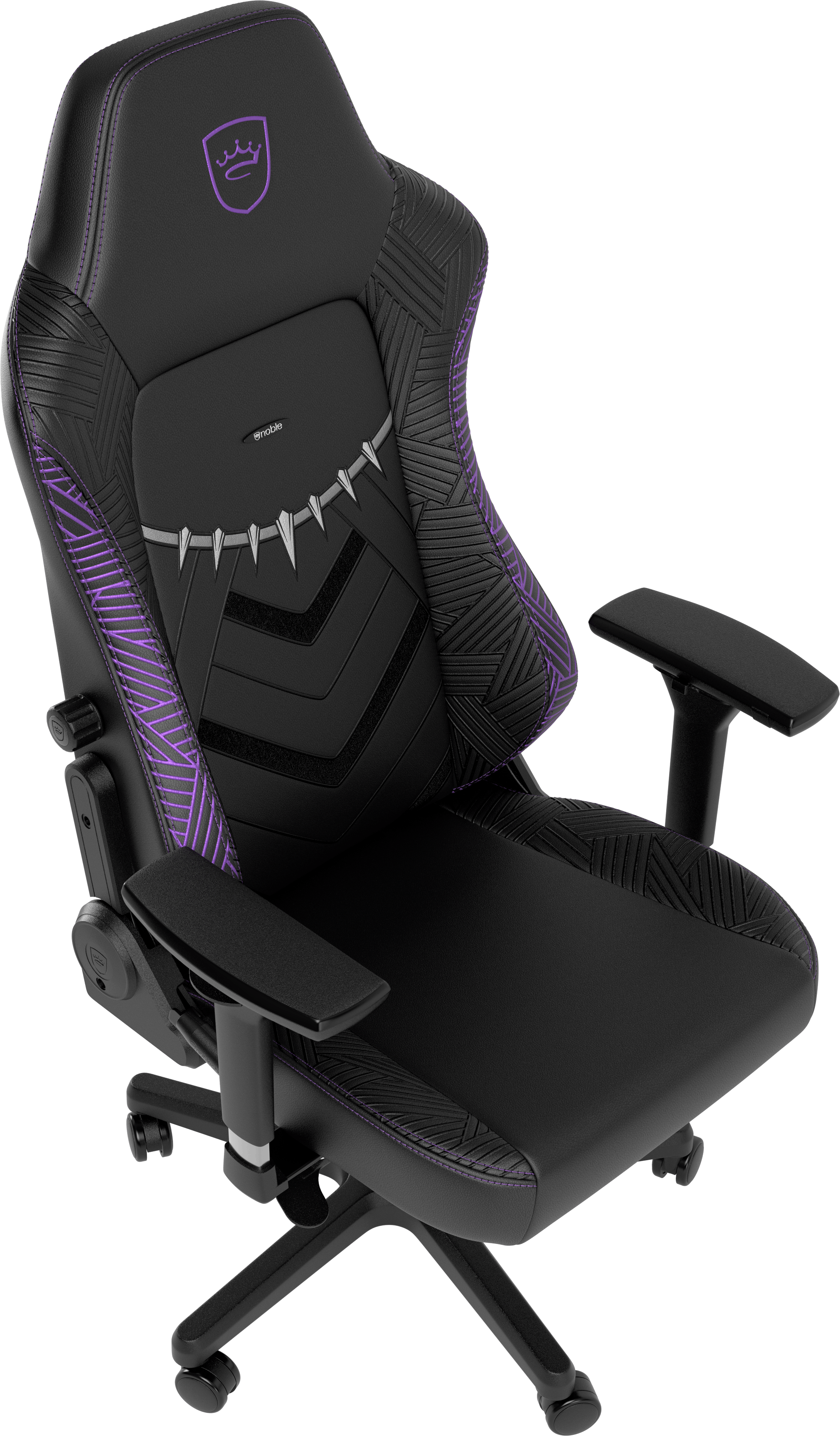 EXCEPTIONAL 4D ARMRESTS
With an increased surface area paired with an extensive range of movement options, the noblechairs 4D armrests offer a variety of positions, allowing you to find the perfect stance. Adjustable on four axes, our polyurethane armrests offer a subtly textured surface, designed to find a balance between softness and the right amount of grip for the most intense gaming sessions.
Height, depth, angle, and distance adjustment options
Polyurethane provides a balance between softness and grip
Oversized for added support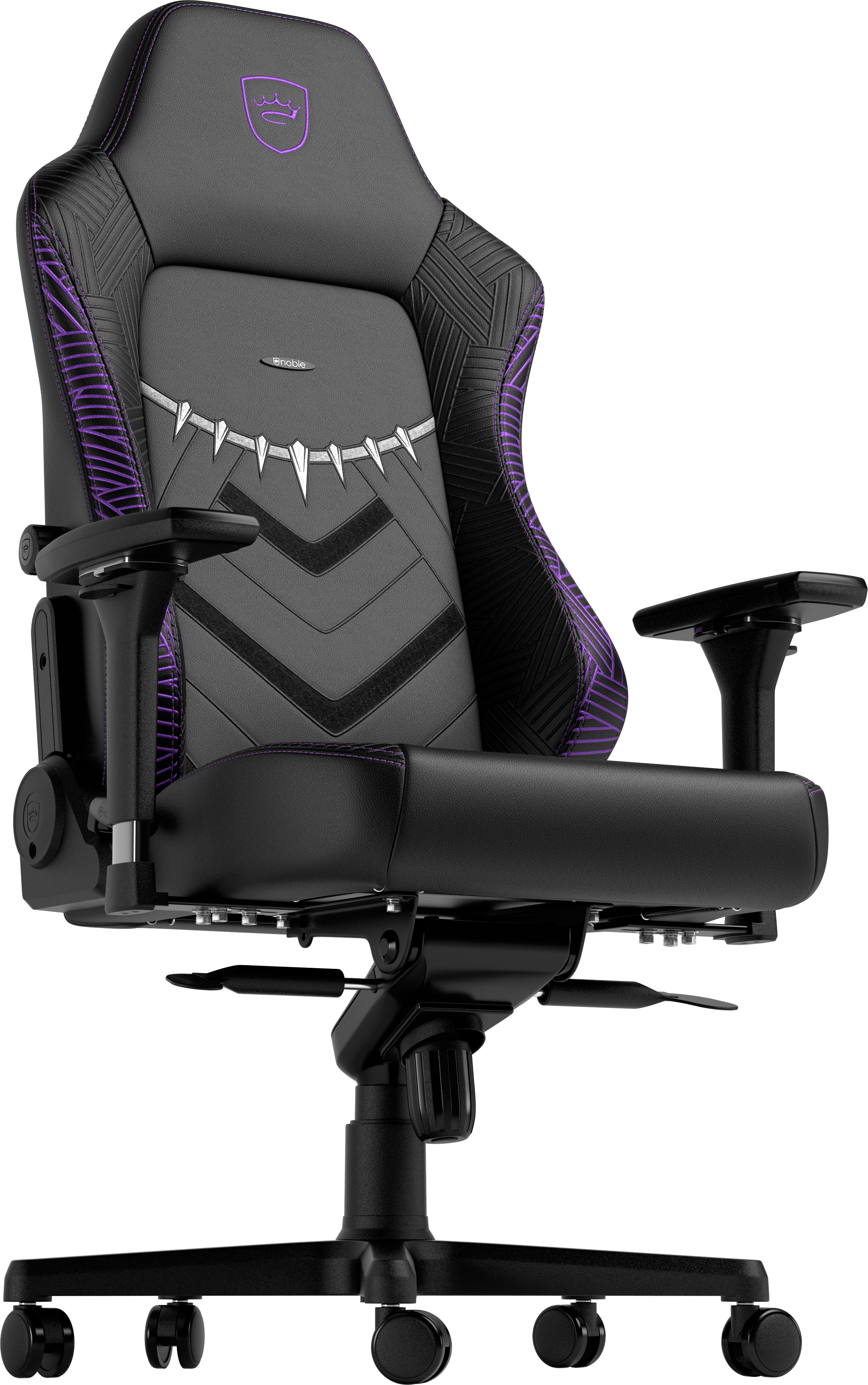 HIGH-QUALITY MATERIALS
The dark, durable, 100% vegan PU imitation leather perfects the design with a rich texture and brings the vivid colors to life. The intense stripes at the sides of the chair, framing the black main body, evoke MARVEL's Black Panther's chest armor. Take this throne and begin your adventures in the MARVEL universe.
Water repellent, easy to clean, breathable, and durable
1.5mm thick, 100% vegan PU imitation leather
Rich colors and details, bringing the design of the prowling Avenger into your home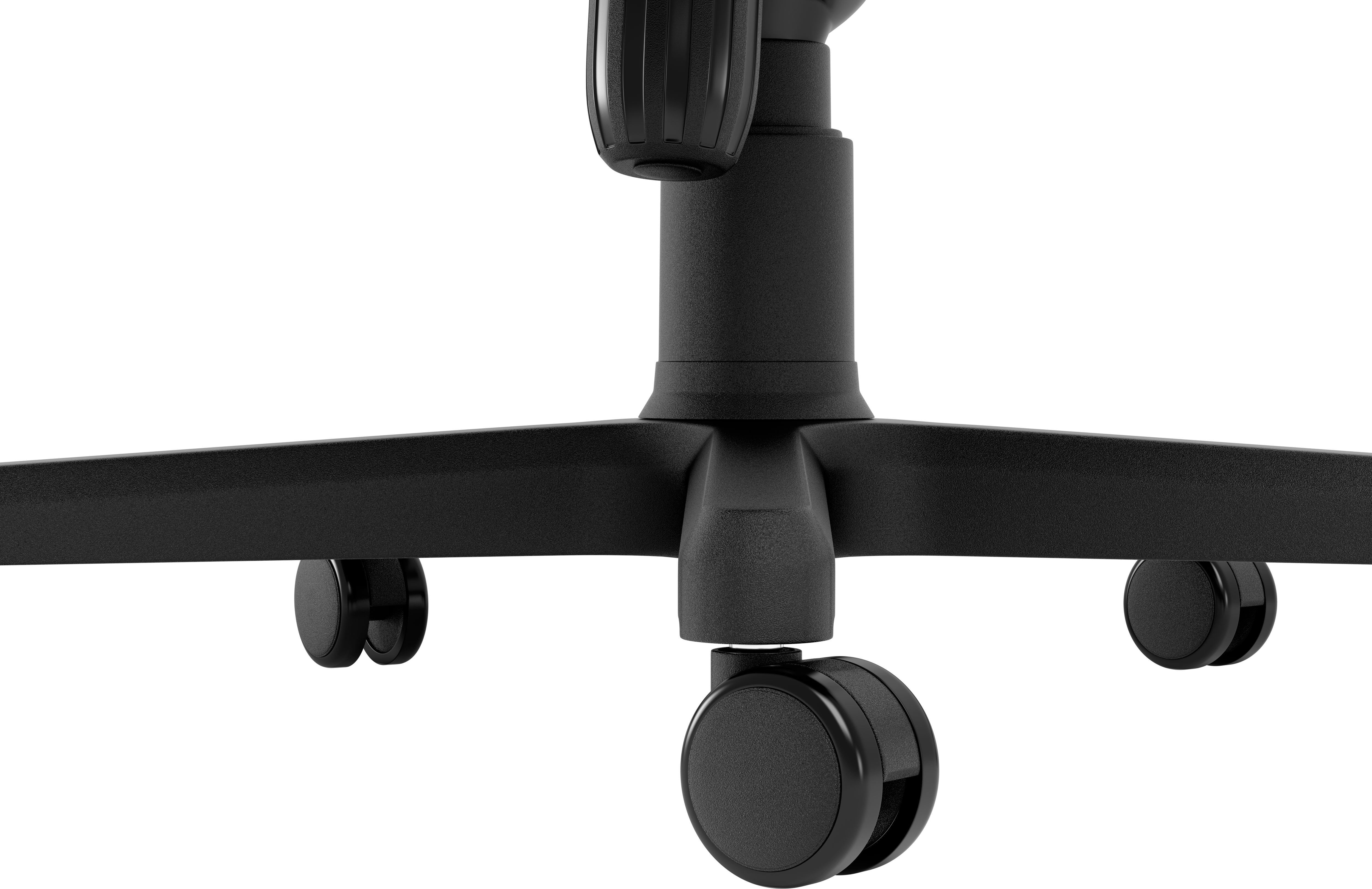 ROBUST ALUMINIUM BASE
The foundation of the HERO Series from noblechairs is the powder-coated wheelbase made from solid aluminum with five arms and specially designed castors. These 60mm castors consist of a Nylon core with a polyurethane coating that allows them to be quiet and suited for use on both hard and soft flooring. Combined with the Safety Class 4 gas lift, the HERO Series has been designed in conjunction with the optimized base to offer support for a maximum load of up to 150kg / 330lbs.
Supports up to 150kg / 330lbs
Safety Class 4 gas lift
Powder-coated aluminum wheelbase both light and sturdy
60mm castors designed for soft and hard floors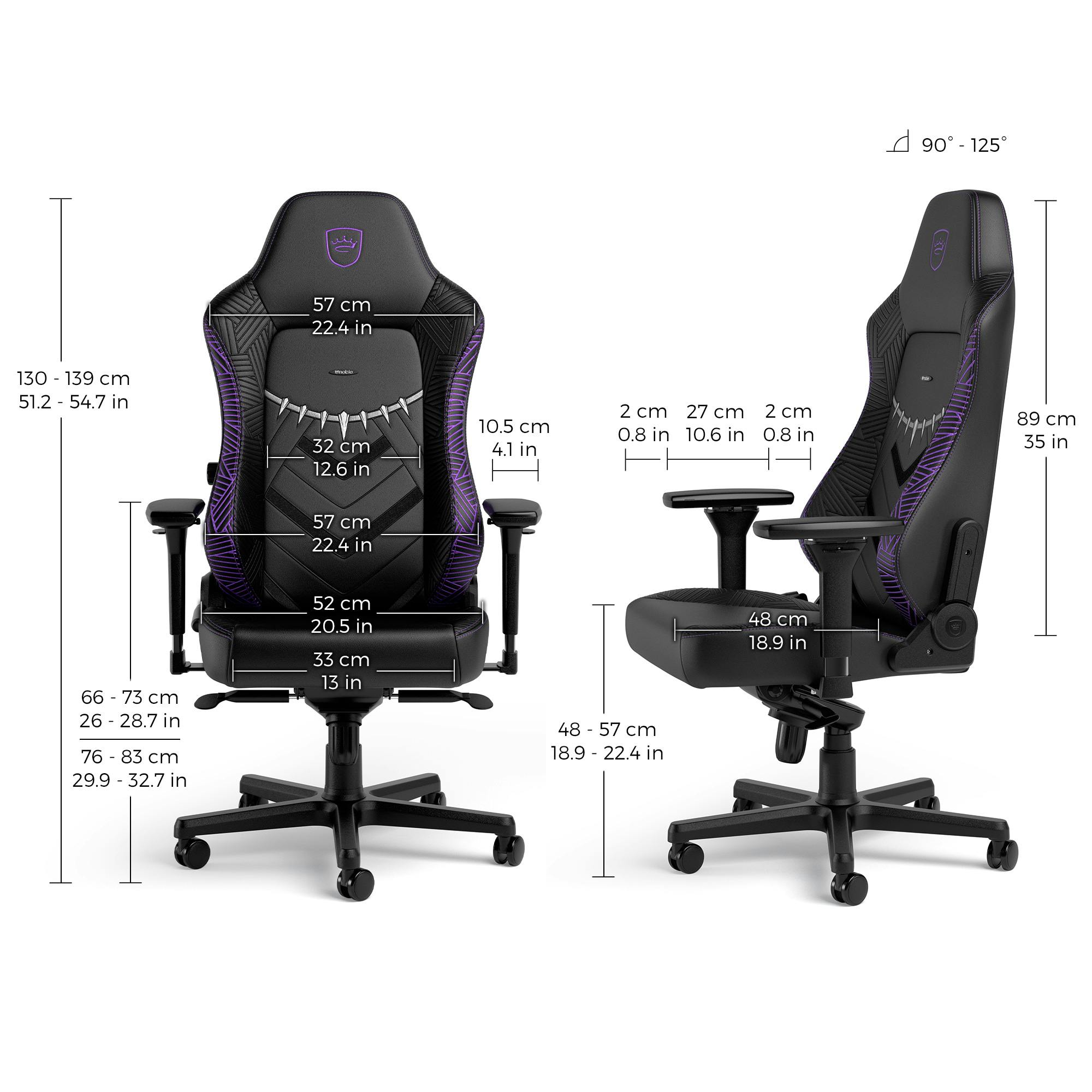 Specifications
Integrated adjustable lumbar support
Enlarged backrest and seat
Practical tilting function (max. 11°)
4D Armrests for maximum adjustability with soft PU coating
Adjustable backrest angle (90° to 125°)
Deform resistant cold foam
Durable hydraulic gas lift (Class 4)
Office chair certification in accordance with DIN EN 1335
Robust steel frame
60mm casters suitable for hard and soft flooring
Max load of up to 150 kg (331 lbs)
Weight approx. 30 kg/ 66.1 lbs
Pillow set not included
Recommended for users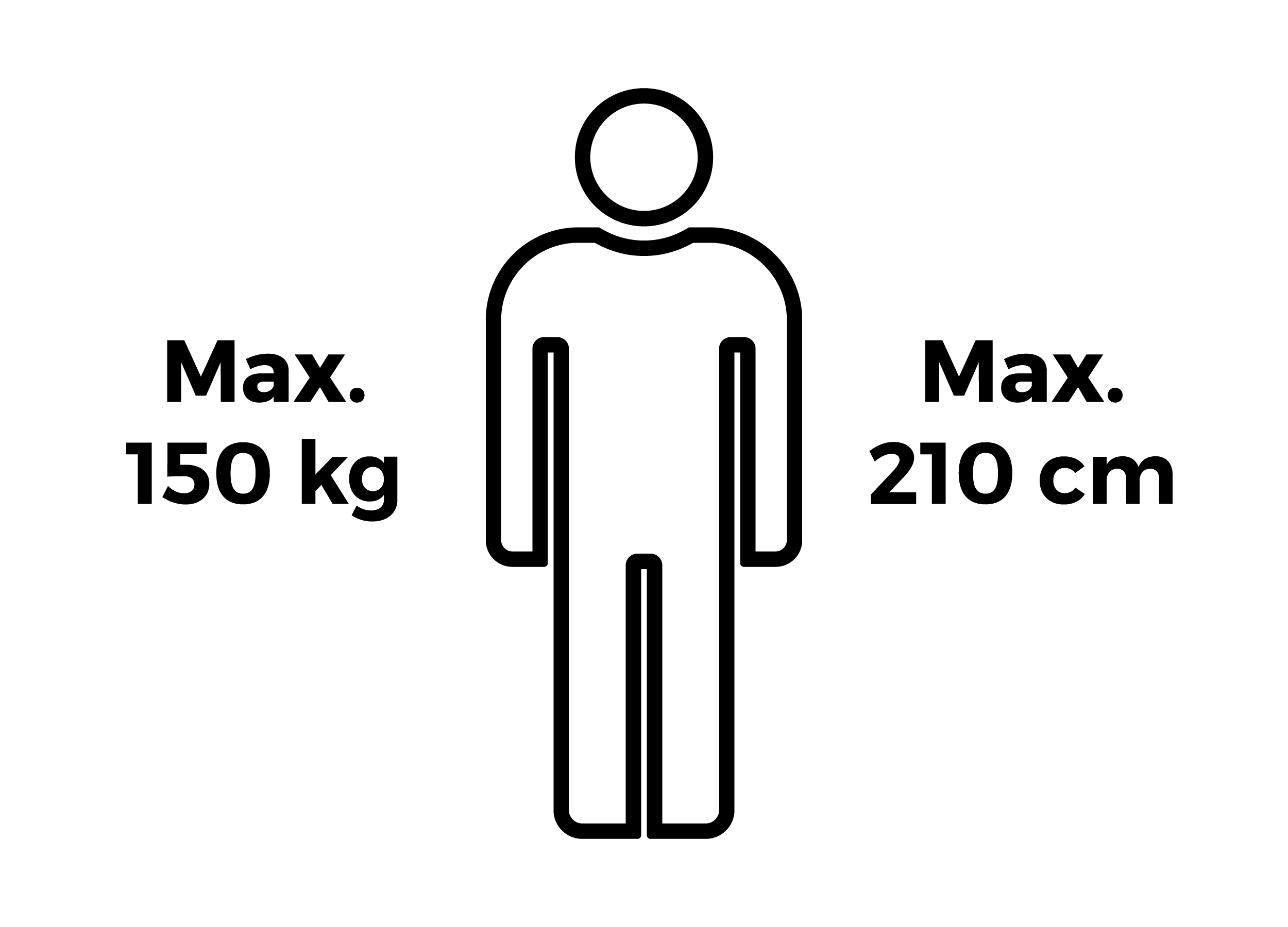 Dimensions
Total Height: 130 - 139 cm/ 51.2 - 54.7 inch
Seating Height: 48 - 57 cm/ 18.9 - 22.4 inch
Backrest Height: 89 cm/ 35 inch
Backrest Shoulder Width: 57 cm/ 22.4 inch
Backrest Outer Width: 57cm/ 22.4 inch
Backrest Inner Width: 32 cm/ 12.6 inch
Seat Surface Outer Width: 52 cm/ 20.5 inch
Seat Surface Inner Width: 33 cm/ 13 inch
Seating Area Depth: 48 cm/ 18.9 inch
Armrest Width: 10,5 cm/ 4.1 inch
Armrest Depth: 27 cm/ 10.6 inch
Armrests Height (Lowest Chair Position): 66 - 73 cm/ 26 - 28.7 inch
Armrests Height (Highest Chair Position): 76 - 83 cm/ 29.9 - 32.7 inch
Armrests Inner Distance: 49 - 54 cm/ 19.3 - 21.3 inch
Armrests Inner Distance: 54 - 59 cm/ 21.3 - 23.2 inch
Materials
Steel (frame)
Cold foam (inner cushioning)
PU imitation leather (Cover)
Aluminium (base)
Nylon / polyurethane (casters)
Polyurethane (armrests)
Share
View full details