Product description
GAMING CASE
SHARKOON TG5 PRO 
The TG5 Pro RGB is a further development of the popular TG5 RGB. This casing has been furnished with the control and installation options featured in our most up-to-date models. The side panel, which is entirely made of tempered glass, puts the installed hardware into focus, while the cables, power supply and data drives are inconspicuously concealed.
Illuminated RGB Front. Three 120 mm addressable RGB fans illuminate nearly the whole surface of the front panel and lend the TG5 Pro RGB an incomparable look of radiance. Another fan is pre-installed on the rear panel, casting light into the interior of the case. The LEDs can be precisely controlled and illuminated as desired via the software of compatible mainboards. If the mainboard does not have this connection, there is still a range of twenty lighting effects which can be operated with a manual control.
Full View. Beauty is more than just skin deep. Therefore, the inside of the case is almost completely viewable. While the glass front panel lets the illuminated fans shine through, the tempered glass side panel presents a view of the installed hardware.
Space for Hardware. High-performance hardware will find enough room inside the TG5 Pro RGB. Graphics cards with 40 cm length, CPU coolers with a height of up to 16.7 cm and power supplies with a maximum length of 20.5 cm will all be comfortably accommodated within the case. Data storage drives of different sizes will also easily fit in. For three 3.5" HDDs or four 2.5" SSDs there is more than enough room. 
PROCESSOR 
INTEL CORE i5-11600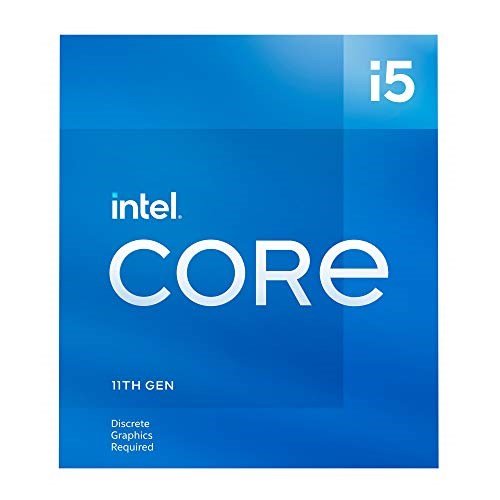 MOTHERBOARD 
GIGABYTE B560M DS3H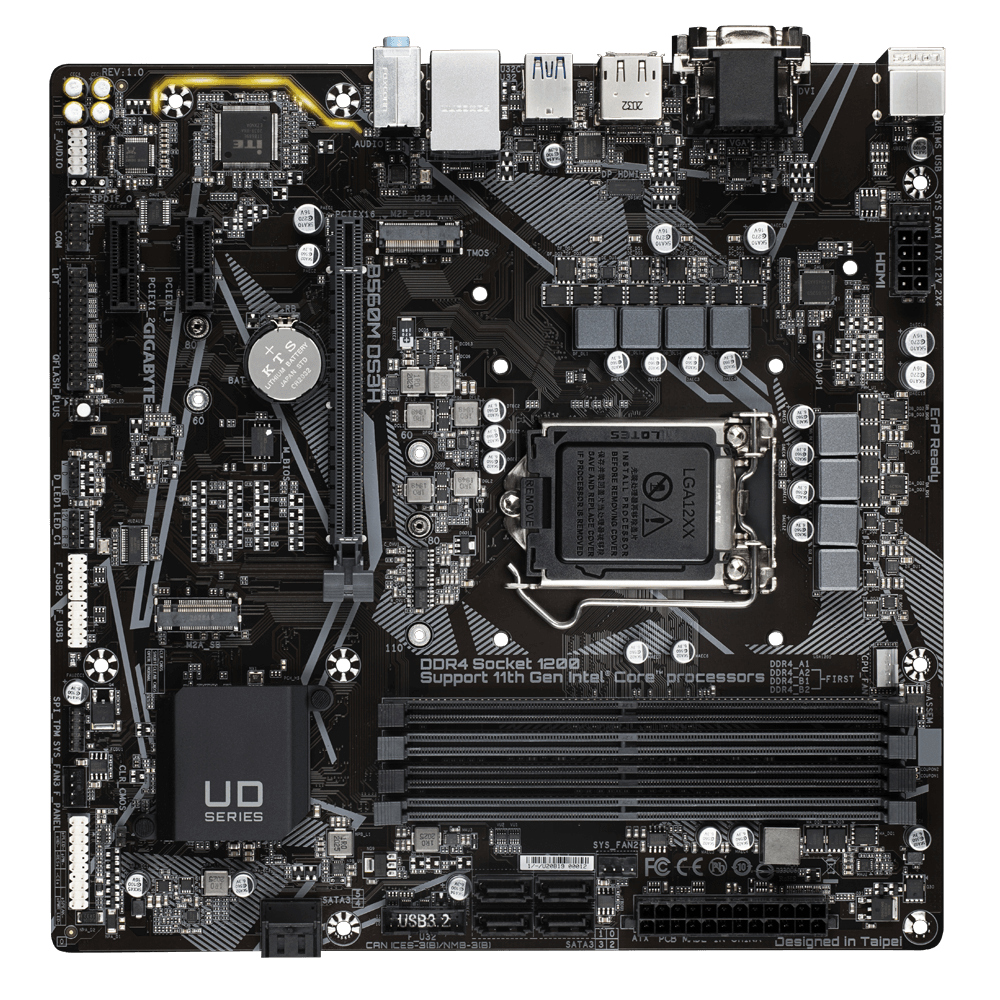 PERFORMANCE
Direct 6+2 Phases Digital VRM Solution with Low RDS(on) MOSFETs. Cleaner and more efficient power delivery to the CPU with better thermal performance ensure stability under high CPU frequencies and heavy loading:
Digital PWM Controller to deliver appropriate voltage to the CPU.
Direct 6+2Phases Low RDS(on) MOSFETs without PWM Doublers, each power phase connects directly to the CPU.
 Smart Fan 6. Smart Fan 6 contains several unique cooling features that ensure gaming PC maintain its performance while staying cool and quiet. Multiple fan headers can support PWM/DC fan and pump, and users can easily define each fan curve based on different temperature sensors across the board via intuitive user interface.
XMP 4600+. GIGABYTE is offering a tested and proven platform that ensures proper compatibility with profiles up to 4600MHz and beyond. All users need to do to attain this performance boost is to ensure that their memory module is XMP capable and that the XMP function is activated and enabled on their GIGABYTE motherboard.
Full PCIe 4.0* Design. PCIe 4.0 Ready PCB; 1 x PCIe 4.0 Slot; PCIe 4.0 M.2 Slot
CONNECTIVITY
Dual PCIe 4.0/3.0 x4 M.2 Connectors. GIGABYTE Ultra Durable Motherboards are focused on delivering M.2 technology to enthusiasts who want to maximize their Systems' potential.
Exclusive Realtek 8118 Gaming LAN. Realtek 8118 LAN is a high performance and friendly network chip for gaming players with automatic bandwidth allocation to ensure the highest network priority of the game or application. It can provide users the most comprehensive features and the fastest and smoothest Internet experience.
Connecting the Future - USB Type-C®  
The USB Type-C
®
is a new reversible connector that is loaded with useful features such as USB 3.2 Gen1 support for 10Gb/s transfer speed. Powered by the Intel
®
 USB 3.2 Gen1 controller, this little port provides the best USB Type-C
®
experience possible.
                                                       LIGHTING                                                                                           
RGB Fusion 2.0. With B560 Motherboard, RGB Fusion 2.0 is even better with Addressable LEDs.        RGB Fusion 2.0 offers users the option to control onboard RGB and external RGB / Addressable LED light strips for their PC. Already feature filled with colors and patterns, RGB Fusion 2.0 on B560 Series Motherboards are now upgraded with Addressable LED support. With external Addressable LED strips*, where each LED is digitally addressable, users can experience even more patterns, styles, and               illuminations.                                                                                                               
RGB Fusion Software. With an integrated intuitive user interface, the RGB Fusion 2.0 provides you a better solution for customizing the lighting effects across all supported devices. From motherboards, graphics cards to the peripheral products, you can personalize your gaming rig with your own style and show off your build by sharing the profiles. In addition, the new gaming mode makes the lighting effects interactive with selected games to bring you the most immersive gaming experience.
RAM 
CORSAIR VENGEANCE LPX 8GB DDR4 3000MHz
VENGEANCE LPX memory is designed for high-performance overclocking. The heatspreader is made of pure aluminum for faster heat dissipation, and the custom performance PCB helps manage heat and provides superior overclocking headroom. Each IC is individually screened for peak performance potential.
The DDR4 form factor is optimized for the latest DDR4 systems and offers higher frequencies, greater bandwidth, and lower power consumption than DDR3 modules. VENGEANCE LPX DDR4 modules are compatibility-tested across DDR4 systems for reliably fast performance. There's XMP 2.0 support for trouble-free automatic overclocking. And, they're available in multiple colors to match your personal preference.
The small form factor makes it ideal for smaller cases or any system where internal space is at a premium.


STORAGE 
WESTERN DIGITAL BLUE SN550 NVMe SSD
The WD Blue
™
 SN550 NVMe
™
 SSD can deliver over 4 times the speed of our best SATA SSDs. Whether you're working, creating or processing large amounts of data, take advantage of this powerful internal drive's high speeds to do more, faster. Available here in 1TB
 in an affordable M.2 2280 form factor, there's no time like now to make the change to NVMe.
GRAPHICS CARD 
ZOTAC GAMING GEFORCE GTX1660 6GB GDDR5
NVIDIA TURING ARCHITECTURE
The GeForce GTX 16 series is powered by the NVIDIA Turing architecture, bringing incredible performance to the latest games. Get Game Ready with GTX.
GEFORCE EXPERIENCE
 The essential companion to your GeForce graphics card. Capture and share videos, screenshots, and livestreams. Keep your drivers up to date and optimize your games.

GAME READY DRIVERS
Get high levels of performance, and smooth experience possible, from the moment you start playing.
VR READY
Discover next-generation VR performance, low latency, and plug-and-play compatibility with leading headsets.
ALL-NEW FIRESTORM
Introducing the all-new ZOTAC GAMING FIRESTORM. Freshly designed with a more intuitive and minimal interface so you can get in and out quickly. Fine tune your ZOTAC GAMING Graphics Card with enhanced intelligence, adjust the SPECTRA lighting, or simply monitor the hardware status with the new FIRESTORM utility.
OC SCANNER
Getting more out of your ZOTAC GAMING GeForce graphics cards has never been easier. With the all-new OC SCANNER feature, we take the tedious trial and error and guesswork process out of the equation and drop it into a simple button press. Start the process, take a short break, and come back to a recommendation that is the most optimal settings for your graphics card.
CPU COOLING 
DEEPCOOL GAMMAXX GTE V2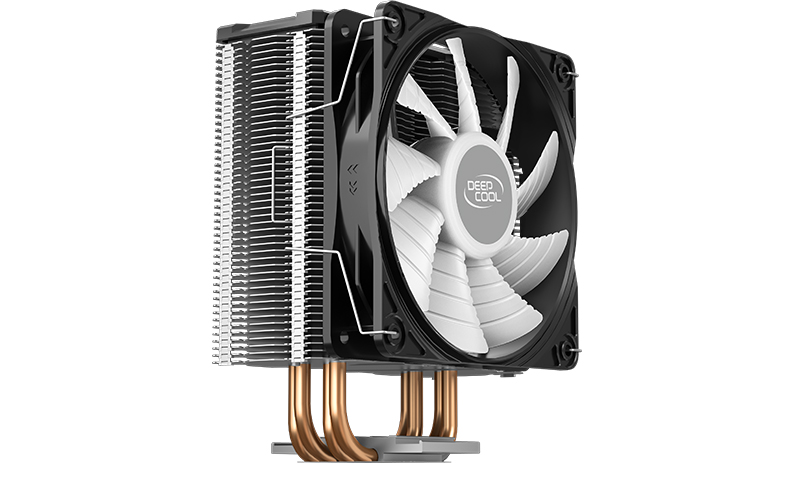 GAMMAXX GTE V2 is a new model of the renowned GAMMAXX GTE series.
With an upgraded PWM & RGB fan, and the new mounting tools, GAMMAXX GTE V2 is apt to provide better and safer cooling performance.
Convenient RGB Control. An extension cable is included to control the lighting system of GAMMAXX GTE V2 through motherboard.
New process,better disipation. The new fin-mounting process ensures smoother ventilation and more efficient heat dissipation.
Upgraded heat pipes. With scientific layout and direct-touch technology, the 4 copper heatpipes will dissipate CPU heat with maximum efficiency.
PWM & RGB Fan. The 120mm PWM fan is finely tuned to maintain perfect noise-performance balance. Its 12V RGB LEDs are ready to be synced with other RGB parts on motherboard.
POWER SUPPLY 
GIGABYTE MODULAR P750M 80 PLUS GOLD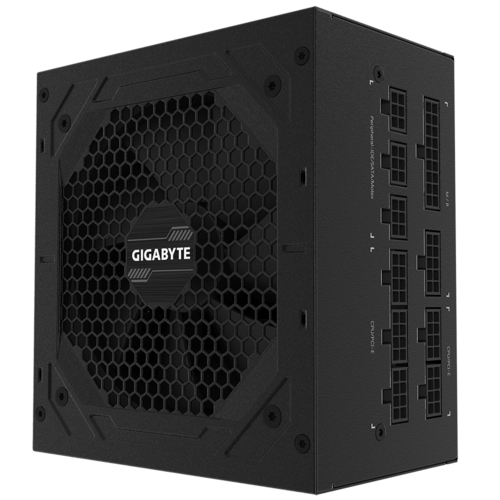 FULLY MODULAR DESIGN
All the black flat cables are modular design. Installing only the cables you need to reduce clutter, to increase the airflow and to improve the chassis thermal performance.
80 PLUS GOLD CERTIFIED
80 Plus Gold certified ensures to deliver 90% efficiency at 50% load. The better power efficiency leads to less power waste, less heat and less fan noise. And with the support of Intel processors, it will save more energy and more money.
120MM SMART HYDRAULIC BEARING (HYB) FAN
The fan speed is adjusted according to the automatic power detection and will stop when the system is idle or under low load (less than 20% load). The Hydraulic Bearing fan provides longer and more stable life time.
OPERATING SYSTEM 
WINDOWS 10 PRO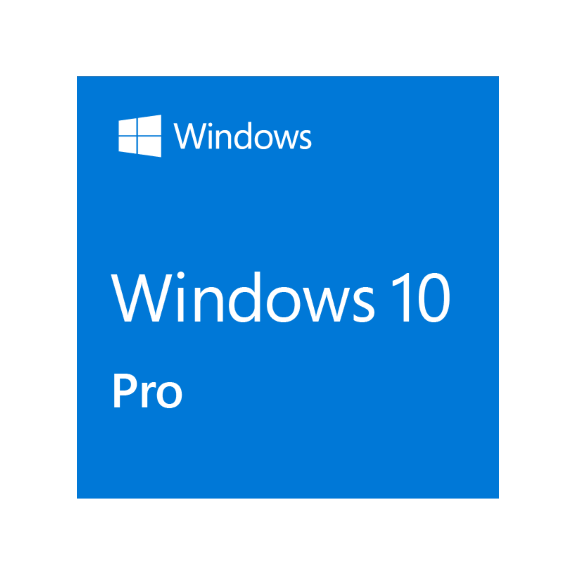 SPECIFICATIONS


GAMING CASE



Form Factor: ATX

Expansion Slots: 7

Interior Painting: Yes

Tool-free Devices Installation: Yes

Cable Management System: Yes

Side Panel: Tempered Glass
Weight: 8.5 kg

Dimensions (L x W x H): 45.2 x 21.5 x 46.5 cm
RGB Compatibility

Type: Addressable

Ports: 8

Manual Control: 20 Modes

Mainboard Compatibility:

MSI Mystic Light Sync, ASUS Aura Sync, Gigabyte RGB Fusion Ready, ASRock Polychrome Sync

RGB pinout: 5V-D-G & 5V-D-coded-G
Max. Drive Bays

3.5": 3

2.5": 4
I/O

USB 3.0 (Top): 2

USB 2.0 (Top): 2

Audio (Top): Yes
Fan Configuration

Front Panel:

3x 120 mm Addressable RGB Fans (Pre-Installed) or Radiator (Optional)*

Rear Panel:

1x 120 mm Addressable RGB Fan (Pre-Installed)

Top Panel:

3x 120 mm or 2x 140 mm Fans (Optional)
Compatibility

Mainboard: Mini-ITX, Micro-ATX, ATX

Max. Length Graphics Cards: 40.0 cm

Max. Height CPU Cooler: 16.7 cm

Max. Length Power Supply: 20.5 cm

Max. Height Radiator (Front): 5.2 cm
Package Contents:

TG5 Pro RGB
Accessory Set
Manual
MOTHERBOARD
LGA1200 package:
11th Generation Intel®

 

Core™ i9 processors / Intel®

 

Core™ i7 processors / Intel®

 

Core™ i5 processors
10th Generation Intel®

 

Core™ i9 processors / Intel®

 

Core™ i7 processors / Intel®

 

Core™ i5 processors / Intel®

 

Core™ i3 processors/ Intel®

 

Pentium®

 

processors / Intel®

 

Celeron®

 

processors*
* Limited to processors with 4 MB Intel®

 

Smart Cache, Intel®

 

Celeron®

 

G5xx5 family.
L3 cache varies with CPU
Intel®

 

B560 Express Chipset
11th Generation Intel®

 

Core™ i9/i7/i5 processors:
Support for DDR4 5333(O.C.) / DDR4 5133(O.C.) / DDR4 5000(O.C.) / 4933(O.C.) / 4800(O.C.) / 4700(O.C.) / 4600(O.C.) / 4500(O.C.) / 4400(O.C.) / 4300(O.C.) / 4266(O.C.) / 4133(O.C.) / 4000(O.C.) / 3866(O.C.) / 3800(O.C.) / 3733(O.C.) / 3666(O.C.) / 3600(O.C.) / 3466(O.C.) / 3400(O.C.) / 3333(O.C.) / 3300(O.C.) / 3200 / 3000 / 2933 / 2800 / 2666 / 2400 / 2133 MHz
10th Generation Intel®

 

Core™ i9/i7 processors:
Support for DDR4 2933/2666/2400/2133 MHz memory modules
10th Generation Intel®

 

Core™ i5/i3/Pentium®/Celeron®

 

processors:
Support for DDR4 2666/2400/2133 MHz memory modules
4 x DDR4 DIMM sockets supporting up to 128 GB (32 GB single DIMM capacity) of system memory
Dual channel memory architecture
Support for ECC Un-buffered DIMM 1Rx8/2Rx8 memory modules (operate in non-ECC mode)
Support for non-ECC Un-buffered DIMM 1Rx8/2Rx8/1Rx16 memory modules
Support for Extreme Memory Profile (XMP) memory modules
Integrated Graphics Processor-Intel
®
HD Graphics support:
1 x D-Sub port, supporting a maximum resolution of 1920x1200@60 Hz
1 x DVI-D port, supporting a maximum resolution of 1920x1200@60 Hz
* The DVI-D port does not support D-Sub connection by adapter.
1 x DisplayPort, supporting a maximum resolution of 4096x2304@60 Hz
* Support for DisplayPort 1.2 version and HDCP 2.3
* When the D-Sub port and DisplayPort are connected at the same time, images will output from the DisplayPort only.
1 x HDMI port, supporting a maximum resolution of 4096x2160@30 Hz
* Support for HDMI 1.4 version and HDCP 2.3.
(Graphics specifications may vary depending on CPU support.)
Realtek®

 

Audio CODEC
High Definition Audio
2/4/5.1/7.1-channel
* To configure 7.1-channel audio, you need to open the audio software and select Device advanced settings > Playback Device to change the default setting first.                                                                                                                          
Realtek®

 

GbE LAN chip (1000/100 Mbit)
1 x PCI Express x16 slot, running at x16
(The PCIEX16 slot conforms to PCI Express 4.0 standard.) (Note)
2 x PCI Express x1 slots
(The PCIEX1 slot conforms to PCI Express 3.0 standard.)
CPU:
1 x M.2 connector (Socket 3, M key, type 2260/2280/22110 PCIe 4.0 x4/x2 SSD support) (M2P_CPU) (Note)
Chipset:
1 x M.2 connector (Socket 3, M key, type 2260/2280 SATA and PCIe 3.0 x4/ x2 SSD support) (M2A_SB)
6 x SATA 6Gb/s connectors
* Refer to "1-7 Internal Connectors," for the installation notices for the M.2 and SATA connectors.
Intel
®
 Optane™ Memory Ready
Chipset:
1 x USB Type-C®

 

port on the back panel, with USB 3.2 Gen 1 support
5 x USB 3.2 Gen 1 ports (3 ports on the back panel, 2 ports available through the internal USB header)
4 x USB 2.0/1.1 ports available through the internal USB headers
Chipset+USB 2.0 Hub:
2 x USB 2.0/1.1 ports on the back panel
1 x 24-pin ATX main power connector
1 x 8-pin ATX 12V power connector
1 x CPU fan header
3 x system fan headers
1 x addressable LED strip header
1 x RGB LED strip header
6 x SATA 6Gb/s connectors
2 x M.2 Socket 3 connectors
1 x front panel header
1 x front panel audio header
1 x USB 3.2 Gen 1 header
2 x USB 2.0/1.1 headers
1 x Trusted Platform Module header (For the GC-TPM2.0 SPI/GC-TPM2.0 SPI 2.0 module only)
1 x serial port header
1 x parallel port header
1 x Clear CMOS jumper
1 x Q-Flash Plus button
2 x USB 2.0/1.1 ports
1 x PS/2 keyboard/mouse port
1 x D-Sub port
1 x DVI-D port
1 x DisplayPort
1 x HDMI port
3 x USB 3.2 Gen 1 ports
1 x USB Type-C® port, with USB 3.2 Gen 1 support
1 x RJ-45 port
3 x audio jacks
iTE®

 

I/O Controller Chip
Voltage detection
Temperature detection
Fan speed detection
Fan fail warning
Fan speed control
* Whether the fan speed control function is supported will depend on the fan you install.
1 x 256 Mbit flash
Use of licensed AMI UEFI BIOS
PnP 1.0a, DMI 2.7, WfM 2.0, SM BIOS 2.7, ACPI 5.0
Support for APP Center
* Available applications in APP Center may vary by motherboard model. Supported functions of each application may also vary depending on motherboard specifications.
@BIOS
EasyTune
Fast Boot
Game Boost
ON/OFF Charge
RGB Fusion
Smart Backup
System Information Viewer
Support for Q-Flash Plus
Support for Q-Flash
Support for Xpress Install
Support for Windows 10 64-bit
Micro ATX Form Factor; 24.4cm x 24.4cm
RAM
Memory Series
VENGEANCE LPX
Memory Size
Tested Latency
16-20-20-38
Memory Color
BLACK
Speed Rating
PC4-24000 (3000MHz)
Compatibility
Intel 100 Series,Intel 200 Series,Intel 300 Series,Intel 400 Series,Intel 500 Series,Intel X299
Heat Spreader
Anodized Aluminum
Package Memory Format 
DIMM
Performance Profile
XMP 2.0
STORAGE

Sequential Read Performance
Sequential Write Performance
GRAPHICS CARD 
GPU

GeForce® GTX 1660

CUDA cores

1408

Video Memory

6GB GDDR5

Memory Bus

192-bit

Engine Clock

Boost: 1785 MHz

Memory Clock

8 Gbps

PCI Express

3.0

Display Outputs

3 x DisplayPort 1.4 (up to 7680x4320 @ 60Hz)
HDMI 2.0b (up to 3840x2160 @ 60Hz)

HDCP Support

Yes

Multi Display Capability

Quad Display

Recommended Power Supply

450W

Power Consumption

120W

Power Input

8-pin

DirectX

12 API feature level 12_1

OpenGL

4.5

Cooling

Dual Fan

Slot Size

Dual Slot

SLI

No

Supported OS

Windows 10 / 7 64-bit, Linux 64-bit

Card Length

215.9mm x 111.15mm x 35.3mm (8.5in x 4.38in x 1.39in)
SHARKOON TG5 PRO GAMING PC. i5-11TH/8GB/1TB/GTX1660/W10 PRO. BLACK
by SHARKOON