SHARKOON TG5 I7 9700KF 16GB 480SSD win10 pro
by SHARKOON
SHARKOON GAMING i7-9700K 
16RAM 480GB SSD 
KEY FEATURES
GAMING CASE
The TG5 ATX midi tower is ideal for all hardware enthusiasts who want to show what they have. The front and side panels made of tempered glass are the optimal showcase for presenting your installed hardware. Three pre-installed 120 mm LED fans in the front and another 120 mm LED fan on the back of the case provide the right lighting. And, so nothing distracts from the essentials, the case interior provides numerous possibilities to make power supply, cables and storage drives disappear from view.
Hardware in the Spotlight.
Three LED fans behind the front panel and another on the back panel are already pre-installed, providing an atmospheric illumination and color accents for your PC build.
Transparent Design.


The distinctively minimalist design and the almost all-round transparency of the case are provided by the front and side panels made of tempered glass – and, in contrast to typical PC cases, the TG5 only represents the framework for the installed hardware inside
Best of Space for Components. 
Designed for high-end hardware, the TG5 offers space for long graphics cards up to 40 cm as well as large CPU coolers with a height of up to 16.7 cm and power supplies with a maximum length of 20.5 cm. Of course, HDDs and SSDs are also well catered for: up to three 3.5" or up to four 2.5" drives will find space inside.
Clean and Tidy. 
For the orderly cabling of all components, the TG5 has various cable pass-throughs as well as a power supply tunnel, allowing a clear and tidy presentation of the hardware. In addition, all areas of air-intake are protected with removable dust filters. For easy component installation, fans and drives can be flexibly positioned using the extra-long slots within the case.
Ready for Water Cooling. 
The TG5 is especially developed for high-performance systems with water cooling. In the front, instead of the pre-installed LED fans, there is space for a 360 mm radiator with a total height (including fans) of 5.5 cm. If air cooling is preferred, there are additional installation options for up to three 120 mm fans or two 140 mm fans on the top panel of the case.
SPECIFICATIONS
General
Form Factor:

ATX

Expansion Slots:

7

Interior Painting:

✓

Tool-free Devices Installation:

✓

Cable Management System:

✓

Side Panel:

Tempered glass 4 mm

Color Versions:

Red, Green, Blue, White
Weight & Dimensions
Weight:

8.5 kg

Dimensions (L x W x H):

45.2 x 22.0 x 46.5 cm
I/O
USB 3.0 (Top):

2

USB 2.0 (Top):

2

Audio (Top):

✓
Drive Bays

3.5":

1

3.5" or 2.5":

2

2.5":

2
Fan Configuration
Front Panel:

3x 120 mm LED fan (pre-installed) or radiator (optional)

Rear Panel:

1x 120 mm LED fan (pre-installed)

Top Panel:

3x 120 mm or 2x 140 mm fan (optional)
Compatibility
Mainboard:

Mini-ITX, Micro-ATX, ATX

Max. Length Graphics Cards:

40.0 cm

Max. Height CPU Cooler:

16.7 cm

Max. Length Power Supply:

20.5 cm

Max. Height Radiator incl. Fan (Front):
PROCESSOR 
Intel Core i7-9700K 3.60GHz


MOTHERBOARD

ASUS TUF Z390-PLUS GAMING WIFI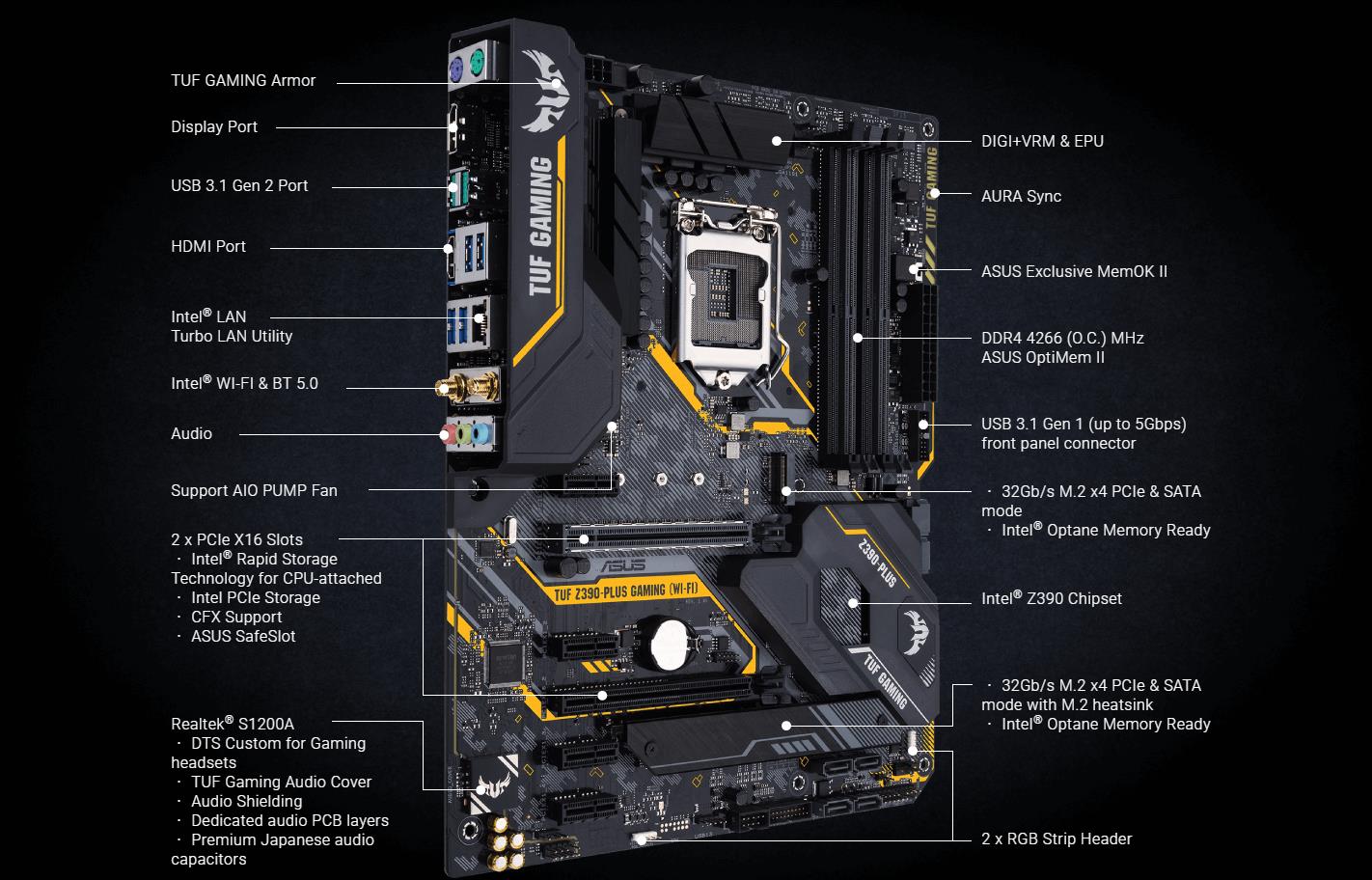 Easy PC DIY
TUF Gaming motherboards offer easy and safe DIY builds by leveraging great design, innovative engineering, and strong partnerships with major component manufacturers. The unrivalled combination of military-grade TUF Components, TUF Protection and the TUF Gaming Alliance means that you can rest assured that your gaming rig will go the distance.
TUF gaming alliance
TUF Gaming Alliance is a collaboration between ASUS and trusted PC-component brands to ensure compatibility with a wide range of parts, such as PC cases, power supplies, CPU coolers, memory kits and more. With more partnerships and components being added regularly, the TUF Gaming Alliance will continue to grow even stronger.
SafeSlot is the PCIe slot reinvented by ASUS and engineered to provide superior retention and shearing resistance. Manufactured in a single step using a new insert-molding process, SafeSlot integrates fortifying metal for an inherently stronger slot, which is then firmly anchored to the PCB through additional solder points.


TUF COMPONENTS




TUF CHOKES
Certified military-grade TUF chokes deliver rock-steady power to the CPU, helping to improve system stability.


TUF CAPACITORS
+20% temperature tolerance and 2.5X-longer lifespan.


TUF MOSFETS
Certified military-grade MOSFETs with lower RDS(on)*.
*Lower RDS(on) results in better power efficiency and reduced heat generation.
TUF LANGUARD
TUF LANGuard is a military-grade innovation that integrates advanced signal-coupling technology and premium surface-mounted capacitors to improve throughput, protecting the motherboard from lightning strikes and static electricity.


BUILT FOR HARD DUTY


Optimized Thermal Design


The TUF Z390-PLUS GAMING's VRM and inductor array is coupled to a large heatsink that has ample surface area to deal with the thermals of Intel's latest processors.
ENHANCED EATX 8-PIN SOCKET


Compared with traditional power inputs, ProCool sockets are built to tight specifications to ensure flush contact with the PSU power lines. This lowers impedance, which helps to prevent hotspots and connector failure.
SETUP AND CONFIGURATION
TUF Gaming motherboards are designed to be easy to set up and configure just the way you want, even for first-time builders. With simplified CPU and memory overclocking to optimize and boost performance, intelligent cooling controls for better system stability, and helpful troubleshooting tools to get you up and running quickly if you encounter problems, TUF Gaming motherboards give you everything you need to build your dream gaming rig without adding complexity.


Easy Trouble shooting
 



MEMOK! II
 

MemOK! II automatically fixes boot failures that arise due to memory overclocking and instability. When a DRAM-related POST error occurs, the motherboard adjusts memory parameters until the system is able to start.
 

Quick Installation


Q-INSTALLER, NO DRIVER DISC REQUIRED
ASUS Q-Installer software provides automatic download and installation of drivers and utilities for your TUF Gaming motherboard. Choose just the options you want from a user-friendly interface and Q-Installer will do the rest.
FLEXIBLE COOLING CONTROLS


GPU TEMPERATURE SENSING
System temperatures are key to a stable gaming rig ― especially GPU temperatures. TUF Gaming motherboards include Fan Xpert 4 software that's able to intelligently control system fans based upon the input of multiple sensors, including the temperature of ASUS graphics cards*. This ensures that your TUF Gaming system stays perfectly cooled, no matter how long you play.
FAN XPERT 4
TUF Z390-PLUS GAMING features the most comprehensive fan controls ever, configurable via Fan Xpert 4 and our award-winning UEFI BIOS.
GAMING PERFORMANCE
AND ASTHETIC CUSTOMIZATION
TUF Gaming Z390 provides a complete, high-performance gaming package with a long list of features to improve your experience, including ultrafast networking for smoother online gameplay, immersive audio with positional cues for FPS gaming, and onboard RGB lighting that syncs with attached accessories to help you create the perfect gaming atmosphere.






RAM
Corsair Vengeance LPX DDR4 3000MHz 32GB







DESIGNED FOR HIGH-PERFORMANCE OVERCLOCKING
VENGEANCE LPX memory is designed for high-performance overclocking. The heatspreader is made of pure aluminum for faster heat dissipation, and the custom performance PCB helps manage heat and provides superior overclocking headroom. Each IC is individually screened for peak performance potential.
DDR4 FACTOR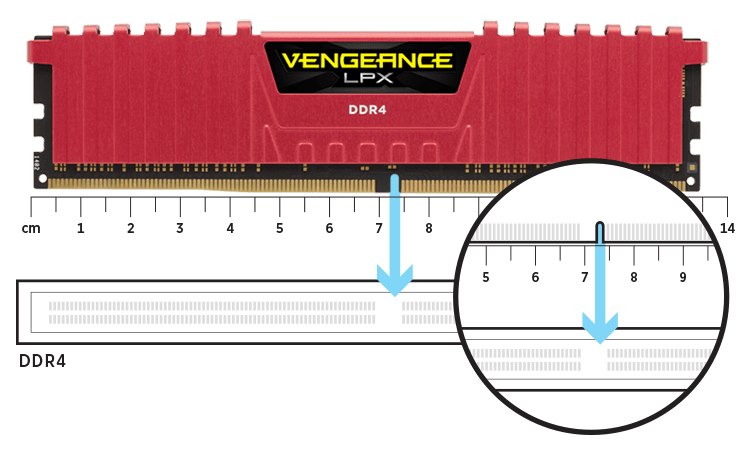 The DDR4 form factor is optimized for the latest DDR4 systems and offers higher frequencies, greater bandwidth, and lower power consumption than DDR3 modules. VENGEANCE LPX DDR4 modules are compatibility-tested across DDR4 systems for reliably fast performance. There's XMP 2.0 support for trouble-free automatic overclocking. And, they're available in multiple colors to match your personal preference.
 SPECIFICATIONS
Memory Series
VENGEANCE LPX
Memory Type
DDR4
Memory Size
8GB Kit (1 x 8GB)
Tested Latency
16-20-20-38
Tested Voltage
1.35V
Tested Speed
3000MHz
SPD Latency
15-15-15-36
SPD Speed
2133MHz
SPD Voltage
1.2V
Speed Rating
PC4-24000 (3000MHz)
Compatibility
Intel 100 Series,Intel 200 Series,Intel 300 Series,Intel 400 Series,Intel X299
Heat Spreader
Anodized Aluminum
Package Memory Format
DIMM
Performance Profile
XMP 2.0
STORAGE


KINGSTON A400 480GB SATA SSD 2.5"


Kingston's A400 solid-state drive dramatically improves the responsiveness of your existing system with incredible boot, loading and transfer times compared to mechanical hard drives. Powered by a latest-gen controller for read and write speeds of up to 500MB/s and 450MB/s
, this SSD is 10x faster than a traditional hard drive for higher performance, ultra-responsive multi-tasking and an overall faster system. Also more reliable and durable than a hard drive.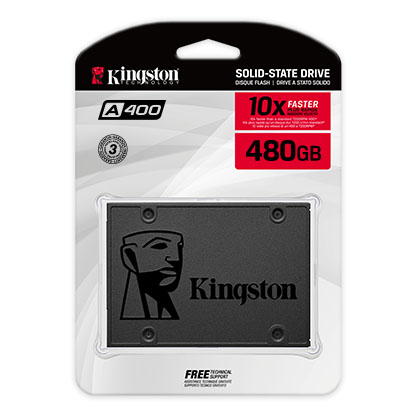 PSU
SHARKOON WPM GOLD ZERO 650W 80+ ATX 
The WPM Gold ZERO is a reliable power supply with modern LLC resonant converter technology. The power supply delivers optimal performance for gaming PCs and is certified as being energy efficient. In addition to this, low-noise operation is enhanced by the ZERO RPM function which suspends fan rotation when no active cooling power is needed. The semi-modular design also ensures a tidy installation and appearance.
Excellently Energy Efficient.

 
The WPM Gold ZERO is certified 80 PLUS Gold, achieving at least 90 % efficiency at 50 % load as well as 87 % efficiency at 20 % and 100 % load.
Modern LLC Technology.

 


The WPM Gold ZERO is equipped with state-of-the-art LLC resonant converter technology. This provides the power supply with a consistent and low-interference voltage. Noise and heat levels are minimized as far as possible.
DEEPCOOL  GAMMAX GT V2
CONVENIENT RGB CONTROL


A wire controller is included to control the lighting system of GAMMAXX GT V2.Extension cables are also in the package for motherboard control.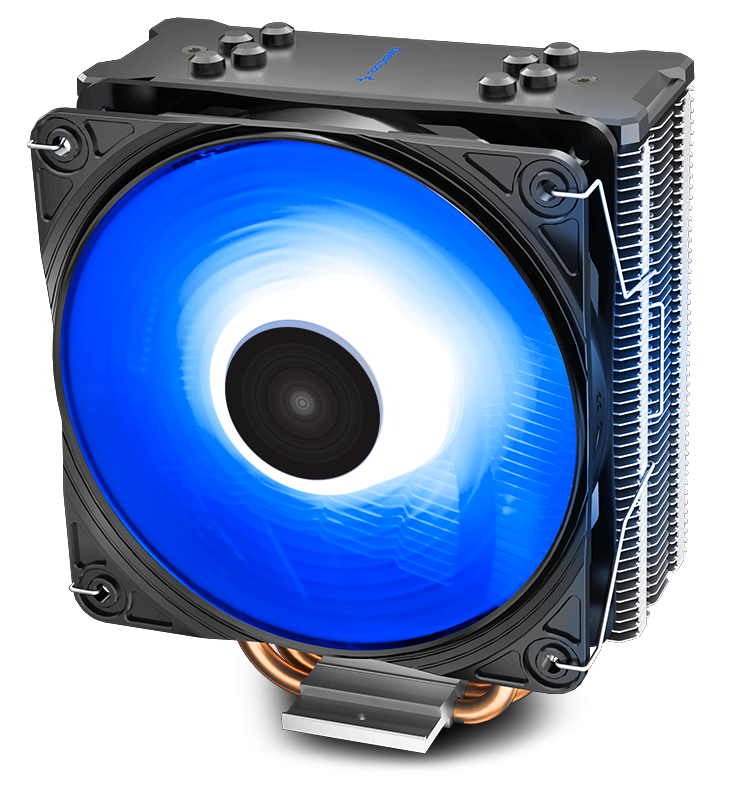 NEW PROCESS, BETTER DISSIPATION


The new fin-mounting process ensures smoother ventilation and more efficient heat dissipation.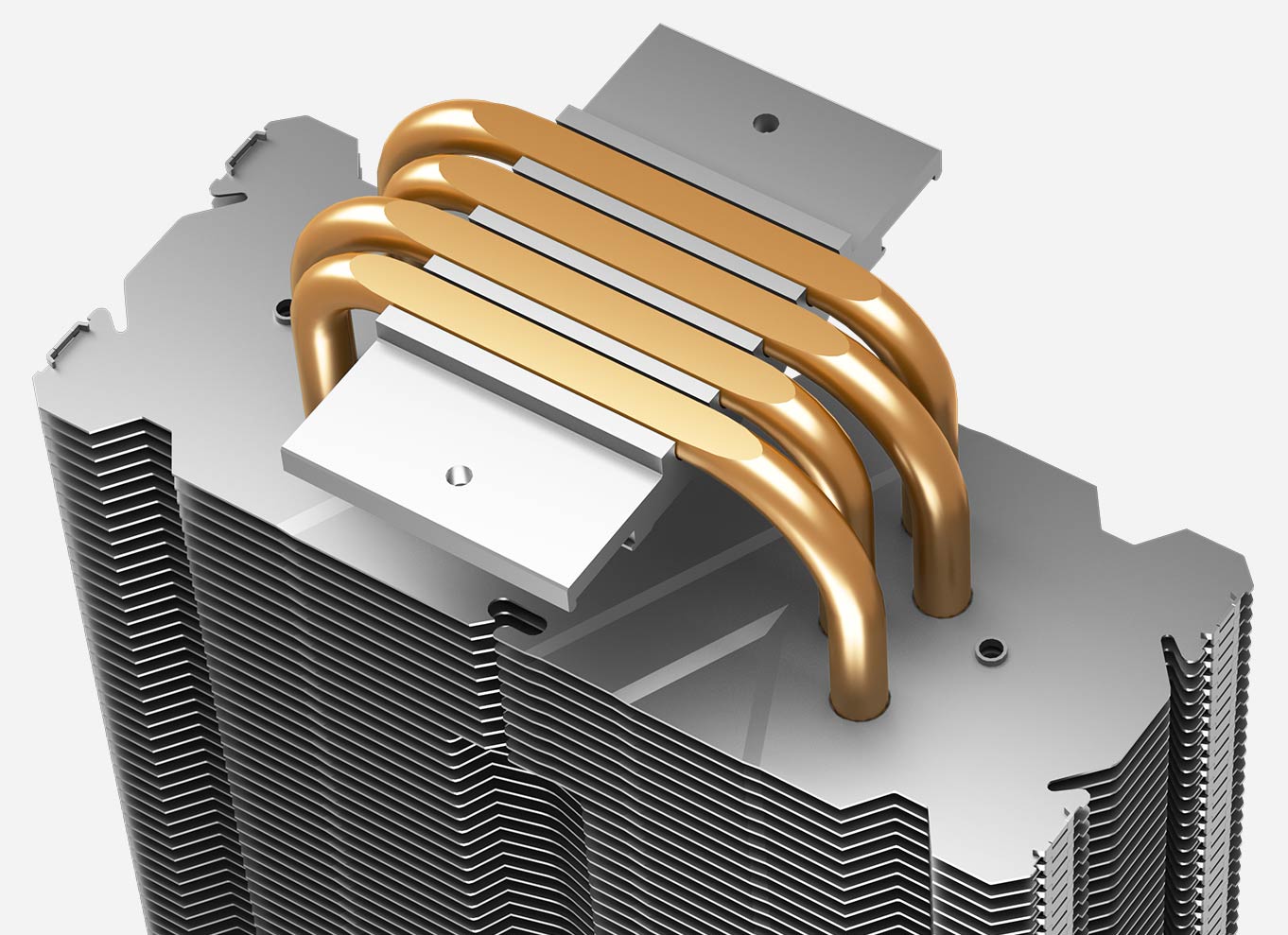 PWM & RGB FAN




The 120mm PWM fan is finely tuned to maintain perfect noise-performance balance. Its 12V RGB LEDs are ready to be synced with top cover and motherboards.
OPERATING SYSTEM


 WINDOWS 10 PRO