Product description
SAMSUNG ONE REMOTE CONTROL
WITH VOICE ASSISTANT
Your Samsung Smart Remote is designed to connect to your Samsung TV automatically to make the setup easier. You can sync the remote with a different Samsung Smart TV at any time if you'd like, but it will only work with one TV at a time. 
Connect the Samsung Smart Remote to your TV
Point the Smart Remote at the remote control sensor on the TV. On most Samsung TVs, the remote control sensor is located on the lower right hand side of the TV. If not, it is directly in the bottom center.
Next, press and hold the
 

Return

 

and

 

Play/Pause

 

buttonssimultaneously for at least 3 seconds. Your TV will begin syncing with the Smart Remote. Then a message will appear, indicating that the remote is now connected to your TV.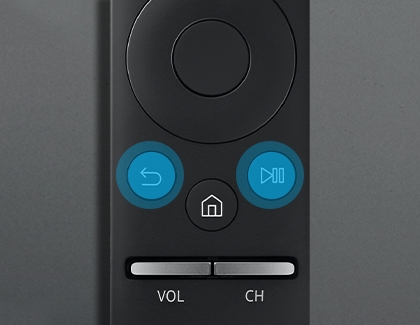 SAMSUNG ONE REMOTE CONTROL WITH VOICE ASSISTANT
by SAMSUNG