PHILIPS E LINE FULL HD CURVED MONITOR 24"
Simply immersive
The 24" curved E line display offers a truly immersive experience in a stylish design. Experience crisp Full HD visuals and smooth action with AMD FreeSync™ technology.
Curved display design for a more immersive experience
Desktop monitors offer a personal user experience, which suits a curved design very well. The curved screen provides a pleasant yet subtle immersion effect, which focuses on you at the centre of your desk.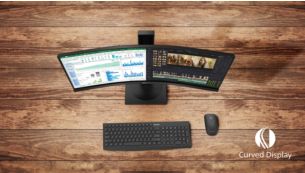 VA display delivers awesome images with wide viewing angles
The Philips VA LED display uses an advanced multi-domain vertical alignment technology that gives you super-high static contrast ratios for extra-vivid and bright images. While standard office applications are handled with ease, it is especially suitable for photos, web browsing, films, gaming and demanding graphical applications. Its optimised pixel management technology gives you a 178/178 degree extra-wide viewing angle, resulting in crisp images.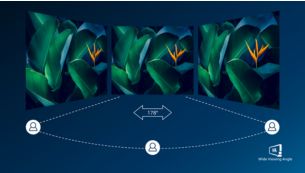 16:9 Full HD display for crisp, detailed images
Picture quality matters. Regular displays deliver quality, but you expect more. This display features enhanced Full HD 1920 x 1080 resolution. With Full HD for crisp detail paired with high brightness, incredible contrast and realistic colours, expect a true-to-life picture.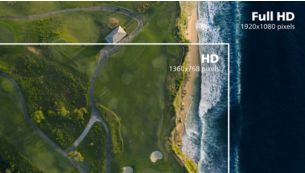 SmartImage game mode
The new Philips gaming display has an OSD control with quick access (specially designed for players) and offers you multiple options. First Person Shooting FPS mode improves dark areas in games and allows you to see hidden objects in such areas. The "Racing" mode adjusts the display to the fastest response time and high colour rendering, and also adjusts the image. The Real Time Strategy RTS mode features a special SmartFrame mode that allows you to highlight the specific area and allows size and image changes. Gamer 1 and Gamer 2 allows you to store individual settings for different games to ensure the best performance.
Interference-free gaming
When gaming, you should not have to choose between hacked game playback or disturbed frames. Thanks to the new Philips monitor, these problems are a thing of the past. Get fluid, interference-free performance at every frame rate with AMD FreeSync technology, fast screen updating without interruptions and extremely short response time.
SmartContrast
SmartContrast is a Philips technology that analyses displayed content, automatically adjusts colours and controls the intensity of the backlight to dynamically improve contrast. This ensures optimal image quality for videos or games with dark tones. In economy mode, contrast is adjusted for the perfect display of everyday office applications and lower power consumption and a fine adjustment of the backlight.
Technical Specifications
Picture/Display

AMD FreeSync™ technology

LCD panel type

Backlight type

Panel Size

Display Screen Coating

Effective viewing area

521.4 (H) x 293.3 (V) mm - at a 1500R curvature*

Aspect ratio

Maximum resolution

Pixel Density

Response time (typical)

Brightness

Contrast ratio (typical)

SmartContrast

Pixel pitch

Viewing angle

Flicker-free

Picture enhancement

Colour gamut (typical)

Display colours

Scanning Frequency

30–85 kHz (H)/48–76 Hz (V)

LowBlue Mode

sRGB

Connectivity

Signal Input

Sync Input

Audio (In/Out)
---
We Also Recommend