Product description


GAMING CASE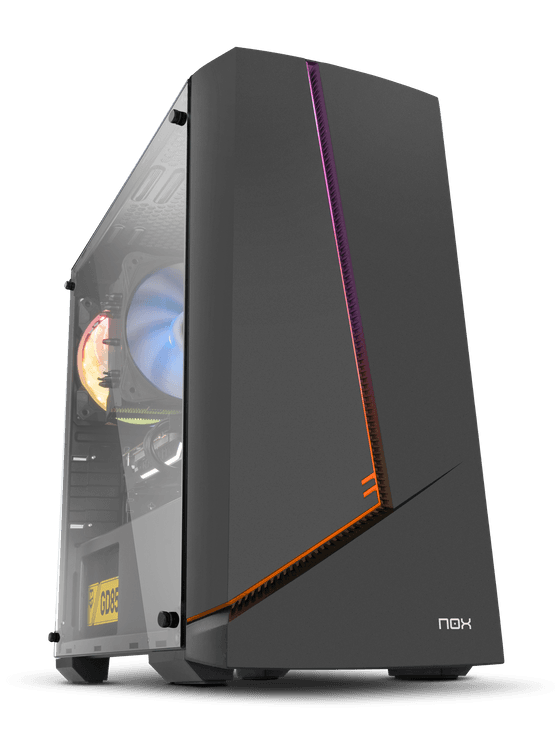 TEMPERED GLASS DESIGN PC CASE
An elegant design featuring polygonal lines cutting across the front panel, lit up by ARGB LED lights that give it a casual and fresh style. Infinity Alpha continues the elegance and sobriety of this series and adds a tempered glass side so you can see every detail of your set-up.
To improve the ventilation of its components, it includes a 120mm ARGB fan at the rear, but it is also possible to install up to 5 additional fans: 3 of 120mm on the front and two at the top of 120 or 140mm.
It is also compatible with liquid cooling systems, given its capacity to integrate a front radiator of 120 or 240mm, an upper one of 120 or 240mm and even a rear one of 120mm.
The Infinity Alpha is a mini-tower made of steel with elegant finishes that make it an excellent option for those looking for versatility and performance in their configuration. On its upper panel it has two USB 2.0 inputs, one USB 3.0, the audio connections and a button to control the ARGB lighting modes.
In addition, it incorporates a magnetic dust filter that helps protect your equipment from external particles.
The Infinity Alpha is compatible with Micro ATX and Mini-ITX boards and inside it is possible to integrate coolers up to 160 mm and graphics up to 355 mm.
To improve the ventilation of the components, Infinity Alpha includes a 120 mm ARGB fan in its rear part, but it is possible to install up to 5 additional fans: 3 of 120 mm in the front and two upper 120 or 140mm fans.
It is also compatible with liquid cooling systems, having the capacity to integrate a 120 or 240 mm front radiator, a 120 or 240 mm top radiator and even a 120 mm rear radiator.
With Infinity Alpha you can integrate a clean configuration thanks to its excellent cable management system (24 mm). It has an insulated compartment at the bottom for mounting the PSU and hard drives, thus preventing heat from being transferred to other components. It has the capacity to install two 3.5 '' HDDs on the bottom and two 2.5 '' SSDs on the side.


PROCESSOR
INTEL CORE i5 
MOTHERBOARD
GIGABYTE B460M DS3H
4+2 Hybrid Digital VRM with Low RDS(on) MOSFET.
GIGABYTE motherboards use Low R
DS
(on) MOSFETs which reduce energy wastage through unnecessary residual heat dissipation. This all amounts to tangible energy saving which are beneficial for both end-users and the environment without impacting system performance.
Exclusive Realtek 8118 Gaming LAN. High Speed Gigabit LAN with Automatic Bandwidth Allocation. Realtek 8118 LAN is a high performance and friendly network chip for gaming players with automatic bandwidth allocation to ensure the highest network priority of the game or application. It can provide users the most comprehensive features and the fastest and smoothest Internet experience.
NVMe PCIe Gen3 x4 2280 M.2 Connector (Up to 32 Gb/s). GIGABYTE Motherboards are focused on delivering M.2 technology to enthusiasts who want to maximize their system's potential.
GIGABYTE Patented DualBIOS™ Design. GIGABYTE Ultra Durable™ motherboards feature GIGABYTE DualBIOS™, an exclusive technology from GIGABYTE that protects arguably one of your PC's most crucial components, the BIOS. The motherboard has both a 'Main BIOS' and a 'Backup BIOS', protecting users from BIOS failure due to virus, hardware malfunction, improper OC settings or power failure during the update process.
Smart Fan 5. With Smart Fan 5 users can ensure that their gaming PC can maintain its performance while staying cool. Smart Fan 5 allows users to interchange their fan headers to reflect different thermal sensors at different locations on the motherboard. More hybrid fan headers that support both PWM and Voltage mode fans have been introduced to make the motherboard more liquid cooling friendly.
High-End Audio Capacitors. GIGABYTE motherboards use high-end audio capacitors. These high quality capacitors help deliver high resolution and high fidelity audio to provide the most realistic sound effects for gamers.


RAM
CORSAIR VENGEANCE DDR4 8GB 3000MHZ
DESIGNED FOR HIGH-PERFORMANCE OVERCLOCKING
VENGEANCE LPX memory is designed for high-performance overclocking. The heatspreader is made of pure aluminum for faster heat dissipation, and the custom performance PCB helps manage heat and provides superior overclocking headroom. Each IC is individually screened for peak performance potential.
The DDR4 form factor is optimized for the latest DDR4 systems and offers higher frequencies, greater bandwidth, and lower power consumption than DDR3 modules. VENGEANCE LPX DDR4 modules are compatibility-tested across DDR4 systems for reliably fast performance. There's XMP 2.0 support for trouble-free automatic overclocking. And, they're available in multiple colors to match your personal preference.
DESIGNED FOR HIGH-PERFORMANCE OVERCLOCKING
Each VENGEANCE LPX module is built from an custom performance PCB and highly-screened memory ICs. The efficient heat spreader provides effective cooling to improve overclocking potential.
STORAGE
 WESTERN DIGITAL BLUE SATA M.2 1TB 
High capacity with enhanced reliability. A WD Blue SATA SSD uses technology not only for higher capacities than the previous generation WD Blue SSDs, but also to help reduce cell-to-cell interference for enhanced reliability. 
Outstanding Performance technology enables Sequential Read Speeds up to 560MB/s and Sequential Write Speeds up to 530MB/s.
Leading-Edge Reliability. An SSD is designed with no moving parts to help protect against data loss if it is accidentally bumped or dropped. And with 1.75M hours MTTF (mean time to failure), up to 600 TBW (terabytes written), and several error correction technologies, WD Blue SATA SSDs can help guard data for years to come. 
GRAPHICS CARD 
ASUS TUF X3 GTX1660 A6G 6GB GDDR5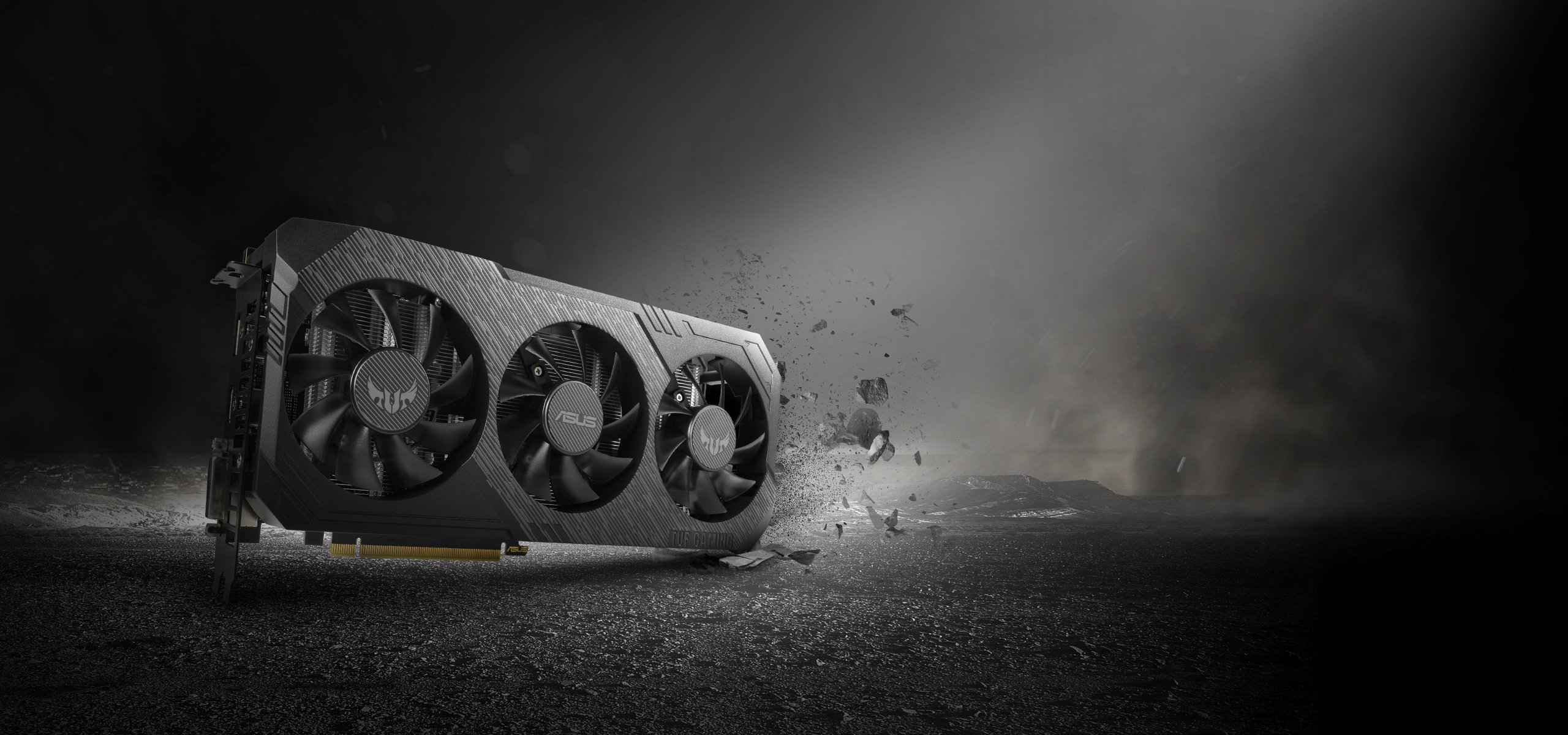 Built TUF. The TUF Gaming X3 GeForce® GTX 1660 packs 3 powerful fans to up the ante for cooling, without sacrificing the durability that makes it TUF. Each card is built using Auto-Extreme manufacturing, protected by a rigid backplate that prevents PCB flex, and topped with dual ball fan bearings sealed to IP5X standards. And it's all backed by a rigorous battery of validation tests to ensure compatibility with the latest TUF components. If you're looking for the super-cooled tank of graphics cards, lock and load your rig with the TUF Gaming X3 1660.
Dual Ball Fan Bearings. 2x longer lifespan. Different bearing types have unique pros and cons. Ball bearings excel at durability and can last up to twice as long as sleeve bearing designs.
IP5X Dust Resistance.Keep it clean. Dust is enemy number one for fans. It's easy to clean the blades, but taking the fan apart to remove dust that has made its way inside is not a simple task. IP5X certification keeps nasty particulates out of the housing, so you'll never need that deep clean.
Auto−Extreme Technology. Precision automated manufacturing. Auto-Extreme Technology is an automated manufacturing process that sets new standards in the industry by allowing all soldering to be completed in a single pass. This reduces thermal strain on components and avoids the use of harsh cleaning chemicals, resulting in less environmental impact, lower manufacturing power consumption, and a more reliable product overall.
GPU Tweak II. Monitor, tweak, and tune. The ASUS GPU Tweak II utility takes graphics card tuning to the next level. It allows you to tweak critical parameters including GPU core clocks, memory frequency, and voltage settings, with the option to monitor everything in real-time through a customizable on-screen display. Advanced fan control is also included along with many more features to help you get the most out of your graphics card.
144−Hour Validation Program. "Extensive" may be an understatement. Each card must meet rigorous performance and reliability standards before it ships. Performance and stress tests are run with the latest chart-topping titles like Fortnite, League of Legends, Overwatch, and PlayerUnknown's Battlegrounds. We also carry out reliability trials that include a 144-hour stability test and a series of 3DMark benchmarking runs to ensure the card performs well when pushed to the limits.
NVIDIA® G−SYNC™ Technology. Smooth operator. This graphics card supports NVIDIA® G-SYNC™ display technology for a super-smooth variable refresh rate experience. Enjoy AAA games without the nuisance of screen tearing or stuttering.
POWER SUPPLY
SHARKOON  WPM GOLD ZERO 650W
The WPM Gold ZERO is a reliable power supply with modern LLC resonant converter technology. The power supply delivers optimal performance for gaming PCs and is certified as being energy efficient. In addition to this, low-noise operation is enhanced by the ZERO RPM function which suspends fan rotation when no active cooling power is needed.
Excellently Energy Efficient. The WPM Gold ZERO is certified 80 PLUS Gold, achieving at least 90 % efficiency at 50 % load as well as 87 % efficiency at 20 % and 100 % load.
Modern LLC Technology. The WPM Gold ZERO is equipped with state-of-the-art LLC resonant converter technology. This provides the power supply with a consistent and low-interference voltage. Noise and heat levels are minimized as far as possible.

ZERO RPM. The ZERO RPM function disables the fan rotation of the power supply to provide a silent operation at low to medium loads. When the system again requires an active cooling, the fan rotation is automatically re-activated.
RYZEN Ready and Semi-Modular. To keep the inside of the PC case neat and tidy, the cables can be installed according to individual requirements. Only the ATX cable and the 4+4-pin CPU cable, which are both always needed, are firmly attached to the power supply. Even power-hungry systems like RYZEN can be powered without an adapter thanks to the second 4+4-pin CPU cable. This uses one of the two PCIe / CPU sockets, which can also be used to power graphics cards.
COOLING SYSTEM
COOLER MASTER HYPER 212 RGB BLACK EDITION
The legendary Hyper air cooler is back and better than before. The Hyper 212 RGB Black Edition offers better installation and great performance, easily one of the best air cooling solutions. The aluminum top cover and nickel plated jet black fins, give the Hyper 212 RGB Black Edition a premium aesthetic appeal. The sleek jet black not only makes it look great, but also increase cooling performance.
Sleek finishing. Anodized gun-metal black with brushed aluminum surface finish to the top cover for a more refined look.
Precise Air Flow with Nickle Black. Stacked fin array ensures least airflow resistance which allows cooler air flow into the heatsink. The nickel plated jet black also enhances radiation cooling performance.
Direct Contact Technology. 4 heat pipes with exclusive Direct Contact Technology providing effective and excellent heat dissipation.
The new SF120R RGB Fan. Is certified to sync with Motherboard RGB software or controlled by our controller. The wide speed range can be fine-tuned for maximum cooling performance or silent operation.
Optional Push-pull Fan Configuration. To avoid dynamic losses and help accelerate heat exhaust, an additional fan helps pulling heat away faster from heatsink.
RGB In The Palm Of Your Hand With Included Wired RGB Controller. A compact size RGB LED controller that allows you to easily customize your RGB devices without the need for either an RGB capable motherboard or software. You can have the colorful rig you've always wanted with just the touch of a button.
OPERATING SYSTEM
WINDOWS 10 PRO
SPECIFICATIONS
GAMING CASE
Benefits
Tempered glass side panel
ARGB LED strip on the front panel
Pre-installed 120mm ARGB fan
Top panel with magnetic dust filter
Front button for RGB control
Power supply and hard drives in isolated compartment
Ability to install up to 6 fans
Excellent system for ordering the cables (24 mm)
Compatible with liquid cooling systems
Compatible with 355mm graphics and 160mm CPU coolers
Motherboard
Micro ATX; Mini ITX
Ventilation system
Front: 3x 120mm (not included)
Top: 2x 120mm / 140mm (not included)
Rear: 1x 120mm RGB (included)
PSU compartment: 2x 120mm (not included)
Internal Bays
2x 3.5 ''
2x 2.5 ''
Space
CPU Cooler: 160mm (Max Height)
Graphics card: 355mm (maximum length)
- Top: 120/140 mm
General specifications
Material
0.5 mm SPCC steel | Front ABS | 4 mm tempered glass side
Compatible ATX standard font (not included) · Max. 140 mm
212 x 410 x 408 mm (W x H x D)
3.3 Kg
MOTHERBOARD
Support for 10th Generation Intel®

 

Core™ i9 processors/Intel®

 

Core™ i7 processors/Intel®

 

Core™ i5 processors/Intel®

 

Core™ i3 processors/Intel®

 

Pentium®

 

processors/Intel®

 

Celeron®

 

processors in the LGA1200 package
L3 cache varies with CPU

(Please refer "CPU Support List" for more information.)




Intel®

 

B460 Express Chipset

 


Intel®

 

Core™ i9/i7 processors:
Support for DDR4 2933/2666/2400/2133 MHz
Intel®

 

Core™ i5/i3/Pentium®/Celeron®

 

processors:
Support for DDR4 2666/2400/2133 MHz
4 x DDR4 DIMM sockets supporting up to 128 GB (32 GB single DIMM capacity) of system memory
Dual channel memory architecture
Support for ECC Un-buffered DIMM 1Rx8/2Rx8 memory modules (operate in non-ECC mode)
Support for non-ECC Un-buffered DIMM 1Rx8/2Rx8/1Rx16 memory modules
Support for Extreme Memory Profile (XMP) memory modules

(Please refer "Memory Support List" for more information.)




Integrated Graphics Processor-Intel

®

 

HD Graphics support:

1 x D-Sub port, supporting a maximum resolution of 1920x1200@60 Hz
1 x DVI-D port, supporting a maximum resolution of 1920x1200@60 Hz
* The DVI-D port does not support D-Sub connection by adapter.
1 x HDMI port, supporting a maximum resolution of 4096x2160@30 Hz
* Support for HDMI 1.4 version and HDCP 2.3.

Support for up to 3 displays at the same time

Maximum shared memory of 512 MB




Realtek®

 

ALC887 codec
High Definition Audio
2/4/5.1/7.1-channel
* To configure 7.1-channel audio, you need to open the audio software and select Device advanced settings > Playback Device to change the default setting first. Please visit GIGABYTE's website for details on configuring the audio software.

 


Realtek®

 

GbE LAN chip (1000 Mbit/100 Mbit)

 


1 x PCI Express x16 slot, running at x16 (PCIEX16)
2 x PCI Express x1 slots
(All of the PCI Express slots conform to PCI Express 3.0 standard.)

Supports up to ASPM L1.2 power management protocols.

 


1 x M.2 connector (Socket 3, M key, type 2242/2260/2280 SATA and PCIe x4/x2 SSD support)
6 x SATA 6Gb/s connectors
Support for SATA RAID 0, RAID 1, RAID 5, and RAID 10
* Refer to "1-7 Internal Connectors," for the installation notices for the M.2 and SATA connectors.

Intel

®

 

Optane™ Memory Ready

M.2 connectors support up to ASPM L1.2 PCIe power management protocols.




Chipset:

6 x USB 3.2 Gen 1 ports (4 ports on the back panel, 2 ports available through the internal USB header)
2 x USB 2.0/1.1 ports on the back panel

Chipset+USB 2.0 Hub:

4 x USB 2.0/1.1 ports available through the internal USB headers

 


1 x 24-pin ATX main power connector
1 x 8-pin ATX 12V power connector
1 x CPU fan header
2 x system fan headers
2 x RGB LED strip headers
6 x SATA 6Gb/s connectors
1 x M.2 Socket 3 connector
1 x front panel header
1 x front panel audio header
1 x USB 3.2 Gen 1 header
2 x USB 2.0/1.1 headers
1 x Trusted Platform Module header (For the GC-TPM2.0 SPI/GC-TPM2.0 SPI 2.0 module only)
2 x serial port headers
1 x Clear CMOS jumper

 


1 x PS/2 keyboard/mouse port
1 x D-Sub port
1 x DVI-D port
1 x HDMI port
4 x USB 3.2 Gen 1 ports
2 x USB 2.0/1.1 ports
1 x RJ-45 port
3 x audio jacks

 


Voltage detection
Temperature detection
Fan speed detection
Overheating warning
Fan fail warning
Fan speed control
* Whether the fan speed control function is supported will depend on the fan you install.

 


2 x 128 Mbit flash
Use of licensed AMI UEFI BIOS
Support for DualBIOS™
PnP 1.0a, DMI 2.7, WfM 2.0, SM BIOS 2.7, ACPI 5.0

 


Support for APP Center
* Available applications in APP Center may vary by motherboard model. Supported functions of each application may also vary depending on motherboard specifications.
@BIOS
EasyTune
Fast Boot
Game Boost
ON/OFF Charge
Ambient LED
Smart Backup
System Information Viewer
Support for Q-Flash
Support for Xpress Install

 


Norton® Internet Security (OEM version)
Realtek® 8118 Gaming LAN Bandwidth Control Utility

 


Support for Windows 10 64-bit

Micro ATX Form Factor; 24.4cm x 22.5cm

 


RAM




Memory Series

VENGEANCE LPX




Tested Latency 

16-20-20-38




Speed Rating 

PC4-24000 (3000MHz)




Compatibility 

Intel 100 Series,Intel 200 Series,Intel 300 Series,Intel 400 Series,Intel 500 Series,Intel X299




Heat Spreader 

Anodized Aluminum




Package Memory Format 

DIMM




Performance Profile 

XMP 2.0




Package Memory Pin 

288








STORAGE

Sequential Read Performance

Sequential Write Performance

530MB/s







GRAPHICS CARD

Graphic Engine

NVIDIA® GeForce GTX 1660




Bus Standard

PCI Express 3.0

Engine Clock

OC Mode - GPU Boost Clock : 1830 MHz , GPU Base Clock : 1530 MHz
Gaming Mode (Default) - GPU Boost Clock : 1800 MHz , GPU Base Clock : 1500 MHz




Resolution

Digital Max Resolution 7680 x 4320




Interface

Yes x 1 (Native DVI-D)
Yes x 1 (Native HDMI 2.0b)
Yes x 1 (Native DisplayPort 1.4)
HDCP Support Yes (2.2)




Maximum Display Support

3




NVlink/ Crossfire Support

No




Software

ASUS GPU Tweak II & Drivers: please download all software from the support site.







Dimensions

10.4 " x 5.1 " x 2.2 " Inch
26.4 x 13 x5.5 Centimeter







 

Power Connectors

1 x 8-pin










POWER SUPPLY

General

80 PLUS Certification:

Gold

Form Factor:

ATX 2.3

Continuous Power:

550 W

ErP Compliant:

✓

Active PFC:

✓

Technology:

LLC + DC/DC

MTBF:

Min. 100,000 Hours

Operating Temperature:

0 °C - 40 °C

Standby Power Consumption:

Max. 0.3 W

Weight incl. Fixed Cables:

1.61 kg

Dimensions (L x W x H):

150 x 160 x 86 mm

Housing Color:

Black

Input

Voltage:

100 - 240 VAC

Frequency:

47 - 63 Hz

Input Current (110/230 V):

8 A / 4 A

Output

12 V Rail(s):

1

Load 3.3 V:

20 A

Load 5 V:

20 A

Max. Combined Power 3.3 V + 5 V:

110 W

Load 12 V1:

45 A

Max. Combined Power 12 V:

540 W

Load 5 VSB:

2.5 A

Load -12 V:

0.3 A

Cable and Connectors

Cable Configuration:

Semi-Modular

Flat Cables:

✓

Maximum Cable Length:

85 cm

Length of Mainboard Cable:

55 cm

Length of CPU Cable:

55 cm

Length of PCIe Cable:

55 cm

Cable Length to First Peripheral:

55 cm

24-Pin Mainboard Connector:

1

4+4-Pin CPU Connector:

2

6+2-Pin PCIe Connector:

4

SATA Connector:

9

IDE Connector:

3

Floppy Connector:

1

Fan

Fan Size:

140 mm

Bearing Type:

Sleeve Bearing

 Package Contents

WPM Gold Zero 550

Cable Bag

Set of modular cables

Power Cord

Mounting Screws

Manual

COOLING SYSTEM
CPU SOCKET
LGA2066, LGA2011-v3, LGA2011, LGA1200, LGA1151, LGA1150, LGA1156, LGA1155, LGA1366, AM4, AM3+, AM3, AM2+, AM2, FM2+, FM2, FM1
DIMENSIONS (L X W X H)
120 x 79.6 x 158.8 mm / 4.7 x 3.1 x 6.3 inch
HEAT SINK MATERIAL
4 Heat Pipes, Aluminum Fins, Direct Contact
FAN DIMENSIONS (L X W X H)
120 x 120 x 25mm
FAN QUANTITY
1 PCS
FAN SPEED
650-2000 RPM (PWM) ± 10%
FAN AIRFLOW
57.3 CFM (Max)
FAN AIR PRESSURE
2.0 mmH2O
FAN MTTF
160,000 Hours
FAN NOISE LEVEL
8 - 30 dBA
FAN POWER CONNECTOR
4-Pin (PWM)
FAN RATED VOLTAGE
12VDC
FAN RATED CURRENT
0.16A
FAN SAFETY CURRENT
0.37A
FAN POWER CONSUMPTION
1.92W
COOLER TYPE
Air Cooler
SERIES
Hyper
HEATPIPES
4
NOX GAMING PC. i5-10TH/8GB RAM/1TB SSD M.2/W10PRO/ASUS GTX 1660/W10 PRO. BLACK
by NETGEAR