GIGASET
Regular price
Sale price
£59.99
Unit price
per
Sale
Sold out
The phone that answers your calling demands – plain, simple, and affordable.
Discover the Gigaset A170. It's a basic, reliable cordless phone with made-in-Germany quality. User-friendly keys with sensitive pressure points make dialing effortless. A large, illuminated, and graphical dot-matrix display eases reading. And thanks to a pre-configured registration to the base station, the setup takes nothing but a quick plug & play. And there's one more thing you won't have to worry about: Eco Mode Plus with no radiation makes it the environmentally friendly choice in telephony.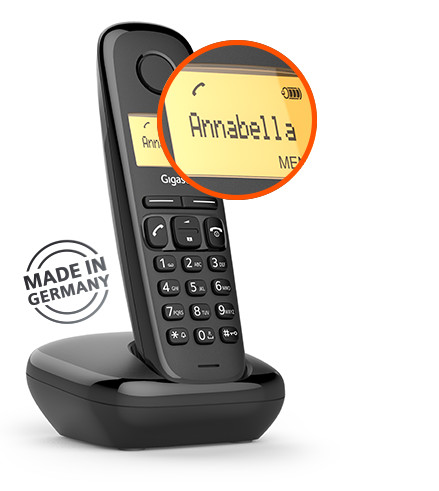 Convincing with clarity: the amber-colored illuminated graphic display.
Worth more than just one look: the large dot-matrix display on our new A170 shines out with optimal readability. This makes checking your phonebook or your call list especially easy. The display of the A170 is also illuminated for easy operation, day and night.
Easy, and not just on the eye: usability that simplifies everything.
The reliable cordless phone Gigaset A170 stands out with an affordable price and basic functions: keys with sensitive pressure points that make dialing comfortable and a plug & play setup that allows you to use it right out of the box. And to make sure that good things last: the landline phone Gigaset A170 can handle talks of up to 18 hours or up to 200 hours of standby time without recharging.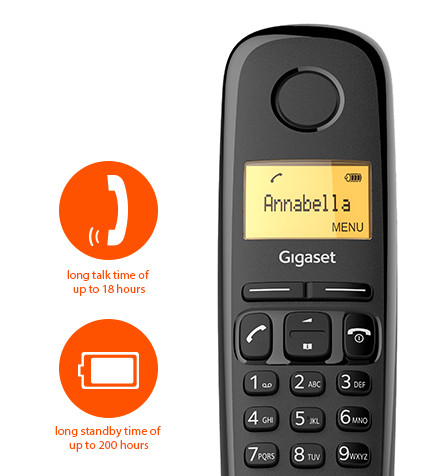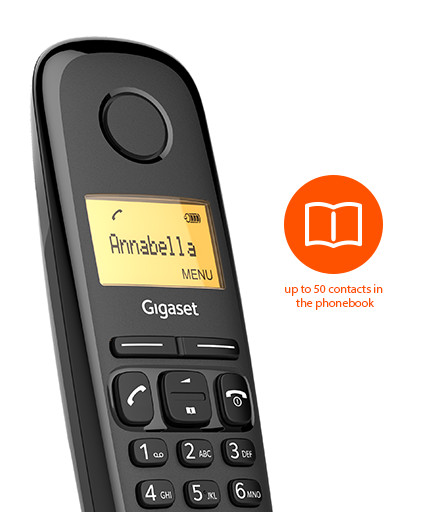 Keeping calls in mind for you: convenient data storage.
Everyday calling is now even more convenient because the Gigaset A170 remembers the last 25 missed and received calls in its call list. And a separate call list stores the last 10 numbers you entered – for quick redialing. You'll also have all the important numbers at hand: the included phonebook conveniently stores up to 50 contacts. This means that friends and family are always in reach with the push of a few buttons.
Always at your service: all the information you need.
Enjoy immediate access to all the information you need throughout the day and as you receive calls: the Gigaset A170 indicates date, call duration, and the caller's ID on its display. So you'll always know who's calling when the phone rings. Did you know that you can use the A170 beyond telephony? When you need a reliable reminder, just use its alarm function.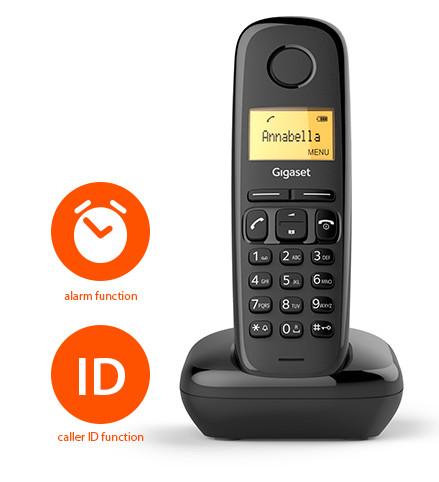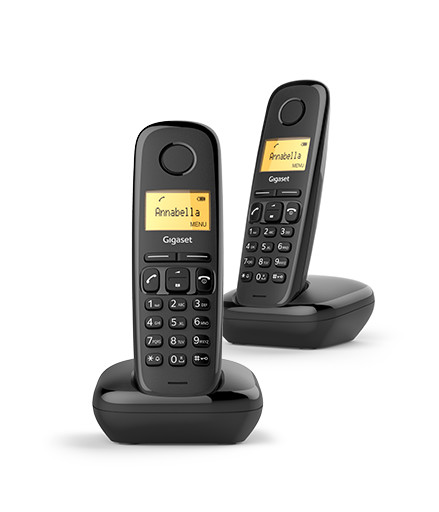 Start with more: additional handsets for your home.
Do you want a Gigaset A170 on several floors or for different rooms? No problem, we have the perfect solution: the Gigaset cordless phone A170 is also available as a duo with one additional handset. Or as trio with two additional handsets.
Welcome green home: ECO DECT for radiation-free calls.
Like all Gigaset cordless telephones, the Gigaset A170 is equipped with the environmentally friendly ECO DECT technology. This means that the telephones are radiation-free in standby mode, even if you have several handsets, as long as the base station and all registered handsets also support ECO DECT. During a phone call, the transmitting power is automatically adjusted to the distance between the base station and the handset. The shorter the distance to the base station, the lower the radiation. For the maximum DECT range, the ECO DECT mode can be deactivated at any time.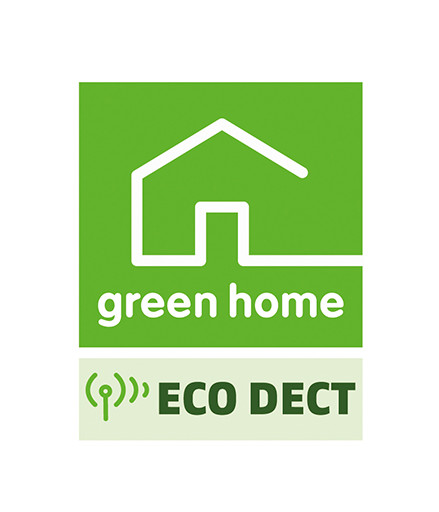 TECHNICAL DETAILS
Specifications
Article name
Gigaset A170
Number of telephone numbers (analogue)
1
Telephone numbers (IP)
N/A
Telephone numbers (ISDN)
N/A
Calls in parallel (analogue)
1
Calls in parallel (IP)
N/A
Calls in parallel (ISDN)
N/A
Mobile connection (Features)
N/A
ECO DECT
Autom. reduction of transmission power | Radiation-free in standby mode | Low energy consumption
Standby time up to (h)
200
Phonebook # entries (name / number)
50
Address book # entries, (name, surname, 3 numbers, date-reminder, sounds)
N/A
Individual ringertones for VIP entries
No
Voice announced caller (number or name)
N/A
V-Card transfer, mobile to handset via Bluetooth®
No
Adressbook synchronization via QuickSync (Outlook Windows Contacts)
No
Direct dial keys at handset
N/A
Direct dial keys at base
N/A
Automatic redial function in handset
No
Room monitoring (Babyphone)
N/A
Direct dial (Babycall)
No
Blacklist (number of entries)
N/A
Anonymous call suppression: Calls without CLIP number are only indicated visually
N/A
Day / night mode: Timed ringtone deactivation on handset
N/A
Smart Call Block ready
N/A
Optical call signaling
Illuminated display
Number of Expandable Handsets
N/A
Number assignment for incoming and outgoing external calls
No
Number assignment for incoming and outgoing internal calls
No
Phone-/Adressbook-transfer internal via DECT (handset to handset)
Yes
Internal transfer of external calls, conference circuit, call back
Yes
Sound Quality / Accustic Features
N/A
Handsfree talking handset / base
N/A
Adjustable Volume
Via Menu
Automatic adjustment of ringer & handset volume in noisy environments
N/A
Security call (listen into the room)
N/A
Display Type
Alphanumeric b&w
Dimensions (H x W mm)
22 x 34
Diagonal spread (inch)
1,5
Display of caller
Display of caller's number (CLIP)
List of last # missed calls with time and date
25
List of # outgoing calls with time and date
N/A
List of # received calls with time and date
N/A
List of # all calls with time and date
N/A
Multilingual menu (several display languages)
Yes
Time / Date displayed
Yes
Easy handling with navigation key
Yes
Protection Water/Dust/Shock (according IP 65)
N/A
Talking dialling keys
N/A
Recording time up to … min.
N/A
Number of answering machines
N/A
Answering and recording function
No
Answering function only
No
Multilingual phrases in local languages
No
Languages answering machine
N/A
Handset, H x W x D in mm
159 x 48 x 30
Handset, weight incl. Accu in g
108
Base station, H x W x D in mm
89 x 89 x 43
Base station, weight in mm
63
Charger, H x W x D in mm
38 x 69 x 75
Share
View full details