Product description
GAMING CASE
COOLER MASTER MB511 MASTERBOX ARGB
The MasterBox MB511 ARGB demonstrates a prowess for thermal performance and pairs it with premium lighting. Three ARGB fans are included in the box to complement hardware lighting while mesh ventilation on the front and top panel keeps gaming systems cool under pressure.  
FINE MESH FRONT PANEL. The Fine Mesh design on the front panel is proven, by reviewers and critics alike, to provide considerable airflow while   simultaneously filtering out dust. Light also refracts and behaves uniquely to the Fine Mesh, creating a halo effect against the included ARGB fans. 
ARGB LIGHTING SYSTEM. Three pre-installed ARGB fans can be managed by either the motherboard or an included controller, connected by the included splitter, to create a comprehensive ARGB lighting system.  
TEMPERED GLASS SIDE PANEL. Gaming hardware, cooling components, and the pure pride of the builder is shown in panoramic view through an edge-to-edge tempered glass side panel. 
VERSATILE COOLING OPTIONS. Support for up to seven 120mm fans and dual 360mm radiators on the top and front panel ensure that even the most extreme systems stay cool. 
ARGB CONTROLLER​. The small ARGB Controller is a mini-sized controller that allows your Addressable RGB such as fans and LED strips to be powered and controlled even in PC systems without an A-RGB capable motherboard.​
PROCESSOR
INTEL CORE i7-11400K
MOTHERBOARD 
 ASUS TUF GAMING H570-PRO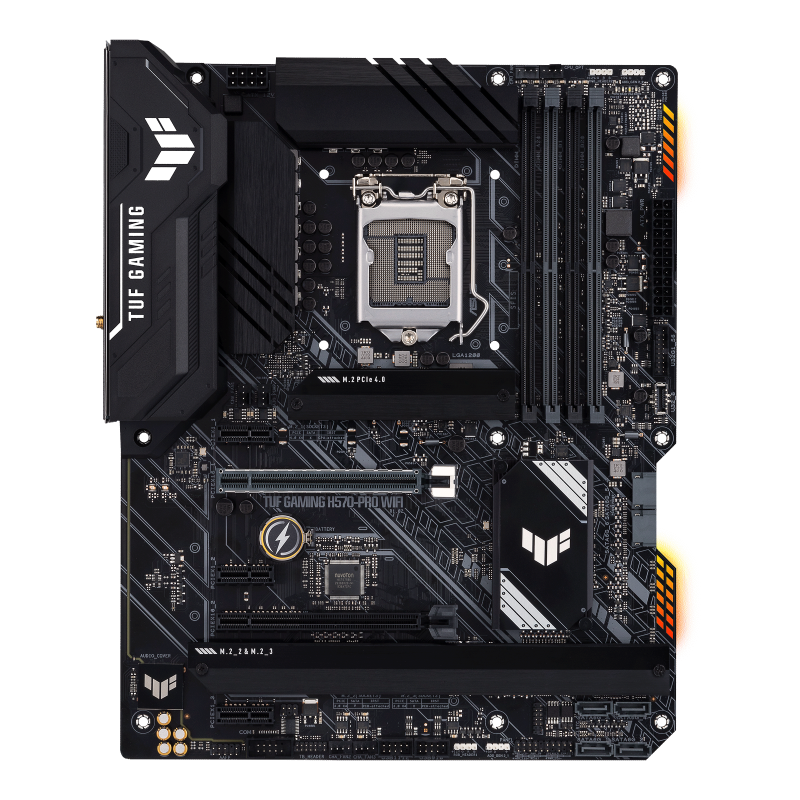 ASUS TUF GAMING H570-PRO takes all the essential elements of the latest Intel® processors and combines them with game-ready features and proven durability. Engineered with military-grade components, an upgraded power solution and a comprehensive cooling system, this motherboard offers rock-solid, stable performance for marathon gaming. 
PCIe 4.0 M.2 (up to 64 Gbps). TUF GAMING H570-PRO series motherboards feature PCIe 4.0 M.2 and NVMe SSD RAID support for an incredible performance boost. Create a RAID configuration with up to PCIe 4.0 storage to enjoy the fastest data-transfer speeds on the 11th Gen Intel Core processors.
USB 3.2 Gen 2x2 Type-C. Extensive USB support ensures connections to a wide array of peripherals. TUF GAMING H570-PRO includes USB 3.2 Gen 2x2 Type-C® that deliver increased bandwidth and transmission speeds of up to 20 Gbps.
Thunderbolt™ 4 Support. TUF GAMING H570 series feature Thunderbolt™ 4 support via an on-board header. With latest Intel-certified ASUS ThunderboltEX 4 add-on card, TUF GAMING H570-PRO can enable bi-directional speeds of up to 40 Gbps on a single cable. Additionally, this card has a daisy-chain function for multi-screen connection and supports up to an 8K resolution display. It can also provide up to 100 watts of power to fast-charge devices.
Exclusive 2.5 Gigabit Ethernet. 2.5G on-board Ethernet kicks your LAN connection up a notch with an up to 2.5X bandwidth improvement. Using your existing LAN cable, you can take advantage this networking upgrade to experience smoother, lag-free gaming, immediately stream high-resolution videos and enjoy faster file transfers.
Two-Way AI Noise Cancelation. This utility leverages a massive deep-learning database to reduce background noise from the microphone and incoming audio, while preserving vocals at the same time. This removes distracting keyboard clatter, mouse clicks and other ambient noises so you can hear and be heard with crystal clarity while gaming or in calls.
Outshine the Competition. A well-tuned system deserves a matching aesthetic. ASUS Aura offers full RGB lighting control with a variety of functional presets for the built-in RGB LEDs as well as strips connected to the onboard RGB headers. And it can all be synced with an ever-growing portfolio of Aura-capable hardware.
RAM 
KINGSTON HYPER X FURY RGB 32GB DDR4 3200MHz
HyperX® FURY DDR4 RGB
delivers a boost of performance and style with a speeds of 3200MHz, aggressive styling, and RGB lighting that runs the length of the module for smooth and stunning effects. It is available in 2400MHz–3733MHz speeds, CL16 latencies, a single module capacities of 32GB.
It features Plug N Play automatic overclocking at 2400MHz and 2666MHz speeds and is both Intel XMP-ready and Ready for Ryzen. HyperX FURY DDR4 RGB stays cool with its stylish, low-profile heat spreader. 100% tested at speed and backed by a lifetime warranty, it's an easy, worry-free upgrade for your Intel or AMD-based system.
STORAGE
WESTERN DIGITAL NAND SATA SSD M.2
The WD Blue 3D NAND SATA SSD utilizes Western Digital 3D NAND technology for big capacities with enhanced reliability. Featuring an active power draw up to 25% lower than previous generations of WD Blue SSDs, you're able to work longer before recharging your laptop, while sequential read speeds up to 560 MB/s and sequential write speeds up to 530 MB/s give the speed you want for your most demanding computing applications.
GRAPHICS CARD
ZOTAC GEFORCE RTX3080 TI TRINITY 12GB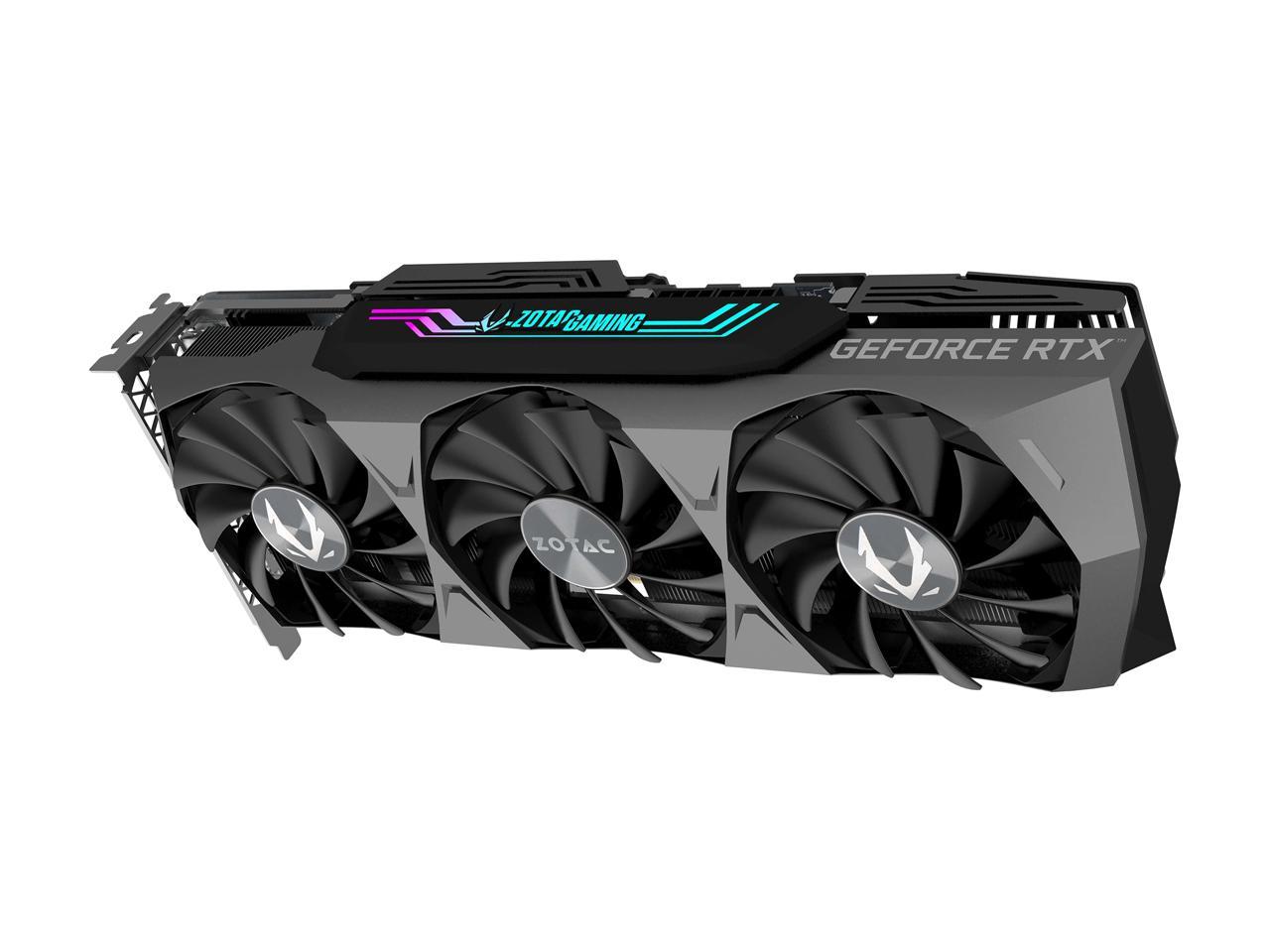 Relish ultra performance in the latest game titles and amplify your gaming experience with the ZOTAC GAMING GeForce RTX 3080 Ti AMP Holo. The fine-tuned balance between the cooling, acoustics and aesthetics of the ZOTAC GAMING graphics card delivers the ultra gaming graphics fidelity.
DYNAMIC RGB
SPECTRA 2.0 enables beautiful lighted colors and expressive animated options with powerful Addressable RGB LEDs. Set different lighting modes and colors for specific independent lighting zones, or as a synchronized whole. Tap into the ZOTAC GAMING FireStorm software to make the ZOTAC GAMING graphics card yours with just a few clicks.
RAY TRACING. Ray tracing is the holy grail of gaming graphics, simulating the physical behavior of light to bring real-time, cinematic-quality rendering to even the most visually intense games.
MAX FPS. MAX QUALITY. POWERED BY AI. NVIDIA DLSS is groundbreaking AI rendering that boosts frame rates by 1.5X* or more with uncompromising image quality using the dedicated AI processing Tensor cores on GeForce RTX. This gives you the performance headroom to crank up settings and resolutions for an incredible visual experience. The AI revolution has arrived to gaming.
AI-POWERED PERFORMANCE BOOST. AI rendering on dedicated Tensor Cores gives you incredible performance, pushing up frame rates and giving you the headroom needed to maximize graphics settings and resolution, even up to 8K.
TAKE CONTROL. With a simple and intuitive minimal interface, the ZOTAC GAMING FireStorm Utility provides simple tools to transform fine-tuning your GPU into a simple task. Monitor your GPU, control the fan speed, adjust the SPECTRA supported RGB lighting, and many more options.
BRING DOWN THE MERCURY. A more refined IceStorm 2.0 cooling system is purpose-built for wider coverage to keep the GPU cooler and running stronger, with enhancements in the visible and in what lies underneath.
ENHANCED AIRFLOW. The ZOTAC GAMING graphics card enhances cooling performance by utilizing a 11-blade fan design. The curved blades optimized for static pressure can increase airflow by up to 10%.
FREEZE FAN STOP. Automatically enable efficient and quieter cooling by stopping the fans when the GPU is idle. The smart control results in lower noise levels and reduces wear and tear on the fan system, extending fan longevity.
ACTIVE FAN CONTROL. Users have more control over the fans when using the ZOTAC GAMING FireStorm software. Adjust fan rotations independently and apply increased airflow only to where and when it's needed.
WIDE AND SECTIONED. A wide aluminum fin-stack array heatsink sectioned in up to 3 groups and paired with up to seven copper heat pipes, span the length of the graphics card to extract and distribute more heat more efficiently than before.
MAXIMUM CONTACT. A new and improved heat pipe layout is utilized in a more densely packed space. The flattened and vertically-laid heatpipes add up to 72%* more direct contact over the GPU to transfer heat efficiently and quickly away from the core.
MORE RESILIENT. The design of ZOTAC GAMING GeForce RTX 3080 Ti Series underlines durability from front to back with a full-board metal frontplate and backplate to increase the overall card rigidity and structural integrity.
CPU COOLING 
 CORSAIR iCUE H60i RGB PRO XT
HIGH PERFORMANCE COLD PLATE AND PUMP. Equipped with a thermally optimized cold plate and pump designed to provide high clock speeds and maximum cooling performance under high CPU loads.
MAGNETIC LEVITATION FANS. CORSAIR ML Series fans deliver improved airflow for extreme CPU cooling performance.
DYNAMIC MULTI-ZONE RGB PUMP HEAD. 16 Individually addressable RGB LEDs light up the pump head to produce stunning, customizable lighting effects to match your build.
ZERO RPM MODE. Zero RPM cooling profiles in CORSAIR iCUE software allow fans to stop entirely at low temperatures, eliminating fan noise.
YOUR SETUP AT YOUR COMMAND. iCUE software gives you the power to control and synchronize your cooler's RGB lighting with all iCUE compatible devices, monitor CPU and coolant temperatures and adjust fan and pump speeds, all from a single intuitive interface.
POWER SUPPLY
GIGABYTE P100GM 1000WATTS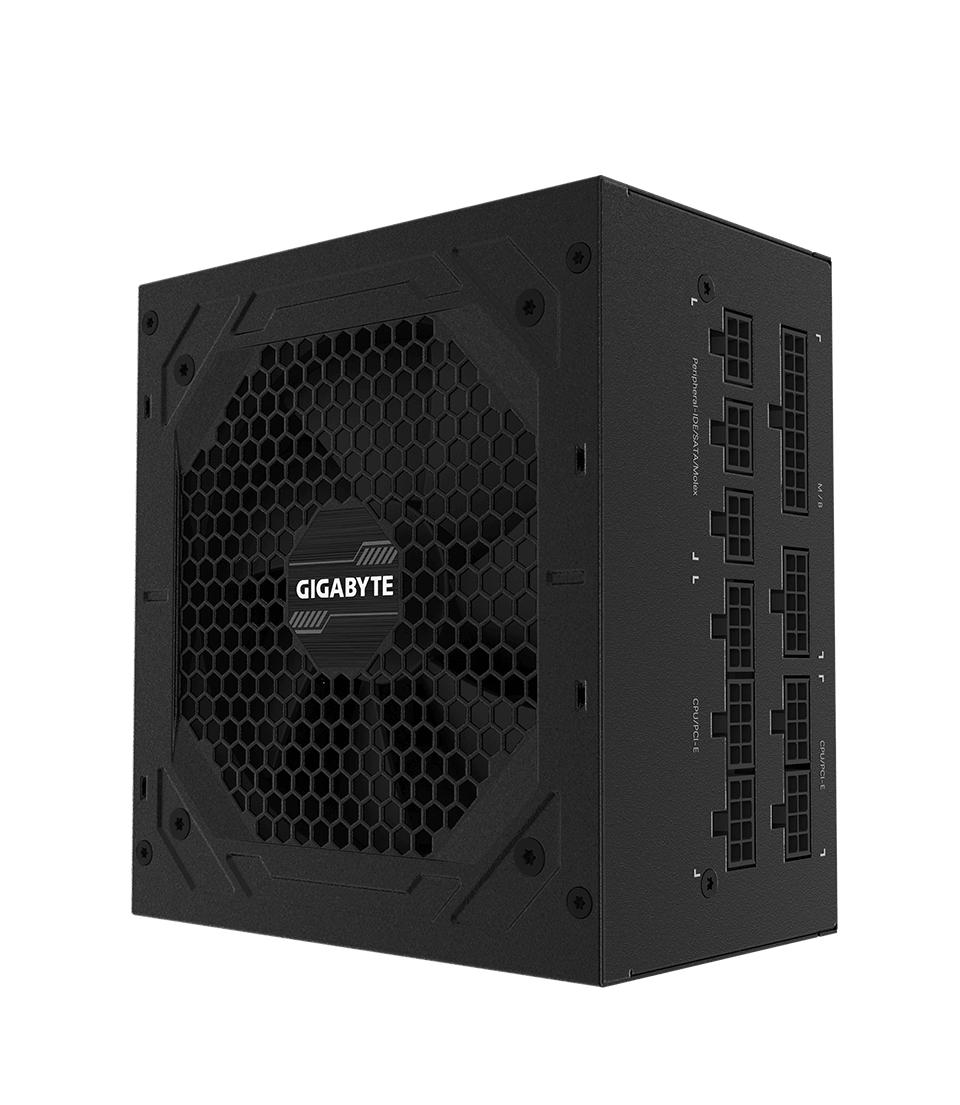 FULLY MODULAR DESIGN. All the black flat cables are modular design. Installing only the cables you need to reduce clutter, to increase the airflow and to improve the chassis thermal performance.
80 PLUS GOLD CERTIFIED. 80 Plus Gold certified ensures to deliver 90% efficiency at 50% load. The better power efficiency leads to less power waste, less heat and less fan noise. And with the support of Intel processors, it will save more energy and more money.
120MM SMART HYDRAULIC BEARING (HYB) FAN. The fan speed is adjusted according to the automatic power detection and will stop when the system is idle or under low load (less than 20% load). The Hydraulic Bearing fan provides longer and more stable life time.
OPERATING SYSTEM 
WINDOWS 10 PRO
SPECIFICATIONS


GAMING CASE
COLOR
Black
MATERIALS
Steel, Plastic, Tempered Glass
DIMENSIONS (L X W X H)
496 x 217 x 469 mm
WEIGHT
6.59 kg
MOTHERBOARD SUPPORT
Mini ITX, Micro ATX, ATX, SSI CEB, E-ATX*, (*support for up to 12" x 10.7", will limit cable management features)
EXPANSION SLOTS
7
5.25" DRIVE BAYS
N/A
2.5" / 3.5" DRIVE BAYS (COMBO)
2 (Max.2)2.5"
DRIVE BAYS
5 (Max.6)
I/O PANEL
2x USB 3.2 Gen 1 (formerly USB 3.0)
1x 3.5mm Audio Jack
1x 3.5mm Mic Jack
1x ARGB Controller
1x ARGB 2-to-3 splitter
PRE-INSTALLED FANS - FRONT
3x 120mm 650~1800RPM SickleFlow PWM ARGB
FAN SUPPORT - TOP
3x 120mm, 2x 140mm
FAN SUPPORT - FRONT
3x 120mm, 2x 140mm
FAN SUPPORT - REAR
1x 120mm
RADIATOR SUPPORT - TOP
120mm, 240mm, 360mm, (44mm max motherboard component height)
RADIATOR SUPPORT - FRONT
120mm, 140mm, 240mm, 280mm, 360mm, (75mm clearance)
RADIATOR SUPPORT - REAR
120mm
CLEARANCE - CPU COOLER
165mm/6.49"
CLEARANCE - PSU
180mm/7.08"
CLEARANCE - GFX
410mm/16.1"
DUST FILTERS
Front, Top, Bottom
POWER SUPPLY SUPPORT
Bottom mount, ATX

Intel® Socket LGA1200 for 11th Gen Intel® Core™ Processors & 10th Gen Intel® Core™, Pentium® Gold and Celeron® Processors
Supports Intel® 14 nm CPU
Supports Intel® Turbo Boost Technology 2.0 and Intel® Turbo Boost Max Technology 3.0
Chipset
H570


Memory
DDR4 5000(OC)/4800(OC)/4600(OC)/4400(OC)/4266(OC)/4000(OC)/3733(OC)/3600(OC)/3466(OC)/3333(OC)/3200/2933/2800/2666/2400/2133 MHz Non-ECC, Un-buffered Memory*
Dual Channel Memory Architecture
Supports Intel® Extreme Memory Profile (XMP)
OptiMem II
Graphics
1 x HDMI 2.0
Expansion Slots
1 x PCIe 4.0/3.0 x16 + 1 x PCIe 3.0 x16 (max. x4)
Intel® 11th & 10th Gen Processors
1 x PCIe 4.0/3.0 x16 slot*
- Intel® 11th processors support PCIe 4.0 x16
- Intel® 10th processors support PCIe 3.0 x16
Intel® H570 Chipset
1 x PCIe 3.0 x16 slot (supports x4 mode)
3 x PCIe 3.0 x1 slots
* Enable RST PCIe Storage Remapping for PCH attached PCIe slots to activate Intel® Optane Memory.
Storage
Total supports 3 x M.2 slots and 6 x SATA 6Gb/s ports
Intel®11th Gen Processors
M.2_1 slot (Key M), type 2242/2260/2280
- Only Intel® 11th gen processors support PCIe 4.0 x4 mode, this slot will be disabled for other CPUs
Intel® H570 Chipset
M.2_2 slot (Key M), type 2242/2260/2280/22110 (supports PCIe 3.0 x4 & SATA modes)***
M.2_3 slot (Key M), type 2242/2260/2280 (supports PCIe 3.0 x4 mode)
6 x SATA 6Gb/s ports
Ethernet
1 x Realtek 2.5Gb Ethernet
USB
1 x USB 3.2 Gen 2x2 port (1 x USB Type-C®)
2 x USB 3.2 Gen 2 ports (2 x Type-A)
1 x USB 3.2 Gen 1 port (1 x Type-A)
4 x USB 2.0 ports (4 x Type-A)
1 x USB 3.2 Gen 1 connector (suppports USB Type-C®)
1 x USB 3.2 Gen 1 header supports additional 2 USB 3.2 Gen 1 ports
2 x USB 2.0 headers support additional 4 USB 2.0 ports
Audio
Realtek ALC S1200A 7.1 Surround Sound High Definition Audio CODEC*
- Supports: Jack-detection, Multi-streaming, Front Panel Jack-retasking
- Supports up to 24-Bit/192 kHz playback
Audio Features
- Audio Shielding
- Rear optical S/PDIF out port
- Premium Japanese audio capacitors
- Dedicated audio PCB layers
- Audio cover
Back Panel I/O Ports
1 x USB 3.2 Gen 2x2 port (1 x USB Type-C®)
2 x USB 3.2 Gen 2 ports (2 x Type-A)
1 x USB 3.2 Gen 1 port (1 x Type-A)
4 x USB 2.0 ports (4 x Type-A)
1 x DisplayPort
1 x HDMI™ port
1 x Realtek 2.5Gb Ethernet port
5 x Audio jacks
1 x Optical S/PDIF out port
Internal I/O Connectors
Fan and Cooling related
1 x 4-pin CPU Fan header
1 x 4-pin CPU OPT Fan header
1 x 4-pin AIO Pump header
3 x 4-pin Chassis Fan headers
Power related
1 x 24-pin Main Power connector
1 x 8-pin +12V Power connector
Storage related
3 x M.2 slots (Key M)
6 x SATA 6Gb/s ports
USB
1 x USB 3.2 Gen 1 connector (supports USB Type-C®)
1 x USB 3.2 Gen 1 header supports additional 2 USB 3.2 Gen 1 ports
2 x USB 2.0 headers support additional 4 USB 2.0 ports
Miscellaneous
2 x AURA Addressable Gen 2 headers
2 x AURA RGB headers
1 x Clear CMOS header
1 x COM Port header
1 x Front Panel Audio header (AAFP)
1 x 20-3 pin System Panel header with Chassis intrude functionpasting
1 x Thunderbolt™  header
BIOS
192 (128+64) Mb Flash ROM, UEFI AMI BIOS
Accessories
Cables
2 x SATA 6Gb/s cables
Miscellaneous
2 x M.2 Rubber Packages
2 x M.2 SSD screw packages
1 x TUF Gaming sticker
Installation Media
1 x Support DVD
Documentation
1 x TUF Certification card
1 x User manual
Operating System
Windows® 11 64-bit, Windows® 10 64-bit
Form Factor
ATX
30.5cm x 24.4cm
Capacity
Sequential Read Performance
Sequential Write Performance
STORAGE
Sequential Read Performance
Sequential Write Performance


GRAPHICS CARD 
GPU
GeForce RTX 3080 Ti
CUDA cores
10240
Video Memory
12GB GDDR6X
Memory Bus
384-bit
Engine Clock
Boost: 1665 MHz
Memory Clock
19 Gbps
PCI Express
4.0 16x
Display Outputs
3 x DisplayPort 1.4a (up to 7680x4320@60Hz)
HDMI 2.1* (up to 7680x4320@60Hz)
*Ultra High Speed HDMI Cable is required to support 8K/60FPS or 4K/120FPS
HDCP Support
2.3
Multi Display Capability
Quad Display
Recommended Power Supply
750W
Power Consumption
350W
Power Input
2 x 8-pin
DirectX
12 Ultimate
OpenGL
4.6
Cooling
IceStorm 2.0
Slot Size
3 slot
SLI
Not Supported
Supported OS
Windows 10 64-bit (build 2004 or later)
Card Length
317.8mm x 120.7mm x 63mm / 12.5" x 4.8" x 2.5"
Accessories
2 x Dual 6-pin to 8-pin cable
Manual
CPU COOLING
Cold Plate Material
Copper
Radiator Material
A
luminum
CORSAIR iCUE Compatibility
Yes
Coldplate Dimensions
56 x 56mm
Tubing Material
Black Sleeved Low-Permeation Rubber
Radiator Dimensions
157mm x 120mm x 27mm
Fan Dimensions
120mm x 25mm
Number of Fans 
Cooling Socket Support 
Intel 1200/1150/1151/1155/1156/1366
Intel 2011/2066
AMD AM3/AM2
AMD AM4
AMD Processors Supported 
Ryzen, Phenom II, Athlon II, FX, A-Series, Opteron, Sempron, Athlon 64
Intel Processors Supported
Core i9, i7, i5, i3, Pentium, Celeron
Fan Static Pressure
4.2 mm-H2O
POWER SUPPLY
Type
Intel Form Factor ATX 12V v2.31
PFC
Active PFC (>0.9 typical)
Input Voltage
100-240 Vac (full range)
Input Current
15-6.5 A 
Input Frequency
60-50 Hz
Output Capacity
1000W
Dimension
150 x 140 x 86 mm
Fan Type
120mm Hydraulic Bearing ( HYB ) fan
80 PLUS
Gold
Efficiency
90% at typical load
MTBF
>100,000 hours
Protection
OVP/OPP/SCP/UVP/OCP/OTP
Power Good Signal
100-500ms
Hold Up Time
>16ms
Cable Type
Flat, All black
Connectors
ATX/MB 20+4 Pin x 1 : 610mm*1
CPU/EPS 4+4 Pin x 2 : 600mm*2
PCI-e 6+2 Pin x 6 : 600mm+150mm*3
SATA x 8 : 600mm+150mm+150mm+150mm*2 :
4 Pin Peripheral x 3 + 4-Pin floppy x 1 :
500mm+120mm+120mm+120mm *1
COOLER MASTER MB511 MASTERBOX GAMING PC. i7-11TH/32GB/2TB/ZOTAC 3080TI/W10 PRO. BLACK
by COOLER