Product description
The best sound in the palm of your hand
The SoundLink Mini II Bluetooth speaker delivers full, natural sound with much deeper bass than you would expect from an ultra-compact speaker. It also has a microphone to take calls, and it easily establishes wireless connections anywhere, anytime.
Your playlists.
Wherever you play.
Don't leave your music behind.

 

Enjoy wireless freedom with the SoundLink Mini II speaker.

 

Since it weighs only 680 grams (1.5 pounds), it is so small and light that you can carry it in your bag.

 

It has a discreet appearance that allows you to place it almost anywhere and a low center of gravity that makes it difficult to tip over.
Don't let a day trip stop you from listening to your soundtrack;

 

Since it delivers up to 10 hours of battery life, you can listen to your playlist all afternoon.

 

When you stay home, the charging dock lets you listen continuously while charging the speaker.

 

So it will always be ready to take it with you.
Any song from almost any device
What devices can I pair with the SoundLink Mini II? Smart phones and tablets. Or your friends' smartphones and tablets. If it's a Bluetooth device , you have everything you need for whatever song you want to listen to. Plus, it remembers the last 8 devices used so it's easy to reconnect and pass the music pad. With a reliable range of around 30 feet (9 meters), you can enjoy all that top-notch sound wirelessly.
DESIGNED FOR TRAVEL
Small portable speakers are generally not known for having powerful performance. But the SoundLink Mini II is no ordinary Bluetooth speaker . So what is the key for something so small to reproduce such a big sound? Exclusive technologies that really make you stand out.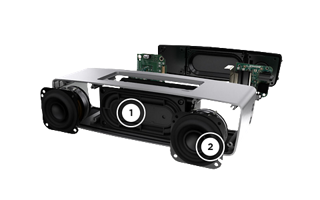 1. DOUBLE PASSIVE RADIATORS
They deliver surprisingly deep bass notes and are positioned in opposite directions to minimize vibrations.
2.HIGH EFFICIENCY TRANSDUCERS
The high-efficiency drivers in the SoundLink Mini II loudspeaker move twice as much air for its size as common drivers. More air movement translates to more powerful sound.
Designed to be the best
The SoundLink Mini II speaker is designed for elegant simplicity. Its one-piece aluminum housing is rugged and ultra-compact. You can control it with your Bluetooth device and it has a microphone to receive calls and access Siri or the Google Assistant.
SPECIFICATIONS
Dimensions / weight without cable
Speaker: 5.1 cm high x 18 cm wide x 5.8 cm deep (0.68 kg)
Charging base: 1.6cm high x 15.7cm wide x 5.1cm deep (79g)
Wall charger: 6.7 cm high x 4.8 cm wide x 1.5 cm deep
Cable: 36 '' long
BOSE SOUNDLINK MINI II BLUETOOTH SPEAKER
by BOSE