Product description
In the Box
(Power adapter and headphones sold separately)
Blast past fast.

5G speed. A14 Bionic, the fastest chip in a smart­phone.
An edge-to-edge OLED display. Ceramic Shield with four times better drop performance. And Night mode on every camera. iPhone 12 has it all — in two perfect sizes.
The world's smallest,
thinnest, lightest 5G phone.
11%  thinner         15%  smaller        16% lighter
6.1" Super Retina XDR display


Ceramic Shield.
Clearly tougher than any smartphone glass.
4x better drop performance
iPhone already had the toughest glass in a smart­phone. So to dramatically increase the durability of iPhone 12, we had to introduce an all-new material. We've quadrupled the drop performance — the largest year-on-year improvement ever for iPhone.
 Sounds simple, but it's incredibly difficult because ceramic isn't transparent. By controlling the type of crystals and degree of crystallinity, we developed an exclusive formula that maximises the toughness of the ceramic while remaining optically clear. 
Tough is great, but we also wanted to make it scratch-resistant. So, using the same dual ion-exchange process we use on the back glass, we protect against nicks, scratches, and everyday wear and tear.
Aerospace-grade aluminium edges
H2OK
Even better spill and splash resistance
Five fresh finishes
5G speed
OMGGGGG.
We engineered custom antennas and radio components for high sensitivity and incredible efficiency. Then we gave iPhone 12 the most 5G bands of any smart­phone, so you'll get 5G in more places.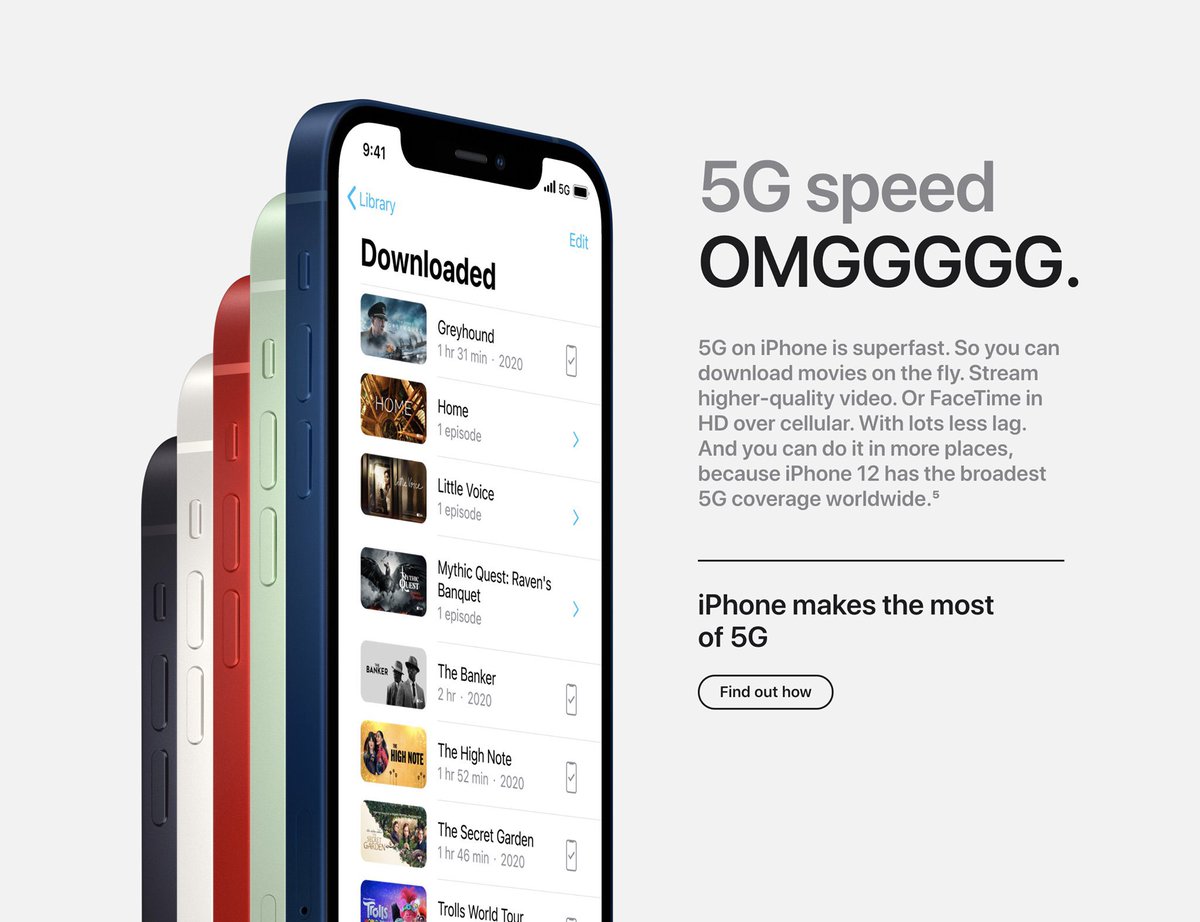 We looked at our entire software stack — from applications to system level frameworks — and optimised it to take advantage of 5G. For example, many apps can benefit from 5G without using additional power.
5G on iPhone isn't just faster, it's smarter too. When your iPhone doesn't need 5G speeds, like when it's making updates in the background, it automatically uses LTE to save battery life. But as soon as speed does matter — if you're downloading a season of your favourite show — iPhone 12 jumps to 5G. Of course, you can also choose to use 5G whenever it's available.
We also teamed up with network providers and performed extensive engineering and testing to optimise 5G networks.
NEW A14 Apple Chip
A14 Bionic is the fastest chip in a smart­phone.
And it pushes what's possible. Like crunching trillions of operations on the Neural Engine. Or shooting in Dolby Vision — even pro movie cameras can't do that. It's super-efficient for great battery life. And it's ahead of its time, prepared to power pretty much anything that comes next.
Same chip as iPhone 12 Pro
Super Retina
XDR display
Behold OLED.
iPhone 12 has all kinds of powerful new features — like 4K Dolby Vision video recording and super-detailed HDR photos — that require an advanced screen to experience fully. So we gave it our best: the Super Retina XDR display.
Vastly more contrast. Incredible colour accuracy. 
A huge jump in pixel density.
Wow. Just wow. OLED delivers brighter brights, darker blacks, and higher resolution for everything you look at. This is the best iPhone display we've ever made, and it goes all the way to the edge.
Unlike LCDs, which use a backlight to illuminate all the pixels at once, OLED pixels each emit their own light. They can be completely turned off to produce true blacks, or light up all the way to 1,200 nits for HDR content. That's how you get a 2,000,000:1 contrast ratio. The difference is dramatic.
Texts and emails are noticeably sharper. All your photos and videos — even old favourites — will look more true to life than ever. And things like fire explosions and intergalactic battles in movies are hyper-detailed, super-bright and deeply dark in all the right places.
Dual-camera system
Welcome to the dark side
Both the Wide and Ultra Wide cameras now have Night mode — and it's better than ever at capturing incredible low-light shots. The new Wide camera brings in 27 per cent more light. So whether you take photos by daylight or by moonlight, you'll get a level of detail and colour that wasn't possible before.
Photos that were once hard to capture — like a dramatic moonlit scene — now come out sharper than ever.
Deep Fusion, in mid to low light, analyses multiple exposures to maximise detail. Check out the texture in the wood, fabric and crystal. And the Ultra Wide gets you a heroic perspective.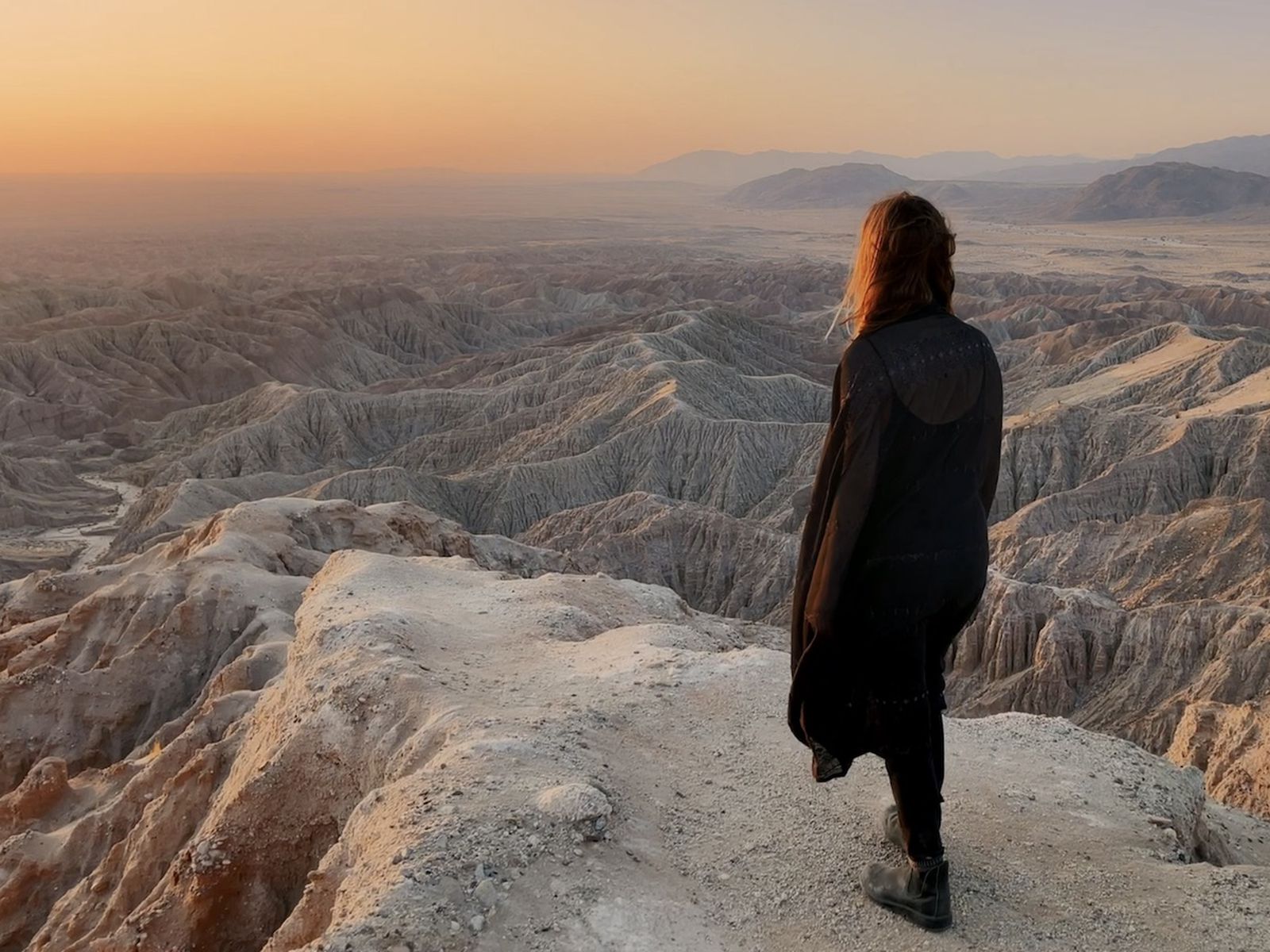 Face it. Nothing beats Portrait mode.
Take great photos even further by choosing from six creative lighting effects, like High‑Key Light Mono, Natural Light and Studio Light.
Video. Low lights. Camera.
How do you improve on the highest-quality video in a smart­phone? Make it even better in low light — a full 27 per cent better. That means no hour is off limits for more beautifully detailed video. Then there's Night mode Time-lapse. Just prop up your iPhone and let the light trails begin.
And boom.
You own a film studio.
Now you can record 4K HDR video with Dolby Vision. Edit in Photos or iMovie. Then zap it to your TV using AirPlay to see all that colour and detail. It's a start-to-finish cinematic experience — found only on iPhone. Which comes in handy when your dog does something adorable.
First camera ever to record in Dolby Vision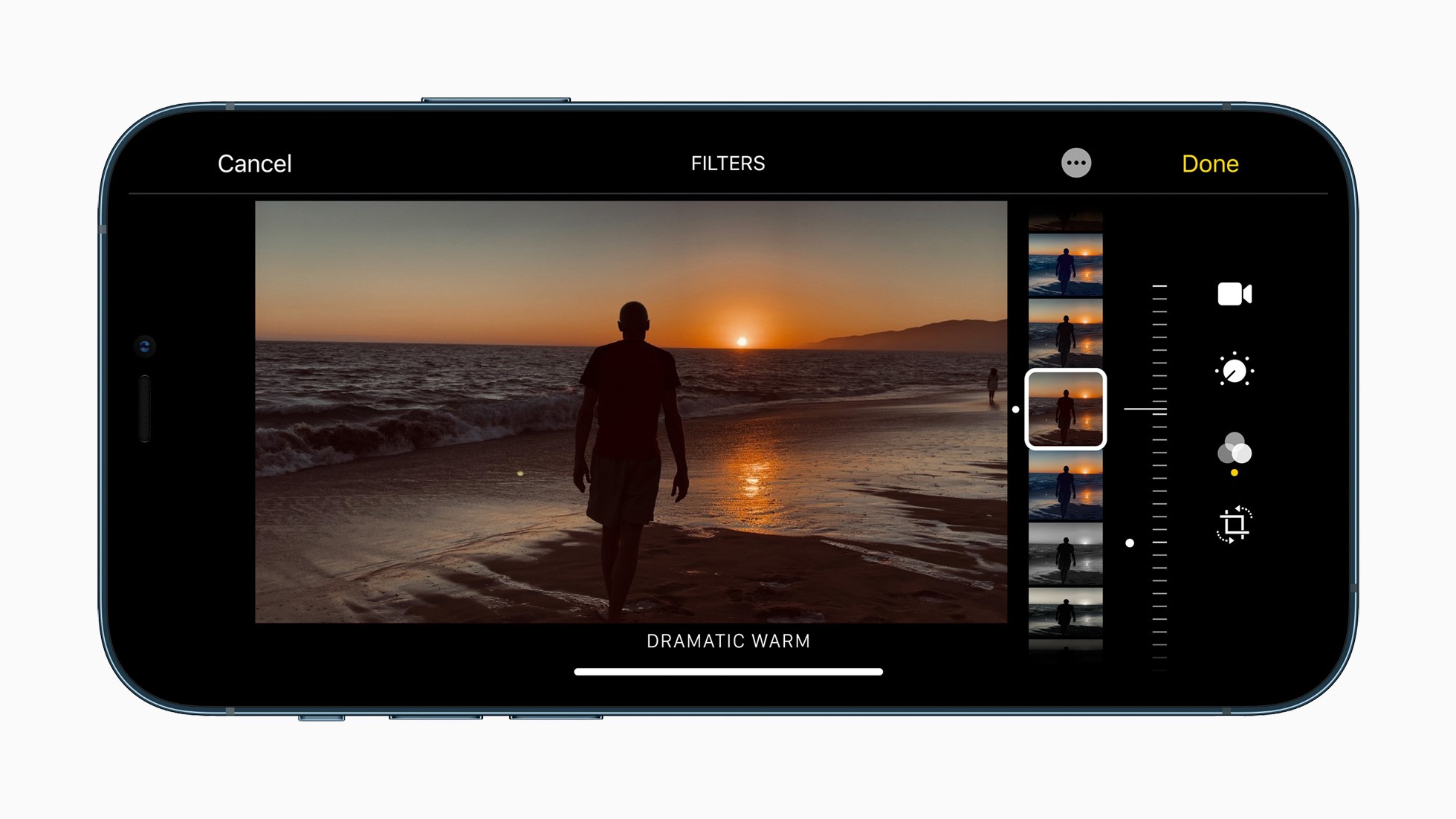 Night mode selfies
Look your best.
 

Even in the dark.
Night-time is the right time for a selfie. Because Night mode and a slew of other great features are now on the front camera. Like Deep Fusion, Smart HDR 3, Dolby Vision recording and more. 
MagSafe accessories
Everything
just

 

clicks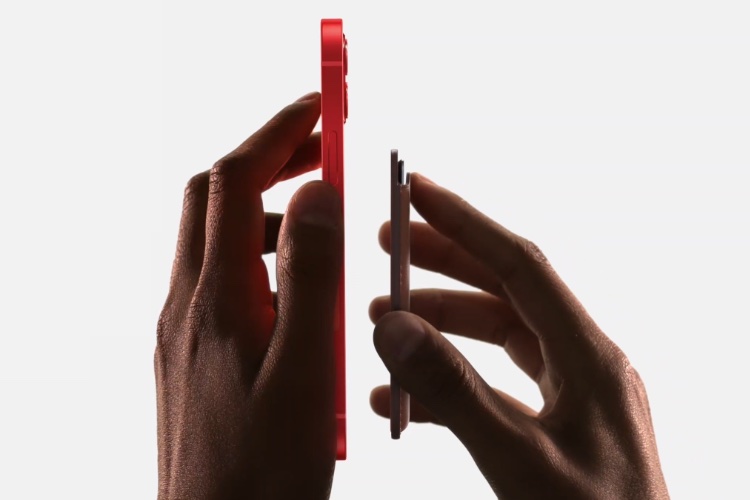 Beautifully stackable.
Snap on a new MagSafe case, wallet, or both. (Fear not, the wallet is shielded so it's safe for credit cards.)
Turbo
 

chargeable.

Magnets align themselves perfectly every time for faster wireless charging.
Mix
and
matchable.
Looks brand new.
Feels like home.
iOS 14 brings a fresh look to the things you do most often, making them easier than ever. New features help you get what you need in the moment. And the apps you use all the time become even more intelligent, more personal and more private.
You're able to do more with your iPhone than ever before. So iOS 14 reimagines the most iconic parts of the experience to be even more helpful and personal.
Widgets on the Home screen
Widgets have been totally redesigned to give you more information at a glance — and now you can add them to your Home screen. Choose from different sizes and arrange however you like.
App Library
The new App Library automatically organises all your apps into one simple, easy‑to‑navigate view. Apps are sorted by category and your most used apps are always just one tap away.
Compact Calls
Calls to and from your iPhone,Facetime and third-party display in an all-new compact design that doesn't take up the whole screen. 
Picture in Picture
Now you can keep watching videos or continue your FaceTime call while you use another app.
Messages
Keeping in touch has never been more essential. So iOS 14 gives you new ways to stay connected to the conversations that matter most, keep track of group conversations, and express yourself however you like.
Pinned conversations
Pin up to nine of your most important conversations to the top of your conversation list, so you can easily get to them.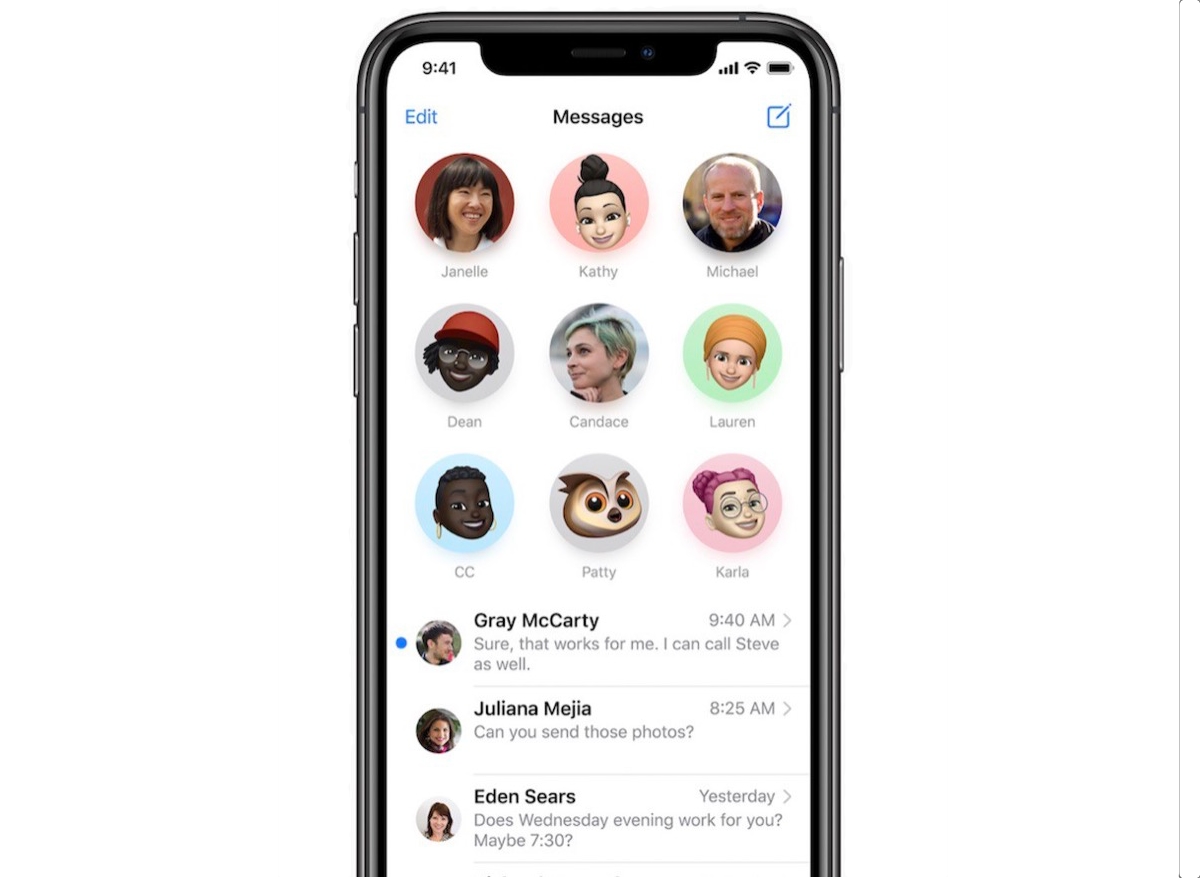 Group photos
Give your group conversation a visual identity by adding a photo or Memoji, or choose an emoji.
Mentions
Type a name to direct a message to someone. When you are mentioned, your name is highlighted. You can even customise an active group so you only receive notifications when you're mentioned.
Inline replies
Now you can reply directly to a specific message in a group conversation. You can view replies in the full conversation or in their own thread for a more focused view.
New Memoji styles and stickers
Along with new age options and face coverings, choose from over 20 new hair and headgear styles to reflect your hobby, profession and personality.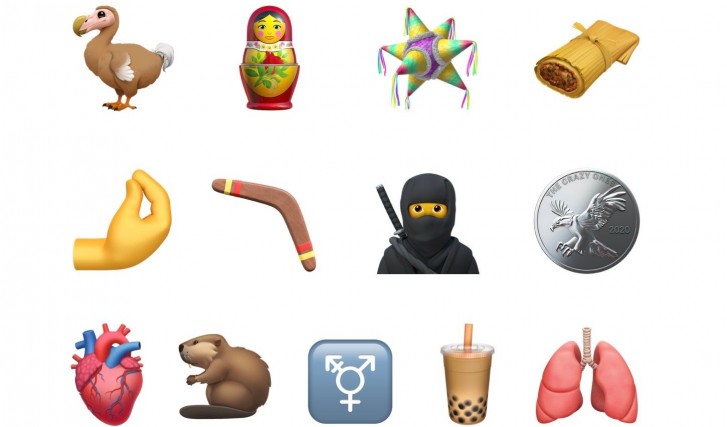 Maps
Maps is the best way to navigate and explore the world, all while protecting your privacy. With Maps in iOS 14, it's easier than ever to discover new places to go and environmentally friendly ways to get there.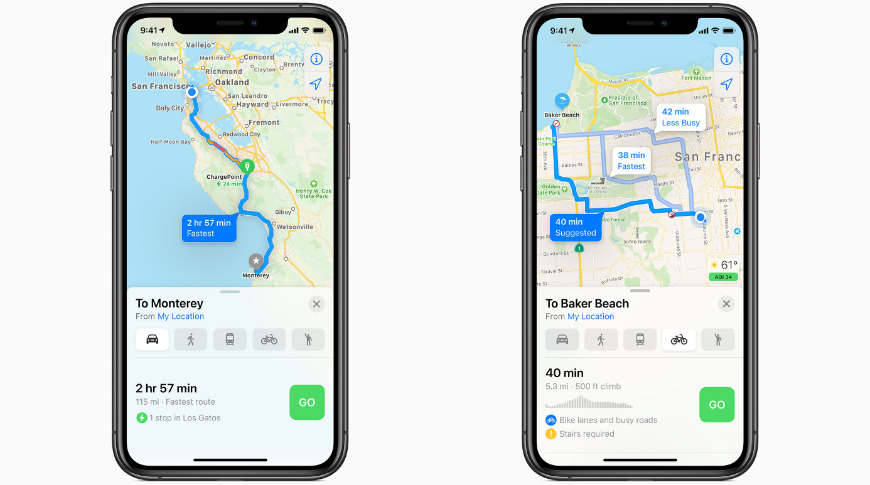 Guides
Apple Maps editors have worked with trusted brands and partners to offer Guides for great places around the world to eat, shop and explore. You can save Guides, and they automatically update when new places are added, so you always have the latest recommendations.
Translate
Conversations across languages should feel natural and easy, and should have the ability to remain private. Introducing the all-new Translate app, designed for conversations across 11 different languages.
Conversation mode
With Translate, conversations are easy by design. Just turn your phone to landscape and tap the single microphone button to say something.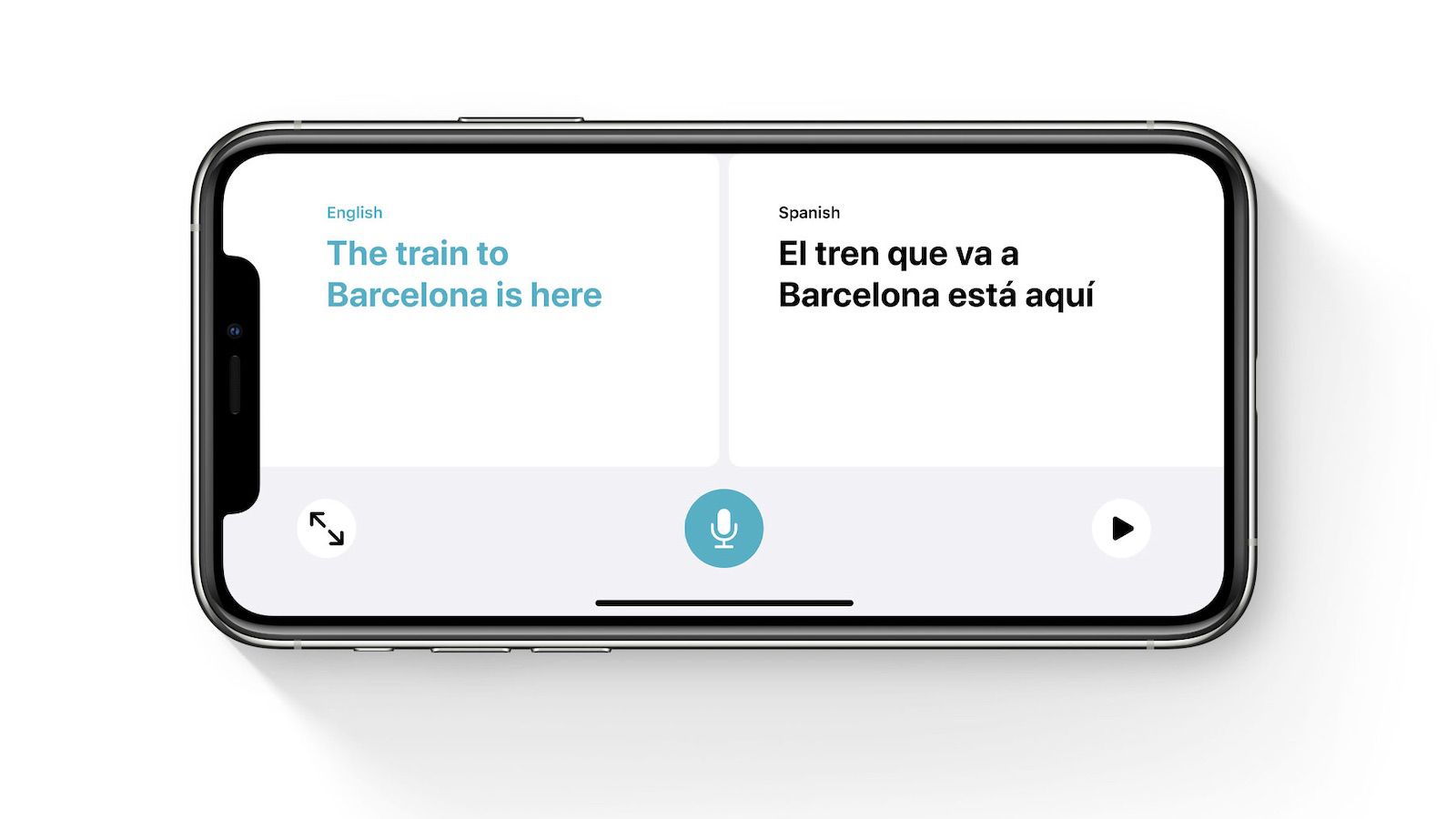 On‑device mode
Enable a fully offline experience for Translate. Use all the app features for downloaded languages and keep your translations private without needing to turn off your phone's internet connection.
Favourites
Save translations in the Favourites tab for easy access later. You can also view your recent history and save phrases you just translated.
Attention mode
Enlarge translated text in landscape view, making it easier to read and more effective at getting someone's attention.
Siri
Siri is a vital way to get information and get things done. And thanks to a new compact design, you can take advantage of everything Siri can do without losing your context.
Compact design
Siri has a completely new look that lets you quickly get information or get things done while still focusing on what you're doing.
Greater knowledge
 Siri has over 20x more facts than just three years ago
Web answers
Siri can now help you find answers to a broader set of questions by using information from across the web.
Send audio messages
When you want to be more expressive in your messages, you can now easily send audio messages with Siri.
Home
The Home app helps you manage your smart home more intelligently — and most important, more securely. And now it's even easier to take advantage of the broad selection of HomeKit accessories.
Suggested automations
When you add a new HomeKit accessory, the Home app suggests useful automations so you can put it straight to work.
Home status
A new visual status in the Home app prioritises the accessories that most need your attention and allows you to easily control them.
Adaptive Lighting
 Set your lights to change colour temperature throughout the day.
Activity Zones
Define Activity Zones that focus on the most important areas of what your camera sees, so you can be alerted only when there's motion in the zone you set.
Face Recognition
Video cameras and doorbells can now identify people you've tagged in the Photos app. Easily tag people, and choose to be notified based on the person.
Safari
Browsing the web should feel fast, powerful and private. So with iOS 14, Safari is more responsive and capable than ever, while giving you new ways to help protect your privacy.
Performance
 The world's fastest mobile browser.
Password monitoring
 Safari warns you if a password you're using is not secure.
Privacy Report
Now you can tap the Privacy Report button to better understand how websites treat your privacy.
Car keys and CarPlay
CarPlay has transformed the relationship between your iPhone and your car. Now that relationship gets even more powerful with the ability to unlock and start your car with iPhone.
Car keys in Wallet
Unlock and start your car with iPhone.
Sharing keys with friends or family is easy. You can customise controls and create restricted profiles — perfect for new drivers. You can revoke and share keys temporarily too.
 Works for up to five hours even after your iPhone battery runs out.
CarPlay wallpaper and new app types
Choose from a set of wallpapers that look great. CarPlay also supports new app types — parking, electric vehicle charging and quick food ordering.
AirPods
AirPods deliver a magical listening experience. With iOS 14, that magic has a few new tricks, whether you're listening to music, catching up on a podcast or watching a film.
Spatial audio
 Take surround sound wherever you go.
Battery notifications
New battery notifications conveniently let you know when you need to charge your AirPods.
Automatic switching
Seamlessly move between devices without manually switching your AirPods. If you finish a phone call on your iPhone and pick up your iPad to watch a film, AirPods automatically switch over.
Headphone Accommodations
Adjust your AirPods audio to account for hearing differences. Headphone Accommodations amplifies soft sounds and can tune to your individual hearing, to help music, phone calls and more sound crisp and clear.
Audio Sharing for Apple TV
Connect two sets of AirPods to your Apple TV 4K so you can enjoy films and shows with someone else without disturbing others.
App Clips
Apps from the App Store have changed the way we do just about everything. Now there's an even faster way to take advantage of them with App Clips. A small part of an app, an App Clip is discoverable the moment you need it and is focused on a specific task. 
Discover App Clips
App Clips are easy to discover and use just at the moments you need them. Like renting a bike, paying for parking, ordering food and so much more.
Fast loading
 Small size .Loads in seconds.Launches quickly.
Privacy
Privacy is a fundamental human right and at the core of everything we do. That's why with iOS 14, we're giving you more control over the data you share and more transparency into how it's used.
Privacy information on the App Store
You can now get information on the App Store to help you understand the privacy practices of every app before you download it.
Recording indicator
An indicator appears at the top of your screen whenever an app is using your microphone or camera. And in Control Centre, you can see if an app has used them recently.
Upgrade to Sign in with Apple
Easily switch to Sign in with Apple when logging in to participating apps. You'll keep the account you already use, but have one less password to keep track of.
Approximate location
Share only your approximate location rather than your exact location — perfect for apps like local news or weather.
And so much more.
App Store.
Now app developers can make their subscriptions available for sharing between members of a Family Sharing group. Improved app product pages mean important app details are more glanceable. And search has improved, with spellcheck enhancements and editorial collections appearing in App Store search results.
Apple Arcade.
Discover and play your next game with new browsing features in Apple Arcade. Now you can see what games are popular with your Game Center friends. And easily take your games across iPhone, iPad, Mac or Apple TV with the Continue Playing feature.
Augmented reality.
ARKit 4 introduces Location Anchors, allowing developers to place AR experiences, like life‑size art installations or navigational directions, at a specific point in the world. And even more users can delight in AR experiences accessible only via the front camera, with expanded support for face tracking on all devices with the A12 Bionic chip and later.
Camera.
Taking photos is even quicker, with faster time to first shot and faster shot-to-shot performance. And with a new exposure compensation control, you can lock an exposure value while separately locking camera focus for a specific shot.
Game Center.
A beautifully redesigned Game Center makes it easy to discover and experience games with friends. Quickly access achievements, leaderboards and your Game Center profile direct from the App Store and within your Game Center–enabled games.
Health.
An all-new Sleep experience in the Health app helps you meet your sleep goals. New hearing features help you understand how loud you're listening to media through headphones and how that could impact your hearing over time. You can manage your health and safety all in one place with the Health Checklist. And the Health app has new data types for mobility, health records, symptoms and ECG.
Notes.
On-device intel­ligence helps you do everything from finding your notes faster to capturing sharper document scans. And design updates across the app help focus your attention on your content and on the most important actions you can take.
Photos.
Organise your photos and videos with new options to filter and sort, and easily navigate using pinch and zoom in more views throughout Photos.
Reminders.
Quick entry and smart suggestions can help you capture new reminders effortlessly. Members of a shared list can now assign reminders to each other, so splitting up tasks is easier than ever.
Set default email and browser apps.
With iOS 14, you can set a third‑party app as the default email or browser app systemwide.
Voice Memos.
The most popular audio recording app in the world gets new tools for organising recordings. An all‑new Enhance Recording feature lets you improve the sound quality of your recordings with a single tap.
Weather.
Stay informed about severe weather events and learn about upcoming shifts in weather, so you'll know if it will be significantly warmer, colder or wetter the next day. In the US, you can see a chart that shows a minute‑by‑minute forecast of precipitation intensity over the next hour.
SPECIFICATIONS
Finish
Blue
Capacity
128GB
 Size and Weight
Width:
71.5 mm
(2.82 inches)
Height:
146.7 mm
(5.78 inches)
Depth:
7.4 mm
(0.29 inches)
Weight: 
162 grams (5.73 ounces)
Display
Super Retina XDR display
6.1‑inch (diagonal) all‑screen OLED display
2532x1170-pixel resolution at 460 ppi
Splash, Water and Dust Resistant
Rated IP68 (maximum depth of 6 metres up to 30 minutes) under IEC standard 60529
Chip
A14 Bionic chip
Next‑generation Neural Engine
Camera
Dual 12MP camera system: Ultra Wide and Wide cameras
Ultra Wide: ƒ/2.4 aperture and 120° field of view
Wide: ƒ/1.6 aperture
2x optical zoom out
Digital zoom up to 5x
Portrait mode with advanced bokeh and Depth Control
Portrait Lighting with six effects (Natural, Studio, Contour, Stage, Stage Mono, High‑Key Light Mono)
Optical image stabilisation (Wide)
Five‑element lens (Ultra Wide); seven‑element lens (Wide)
Brighter True Tone flash with slow sync
Panorama (up to 63MP)
Sapphire crystal lens cover
100% Focus Pixels (Wide)
Night mode (Ultra Wide, Wide)
Deep Fusion (Ultra Wide, Wide)
Smart HDR 3 with Scene Detection
Wide colour capture for photos and Live Photos
Lens correction (Ultra Wide)
Advanced red‑eye correction
Auto image stabilisation
Burst mode
Photo geotagging
Image formats captured: HEIF and JPEG
Video Recording
HDR video recording with Dolby Vision up to 30 fps
4K video recording at 24 fps, 30 fps or 60 fps
1080p HD video recording at 30 fps or 60 fps
720p HD video recording at 30 fps
Optical image stabilisation for video (Wide)
2x optical zoom out
Digital zoom up to 3x
Audio zoom
Brighter True Tone flash
QuickTake video
Slo-mo video support for 1080p at 120 fps or 240 fps
Time-lapse video with stabilisation
Night mode Time‑lapse
Extended dynamic range for video up to 60 fps
Cinematic video stabilisation (4K, 1080p and 720p)
Continuous autofocus video
Take 8MP still photos while recording 4K video
Playback zoom
Video formats recorded: HEVC and H.264
Stereo recording
TrueDepth Camera

12MP camera
ƒ/2.2 aperture
Portrait mode with advanced bokeh and Depth Control
Portrait Lighting with six effects (Natural, Studio, Contour, Stage, Stage Mono, High‑Key Light Mono)
Animoji and Memoji
Night mode
Deep Fusion
Smart HDR 3 with Scene Detection
HDR video recording with Dolby Vision up to 30 fps
4K video recording at 24 fps, 30 fps or 60 fps
1080p HD video recording at 30 fps or 60 fps
Slo‑mo video support for 1080p at 120 fps
Time-lapse video with stabilisation
Night mode Time‑lapse
Extended dynamic range for video up to 30 fps
Cinematic video stabilisation (4K, 1080p and 720p)
QuickTake video
Wide colour capture for photos and Live Photos
Lens correction
Retina Flash
Auto image stabilisation
Burst mode
Face ID
Enabled by TrueDepth camera for facial recognition
Apple Pay
Pay with your iPhone using Face ID in shops, within apps and on the web
Complete purchases made with Apple Pay on your Mac
Pay for your journey using Express Travel
Mobile and Wireless
5G
Gigabit LTE with 4x4 MIMO and LAA
Wi‑Fi 6 (802.11ax) with 2x2 MIMO
Bluetooth 5.0 wireless technology
Ultra Wideband chip for spatial awareness
NFC with reader mode
Express Cards with Power Reserve
Location
Built-in GPS, GLONASS, Galileo, QZSS and BeiDou
Digital compass
Wi‑Fi
Mobile data
iBeacon micro-location
Video Calling
FaceTime video calling over Wi‑Fi or a mobile network
FaceTime HD (1080p) video calling over 5G or Wi‑Fi
Audio Calling
FaceTime audio
Voice over LTE (VoLTE)
Wi‑Fi calling
Audio Playback
Audio formats supported: AAC‑LC, HE‑AAC, HE‑AAC v2, Protected AAC, MP3, Linear PCM, Apple Lossless, FLAC, Dolby Digital (AC‑3), Dolby Digital Plus (E‑AC‑3), Dolby Atmos and Audible (formats 2, 3, 4, Audible Enhanced Audio, AAX and AAX+)
Spatial audio playback
User-configurable maximum volume limit
Video Playback
Video formats supported: HEVC, H.264, MPEG‑4 Part 2 and Motion JPEG
HDR with Dolby Vision, HDR10 and HLG
Up to 4K HDR AirPlay for mirroring, photos and video out to Apple TV (2nd generation or later) or AirPlay 2–enabled smart TV
Video mirroring and video out support: up to 1080p through Lightning Digital AV Adapter and Lightning to VGA Adapter (adapters sold separately)
Siri
Use your voice to send messages, set reminders and more
Get intelligent suggestions on your Lock screen and in Messages, Mail, QuickType and more
Activate hands‑free with only your voice using "Hey Siri"
Use your voice to run shortcuts from your favourite apps
External Buttons and Connectors
Built‑in stereo speaker
Built‑in microphone
Built‑in stereo speaker
Power and Battery
Video playback:
Up to 17 hours
Video playback (streamed):
Up to 11 hours
Audio playback:
Up to 65 hours
Built-in rechargeable lithium-ion battery
MagSafe wireless charging up to 15W
Qi wireless charging up to 7.5W
Charging via USB to computer system or power adapter
Fast-charge capable: up to 50% charge in 30 minutes with 20W adapter or higher (sold separately)
MagSafe 
Wireless charging up to 15W
Magnet array
Alignment magnet
Accessory Identification NFC
Magnetometer
Sensors
Face ID
Barometer
Three‑axis gyro
Accelerometer
Proximity sensor
Ambient light sensor
Operating System
iOS 14
iOS is our most personal and secure mobile operating system, packed with powerful features and designed to protect your privacy.
Accessibility
Accessibility features help people with disabilities get the most out of their new iPhone. With built-in support for vision, hearing, mobility and learning, you can fully enjoy the world's most personal device.
Features include:
Voice Control
VoiceOver
Zoom
Magnifier
RTT and TTY support
Siri and Dictation
Type to Siri
Switch Control
Closed Captions
AssistiveTouch
Speak Screen
Back Tap
SIM Card
Dual SIM (nano‑SIM and eSIM)
iPhone 12 and iPhone 12 mini are not compatible with existing micro‑SIM cards.
Mail Attachment Support
Viewable document types
.jpg, .tiff, .gif (images); .doc and .docx (Microsoft Word); .htm and .html (web pages); .key (Keynote); .numbers (Numbers); .pages (Pages); .pdf (Preview and Adobe Acrobat); .ppt and .pptx (Microsoft PowerPoint); .txt (text); .rtf (rich text format); .vcf (contact information); .xls and .xlsx (Microsoft Excel); .zip; .ics; .usdz (USDZ Universal)
System Requirements
Apple ID (required for some features)
Internet access
Syncing to a Mac or PC requires:
macOS Catalina 10.15 or later using the Finder
macOS El Capitan 10.11.6 to macOS Mojave 10.14.6 using iTunes 12.8 or later
Windows 7 or later using iTunes 12.10.10 or later (free download from
Environmental Requirements
Operating ambient temperature:
0° to 35° C (32° to 95° F)
Non-operating temperature:
−20° to 45° C (−4° to 113° F)
Relative humidity:
5% to 95% non-condensing
Operating altitude:
tested up to 3,000 metres (10,000 feet)
Languages
Language support
English (Australia, UK, US), Chinese (Simplified, Traditional, Traditional Hong Kong), French (Canada, France), German, Italian, Japanese, Korean, Spanish (Latin America, Mexico, Spain), Arabic, Catalan, Croatian, Czech, Danish, Dutch, Finnish, Greek, Hebrew, Hindi, Hungarian, Indonesian, Malay, Norwegian, Polish, Portuguese (Brazil, Portugal), Romanian, Russian, Slovak, Swedish, Thai, Turkish, Ukrainian, Vietnamese                                    
APPLE IPHONE 12 128GB BLUE
by APPLE